Four-Course Fridays
My double life as a pop-up chef.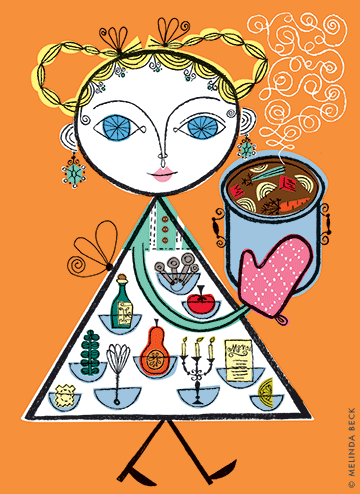 By Amanda Shulman | It's 2 o'clock on a Sunday afternoon and I'm elbow-deep in chocolate. The whole of my tiny kitchen has fallen victim to a type of chocolate fever—there's not a surface that hasn't been afflicted. It's as though a contagion has covered every knob and handle and floor tile with mud-like smears.
I'm toying with a new chocolate tart I want to serve at my dinner party this Friday. The crust is a sort of almond shortbread whose main fat is olive oil, and the filling is a chocolate mousse lacquered with a salt-flecked dark chocolate ganache. I'm on attempt No. 3 and things are looking promising. (No. 1's crust was too wet; No. 2's filling was too chocolatey.)
After the ganache finishes setting on the latest batch, I dive in, hoping for the balance I've been after. The crust is delicate and crumbly and has a lingering taste of the good fruity olive oil I used. The accompanying mousse and ganache taste like they were created for the sole purpose of marrying this crust. It goes on the menu.
I like to make the announcement when I know people will be on Facebook. I'll wait for that post-lunch, pre-afternoon-class lull, when people are begging for an online distraction.
ATTENTION! It's that time again. I'm hosting a four-course dinner this Friday at 8pm. $35 a head and BYOB. Good food and good company are guaranteed! Prepare to eat a lot and make new friends. Message me if interested—space is limited and vegetarians not welcome (SORRY!).
As soon as the message goes live, my inbox starts pinging. I turn off my phone and walk into class. I like to let the messages marinate, and check them all at once. I've more or less roughed out my menu by this point, but class doesn't stop me from thinking about how to time the second rise of the focaccia, what to spice the ravioli filling with, and how to plate the short ribs.
I started my random dinner party series last year. Out of all the responses I receive, I'll pick about 10 or 12 people who don't know each other well, if at all, and bring them together at my table. A lot of times I won't know someone either. I love when that happens.
Most college students are daunted by the prospect of making themselves breakfast, let alone a four-course meal for which they charge. The first time I did it, I was scared: that people wouldn't get along, that the food wouldn't be worth the price, that my bread wouldn't rise. My fears proved silly.
I served the first dinner on plastic plates to 11 people who wouldn't under any other circumstance have broken bread together. It was five courses, lasted three-and-a-half hours, and everyone was so full and drunk by the time it was over that they could barely budge. Wine spills and breadcrumbs covered the table, and it was perfect. People who'd walked in as wary strangers, unsure if they were coming to the right house, were now laughing and sharing stories and extra plates of dessert. When everyone hugged before leaving, I knew I had something.
When I think about what makes a good meal, half of it is the food and half of it is the company. My fondest memories have taken place around a table. I love the idea of bringing together people whose only known commonality is an appreciation of food. As the meal unfolds, conversation veers in unexpected directions, and suddenly everyone's fascinated by an Instagram account dedicated to reptiles or debating whether they'd rather have one arm or one leg.
By Tuesday the guest list is finalized. Only two people have met before, and one guest is bringing a friend I've never met. It's this exciting promise of a table filled with silent disaster or chattering harmony that keeps me up at night.
I'm the first person to turn up at the Wednesday farmers market at 37th and Walnut streets. Tipsy orange squashes and the summer's last fat heirloom tomatoes beg to be added to the menu. I oblige and tuck them into my bag. My gaze wanders to Brussels sprouts still on their stalks, and the biggest heads of cauliflower I've ever seen. Soon the handles of my plastic bags are cutting into my wrists. Then I'm at Whole Foods, picking up my order of 15 short ribs.
On Thursday I sprint home from class and turn on my oven—which is closer to an Easy Bake than a Viking, but gets the job done. There's no hood or exhaust fan, and every time I cook something I'm two seconds away from setting off the fire alarm, which I'm still unsure how to turn off. First I sear the fatty short ribs in my giant cast-iron pan. In go carrots, onions, and celery along with a bouquet garni. I drown the pan in red wine, bring it to a boil, and tuck it into the oven for a few hours.
On the back burner, my one big pot is filled with milk and heavy cream that's just about to boil. When the first few bubbles appear around the edges, I pour in lemon juice and watch the mixture slowly curdle into fat clumps that will eventually become cheese.
I toast almonds and hazelnuts for romesco. I blend them with roasted red peppers, canned tomatoes, paprika, cinnamon, and cayenne. I break down four butternut squash. I roast the squash and puree it with salt, cinnamon, parmesan, and browned butter. I make my pasta dough. I make the chocolate mousse.
By 9 p.m., a baby could pull the short ribs into shreds. The ricotta, ravioli filling, pasta dough, and dessert filling are done. My kitchen looks like it's been hit by a tornado.
At 7 p.m. on Friday, I reek so profoundly of garlic that I can barely stand to inhale my own aroma. I abandon the kitchen to jump in the shower. I ditch the apron that's been glued to my body for the past two days in exchange for my "I'm a hostess and I just threw this little gathering together!" outfit.
Twelve minutes later I'm back in the kitchen trying to get the caramel right for the fourth time. The sugar keeps crystalizing, turning something that should have been golden and glossy into something brittle and grainy.
My big pot is now slowly bringing water to a boil. I take the focaccia out of the oven. It's puffy and swollen, and when I break off a piece I swell with relief when I see inch-thick craggy air pockets.
The caramel seizes again. I've used three-quarters of a bag of sugar. I put another batch on the stove, this time with less water.
At five minutes past eight the guests start coming. They size each other up upon entry. Everyone gathers in the kitchen until I can no longer feign calmness and push them out to drink wine. When I'm the only common friend among the group, and am hiding in the kitchen, the first few minutes can be awkward. Wine helps.
The caramel seizes again and I'm ready to throw the pot out the window. I know I'll keep going until I either get it right or run out of sugar, so I start over one last time as I begin plating the first course.
I emerge with the roasted vegetables drizzled with romesco. Chic turquoise plates have replaced the original plastic ones. Candles and small vases of flowers line the table. The focaccia has been destroyed and the only remnants of the ricotta are streaks of pepper-speckled honey on the bread plates. Two bottles of wine have already been emptied.
Dinner is a blur of talking and spilling and cackling and drinking and chewing. People learn what romesco is. Three people try fennel for the first time. One boy proposes marriage to me after licking his ravioli plate spotless. Two newfound friends take a selfie with the short rib bones that they've gnawed clean. The conversation goes from the Israeli-Palestinian conflict, to hot YouTube videos, to hot couples, to future jobs, to how these dinner parties could turn into the next Match.com.
By dessert all 11 bottles of wine have disappeared into coffee mugs and water glasses. All lips are stained burgundy. The night's almost over. I bring out a tray filled with 12 individual chocolate tarts—plus a bowl of glossy golden caramel.
Amanda Shulman, C'15 is a political science major, journalism minor, and aspiring chef.