Football Champions, Twice Over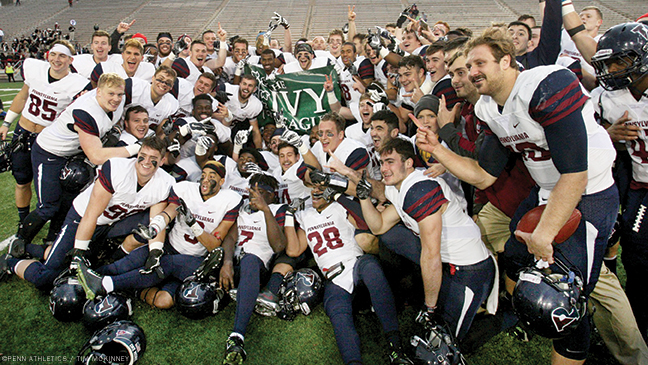 By Dave Zeitlin | When the call came in from the sideline, Alek Torgersen shook his head in disbelief. "Are you serious?" the Penn quarterback yelled across Cornell's Schoellkopf Field to his coaches, who nodded. And so, in the final quarter of the final game of his college football career, Torgersen ran a trick play that had only been designed earlier in the week, throwing a lateral to offensive lineman Nick Demes, who barreled into the end zone from seven yards out for the first touchdown he had ever scored at any level of organized football.
"This is the greatest moment of my life," the 280-pound left tackle shouted, over and over, as he clutched the football and ran back to the sideline, mobbed by his teammates. "Thank God it was only seven yards," Penn head coach Ray Priore remembered telling him later. "I don't think you would have made it to the end zone if it were any further."
And that's how the celebration in Ithaca began—with playful ribbing and a lifelong memory for a senior captain, whose unlikely touchdown sealed the Quakers' 42-20 win over Cornell and a share of their second straight Ivy League championship.
"People have asked me which one is sweeter," said Priore, the second coach in Ivy League history to win a title in each of his first two seasons. "They're both so special and unique in their own way."
There were certainly differences between the Quakers' 2015 crown (which they shared with Harvard and Dartmouth) and this season's title (which they shared with Princeton)—but plenty of similarities too.
Just like last year, they lost two non-conference games and an Ivy contest before upsetting nationally ranked Harvard (#22 in the FCS poll) in the season's penultimate game to remain in title contention heading into the final week. This time around, though, the big win over the Crimson was played under the lights of Franklin Field and came with far more drama, as Harvard made up an 11-point fourth-quarter deficit to tie the game at 14 with 3:23 left.
That's when the soft-spoken Torgersen, who had been stymied by the Crimson's defense most of the night, walked into the offensive huddle and calmly said, "We know what we need to do. Everyone do your job and we're gonna score a touchdown on this drive."
Justin Watson, a junior wide receiver, was less calm. "I'm gonna make a play!" Watson screamed. "I'm gonna make a play!"
Torgersen didn't doubt it. The previous summer, the quarterback and wide receiver had spent countless hours working out together at Franklin Field in their free time, improving what had already been one of the most prolific quarterback-receiver duos in Penn history. Now, as their time together wound down, Torgersen felt a unique connection to his top target, who led the Ivies in receptions, receiving yards, and touchdowns for a second straight year and is set to shatter every Penn career receiving record as a senior next season. "I knew where he was gonna be at all times," said Torgersen, who ranked No. 6 in the FCS in completion percentage. "I knew what was in his head when he was running routes."
Methodically, Torgersen worked Penn down the field, completing 8 of 10 passes for 80 yards. Four of those went to Watson, including the final one, on a slant route from the 2-yard line that resulted in a game-winning touchdown with just 15 seconds remaining.
Moments later, the Quakers put a pretty little ribbon on the victory when junior defensive lineman Taylor Hendrickson scooped up a fumble and scored a touchdown as time ran out. It was Penn's second defensive TD of the game, after junior defensive end Louis Vecchio scored on a 40-yard interception return in the first half. Sophomore defensive back Mason Williams—who joined Vecchio as a first-team All-Ivy League selection—added two interceptions to help the Quakers shake off a bad 28-0 loss to Princeton the previous week and move into a first-place tie with the Crimson and Tigers.
"It was kind of like a dream," said Torgersen, who was one of Penn's four first-team All-Ivy selections on offense, along with Watson, Demes, and junior Tre Solomon, the league's top rusher.
But as Priore put it: "Even though the Harvard game was such a terrific victory, it would have meant nothing if we didn't finish it out with a win at Cornell."
But the Quakers didn't play their final game like a team nervous about the stakes; instead, they had more fun than ever. Moments before Demes scored on a trick play, he was involved in another one, lining up with two other linemen as though they were receivers, and playing a game of rock-paper-scissors to distract the defense as Torgersen completed a pass downfield.
It was a satisfying culmination for a senior quarterback whose first two seasons as a Quaker featured more than twice as many defeats as victories.
"Being 4-6 and 2-8 is not fun. It's way more fun to win."
Another Football Title
Just as he approaches throwing a football, Mike McCurdy was methodical and precise as he pulled ice cubes out of the cooler and made sure the water wasn't too cold. After all, the senior quarterback of Penn's sprint football team didn't want the championship celebration to be too jarring for his 77-year-old coach. Not that Bill Wagner minded the chilly shower after the Quakers capped the second perfect season in his 46-year tenure with a 41-12 victory over Post on November 5.
"It was a surprise, but they pulled it off," Wagner laughed later. "They've done some things during the year that were surprising. They were definitely a special group of guys."
Wagner has seen a lot over his remarkably long coaching career, but says no team managed to mix a fun-loving spirit and a flair for drama quite like this one did. Before Penn's final game at Post, he instructed everyone to make sure they had their Penn sweats on for the walkthrough; as a prank on their coach, the players instead donned jerseys of different high schools and colleges as they got off the bus. But that didn't stress out the longtime coach nearly as much as some of the crazy games they played in en route to their College Sprint Football League (CSFL) championship.
Midway through the season, the Quakers blew a late lead to Navy before beating the Midshipmen in overtime. That win came two weeks after they upset Army, marking the first time since 2000 Penn beat both service academies—the two traditional powers of the eight-team CSFL, the only varsity league for sprint football (whose players must weigh no more than 172 pounds). And it also set the Quakers up to clinch a share of the league title in their home finale versus Cornell—which they managed to do in double overtime after McCurdy orchestrated a 93-yard touchdown drive and successful two-point conversion.
"When they went ahead at the end of the fourth quarter, and we ended up with the ball with 1:40 left and no timeouts, I had to look around at people and say, 'You know, this whole season we got to places no other team has really gone, and there's no reason we can't do it here,'" McCurdy recalled. "It was definitely the most emotionally crazy game I've ever been a part of."
The unanimous CSFL Player of the Year, McCurdy finished his career holding all of the program's major passing records. It was an impressive feat for someone who never expected to play sprint football—in fact, he had never even heard of it before getting to Penn, where he balanced the sport with his time serving as president of the a capella group Penny Loafers. But McCurdy grew to love the program, and was glad to help its enduring coach win his first title since 2010 and his first outright one since 2000.
"He's the face of not only our team but really the league," McCurdy said of Wagner. "He's been around so long. It was special to win that for him.
"He always brings a ton of energy. It seems like age does not really bind him at all. He's always running up and down the field during practice. He's hooting and hollering, getting people fired up. That enthusiasm really keeps you going during a season."
How much longer will the 77-year-old be able to keep that enthusiasm going? Is this a perfect opportunity for him to go out on top? Or is he ready for a 47th season and beyond?
Said Wagner: "I've got a couple of more years in me."
Dave Zeitlin C'03 writes frequently for the Gazette.