Food Waste Nation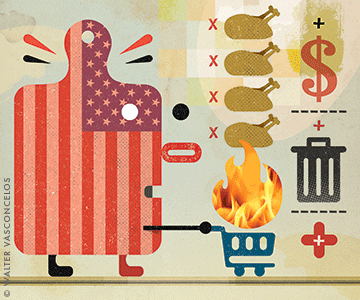 How much food did you waste today?
Maybe there was an uneaten egg at breakfast, some apples that went rotten on the counter, an unfinished restaurant salad that didn't seem worth carting home. Perhaps it was all of the above, or maybe it was much more.
Multiply that waste by everyone in America, add in the habits of people around the world, and you eventually land at 1.3 billion tons. That's how much food goes to waste every year after leaving the farm. Still more disturbing, about a third of all food produced in the world is never eaten.
It's hard to imagine such large quantities. What does a thousand tons of food look like, let alone a billion? But here's one analogy: if lost and wasted food were a country, its surface area would be the second biggest in the world after Russia.
That comparison emerged at the School of Veterinary Medicine's "Last Food Mile Conference" in December. Speakers and attendees from academia, business, NGOs, medicine, and government met for two days in Houston Hall to discuss why this massive waste is happening, who's at fault, and how we might fix things. It turns out the answers aren't simple, but some of the solutions may be.
First, the blame. While everyone in the supply chain is guilty of wasting food, conference presenters said the problem mostly rests on the shoulders of ordinary shoppers. Jean Buzby, chief of diet, safety, and health economics for a branch of the USDA, said that consumers are tossing out twice as much food as retailers are. Why are we so wasteful? According to Penn psychology professor Paul Rozin, because it's easy, because we're lazy, because food is relatively cheap, because our portions are too large, and because we see leftovers as "psychologically contaminated," and therefore unappealing.
Expiration dates and confusing terms like "sell by" further the problem. As former Trader Joe's president Doug Rauch noted, honey doesn't go bad, yet there are unregulated "best by" dates on the bottles we buy. Those dates tell us to dump some foods when they still may be perfectly edible.
Presenter Jihad Rizkallah, vice president for responsible retailing for Ahold USA—parent company of Stop & Shop, Giant, and Peapod grocery stores—framed it from his side of the register: Shoppers wander into a grocery store at 9 p.m. and expect it to be fully stocked with everything they want. If the fresh bread display is supposed to be overflowing with options even at day's end, waste is inevitable. "If you walk in at 9, it ought to be acceptable to find holes on some of the cases or shelves," he added. "We as consumers have to change our expectations and our behavior."
In discussing solutions, Rizkallah and others invoked the EPA's Food Waste Recovery Hierarchy. The upside-down pyramid appeared in so many conference presentations that its ubiquity became a running joke. The chart ranks six food-waste solutions from most to least desirable: source reduction; feeding hungry people; feeding animals; industrial uses; composting; and, only as a last resort, landfills. Examples emerged at all levels during the conference, and from many areas of the food supply chain: farmers, manufacturers, retailers, and consumers.
Rizkallah said Ahold wants to steer 90 percent of its waste away from landfills by 2020. To that end, its grocery stores focus on new uses for castoffs: blemished fruit, for instance, becomes fresh-cut packs, and unsold rotisserie chickens make chicken salad. The parent company also launched a program in 2013 that has directed more than 3 million pounds of protein to local food banks. It sends off any excess food that humans can't eat to feed animals—a total of 95 million pounds in 2013.
Manufacturers are also tackling the problem. As Campbell's Soup executive Dave Stangis put it: "If you're a food manufacturer, food waste is just bad for business." Stangis, the company's vice president for corporate social responsibility and sustainability, said that manufacturers are recycling almost 90 percent of their food waste into animal feed.
He also mentioned Campbell's partnership with the nearby Food Bank of South Jersey. Until recently, some 800,000 "ugly" peaches have routinely been dumped in New Jersey landfills annually, he said. Three years ago, Campbell's began turning those ugly peaches into jars of Just Peachy salsa. The food bank sells Just Peachy to raise money, which it then uses to stock its food bank. "It's an amazing project," Stangis added, "and something that I'd love to see multiply across the country."
Others are working to send would-be-wasted food directly to hungry people. The Society of St. Andrew says it has rescued and delivered 25 million pounds of food since January 2014—largely through "gleaning" farms. Remember that 1.3 billion tons of wasted food? That doesn't include food loss at the farm level. As St. Andrew's executive director Steven Waldmann put it: "Our organization works in that area where data doesn't exist."
Gleaning is the term for collecting leftover crops from farmers' fields. Waldmann said that greenbean harvesters, for instance, frequently only harvest the top two-thirds of the crop while the rest is left untouched. "Food rescue through gleaning," he added, "can feed the food-poor and food-insecure."
Despite these promising efforts, The Last Food Mile wasn't all sunshine and radishes. Kenneth Cassman, an agronomy professor at the University of Nebraska, focused one of the conference's opening talks on some alarming truths. He said that for a stable future, we need to increase our food supply to meet demand while also reducing agriculture's environmental footprint—something we don't currently have the science to do. "Some say this is our greatest challenge," he added. "How to feed ourselves without destroying the world."
Barbara Ekwall, senior liaison officer for the UN's Food and Agriculture Organization, said that by 2050, we will need 60 percent more staple foods to feed the global population. She then echoed Cassman's warning about caring for the environment as we create that food.
"Food loss and food waste does not only cause a moral and ethical problem in a world where so many people go hungry," she added. "It is also taking a huge toll on the environment …When food is thrown away, this means that the land, the water, the energy used to produce and bring this food to the consumer have also been thrown away."
—Molly Petrilla C'06