Flagship Design for Pennovation Works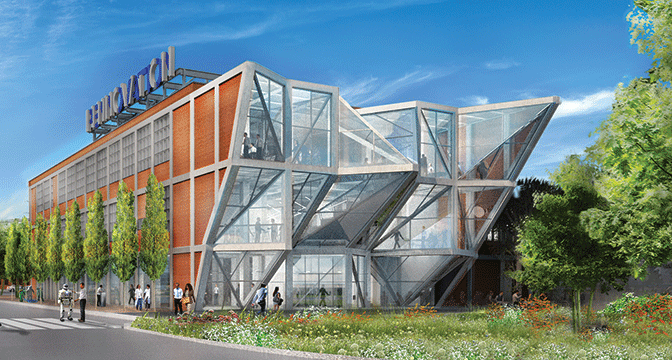 Can a once-gritty wasteland that sprawls for 23 acres along the Schuylkill River morph into a symbol of President Amy Gutmann's vision for fostering a culture of "inclusion, innovation, and impact"? Hopes for just such a transformation received a significant boost with the selection of an architectural team for what promises to be the site's centerpiece, the Pennovation Center.
New York-based HWKN will lead a group including two Philadelphia-based studios—KSS Architects, the architects of record; and landscape architects Land Collective—as well as Toronto-based branding agency Bruce Mau Design. They have been charged with converting a stolid 1960s-era masonry and concrete factory building into a signature business incubator.
HWKN's design attempts to release the building from the constraints of its vernacular facade by means of various additions and interventions. Chief among those is a new crystalline facade that erupts from the building's northern end, its diamond-like protrusions pointing the way to both Center City and the Penn campus. This dramatic addition will serve three purposes, according to principal architect Matthais Hollwich. It will establish a visual connection between the building and Philadelphia's economic center of gravity further up the river. The space it encloses will offer a place for product designers to pitch their ideas to investors. And from the outside, it will act as a brightly lit beacon for the entire building and the site around it.
"That striking addition will not only give the building a modern identity, but it should also make it a better, more inspiring place to work," wrote Philadelphia Inquirer architecture critic Inga Saffron in an enthusiastic appraisal of the design, which she called an "intriguing contrast to the standard co-working fare."
The University acquired the 23-acre parcel from DuPont in 2010, and named it South Bank ["From College Hall," Jan|Feb 2013]. Subsequently renamed Pennovation Works, it is now home to a variety of tenants in the 30 or so structures that already dot the site. They range from the Penn Vet Working Dogs Center ["Working Like Dogs," Jan|Feb 2013] and KMel Robotics ["Drone's Day Scenarios," Nov|Dec 2012], to Edible Philly magazine and storage for the Free Library of Philadelphia.
The Pennovation Center design is one facet of a master plan devised by Philadelphia-based architecture and planning firm Wallace Roberts & Todd, which calls for phased development of the site—located at the intersection of 34th Street and Grays Ferry Avenue—into sparkling offices, wet and dry laboratories, and production spaces. Although new buildings are in the cards, so far Penn has allotted $37.5 million to upgrade infrastructure and renovate existing buildings, including the 58,000-square-foot Pennovation Center.
"We do have a framework of potential parcels that will add close to 1.5 million square feet onto the site," says Anne Papageorge, vice president of facilities and real estate services. "We just don't know yet what our needs will be."
The Pennovation Center already has some tenants lined up. A third-floor lab to be occupied by the Penn Engineering Field Research Center is expected to be operational later this year. By next summer, the rest of the building—two floors of flexible shared office and lab space—should be up and running, serving a variety of entrepreneurs and start-ups drawn from both the University community and the private sector.
Papageorge says her team has assembled a prospect list and established a web presence as it actively begins seeking more tenants and accepting referrals from agencies such as the city's commerce department and the Penn Center for Innovation. In the suddenly vigorous marketplace for such incubators and co-working spaces, Penn will attempt to compete on price, she adds.
"We are talking about giving Penn entities some preference in pricing and opportunity, while developing other priority matrices as to who our other tenants are," Papageorge says, noting biomedical and life-science entities are expected to be a substantial part of the mix.
Moving forward, Penn will also select an operator who will work with the University to fill up the property as well as act as a concierge to coordinate the programmatic components (training, speakers, workshops) that come with tenancy.
Such extracurricular efforts are important in helping the Center achieve one of its biggest goals.
"Technology transfer represents a primary area of Dr. Gutmann's Penn 2020 Compact," says Papageorge. "So we're looking at helping to commercialize the research that comes out of Penn. That process begins with the start-up and moves on to the growth that takes place when innovation is fostered. We're expecting people to come and go, to graduate from one space to another.
"We could have simply fixed it up and not made a major presentation with the public face of the building," Papageorge acknowledges, noting that the building's structural systems and load-bearing capabilities are robust. "Instead, we decided to find a way to symbolize the innovation at its heart through architectural gestures."
Besides the glass addition and a new three-story, triangular entry, the designers have incorporated one other element into the facade: a garage door on the east side that leads to a large workshop space.
"This is our way to empower by architecture," Hollwich says. "We don't want these innovators to feel limited."
Better still, the garage is a winking homage to the storied computer start-ups, such as Hewlett-Packard and Apple, whose founders enjoyed their beginnings while tinkering amidst someone's oil-covered rags and bicycle pumps.
—JoAnn Greco