Exotic Animals in Roman Mosaic at the Penn Museum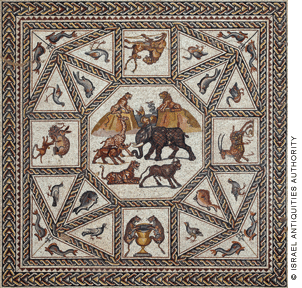 It took a giant crane to lift each of the six massive wooden boxes from a closed-off block of South Street, hoist them high into the air, and swing them into the third-floor Pepper Gallery of the Penn Museum. But now the contents of those boxes—which comprise one of the world's largest and best-preserved Roman mosaic floors—are on display through May 12.
The exhibition—Unearthing a Masterpiece: A Roman Mosaic from Lod, Israel—represents the 300-square-foot mosaic's final stop in the United States before traveling to the Louvre in Paris. The 1,700-year-old mosaic was discovered in 1996 when workers were constructing a new highway outside Tel Aviv. Archaeologists believe it dates to about 300 CE and belonged to a wealthy Roman citizen living in the Eastern Roman Empire. Since it depicts an elephant, a tiger, a lion, and other animals that frequently appeared in gladiatorial combat, some scholars have hypothesized that the mosaic's owner may have been connected to the exotic-animal trade.
The mosaic has been installed next to the Israel section on the third floor, thereby creating what Julian Siggers, the Williams Director of the Penn Museum, calls a "lovely juxtaposition" of cultural exchange in the region.
After its world tour is completed, the mosaic will form the centerpiece of a new museum that is being built in Lod.
—Matt Fernandez C'14