Exile's Return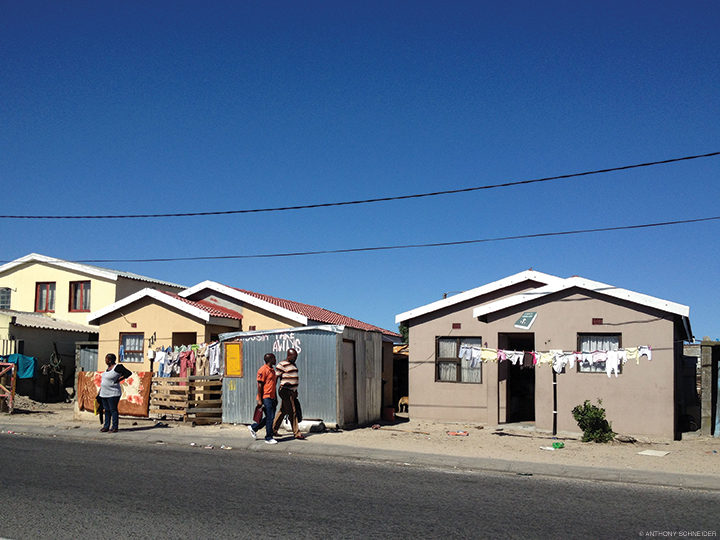 Going back to South Africa almost 40 years after leaving.
By Anthony Schneider | We are somewhere east of Cape Town, not far from the airport, where the golf courses and middle-class suburbs give way to a dusty scramble of shacks and shanties, rutted dirt paths and squat cinderblock houses, when my friend points above the steering wheel and says, "Welcome to the real South Africa."
My friend is a native South African. We went to school together in Johannesburg, but I left and he stayed. He knows the country well; he travels extensively for work and pleasure. We're on the N2 motorway. We've left behind majestic Table Mountain, Cape Town's hotels and restaurants, shopping malls and parks, its beaches and iconic sports stadium. We've passed banks and burger chains and asset-management firms, and the twin pirate ships rising from the set of Black Sails, a popular TV show. We're heading to Stellenbosch, a hub of South Africa's wine country. But it doesn't take long to pass from privilege to privation. In the blink of an eye we find ourselves driving past a Cape Town devoid of tourist attractions, strip malls, and finance firms: sprawling Langa township.
My wife and I spent three of the past six months in Cape Town. We didn't live in what my friend calls the "real South Africa." We stayed in a luxurious apartment overlooking the Atlantic Ocean. She was working on a TV show for SkyTV, and I was able to telecommute to my New York-based job, so I spent mornings with my young son on the beach or in one of the nearby parks, saw friends, and explored the area—wine regions, beaches, small farming towns, wildlife preserves, and the two incongruous, contiguous Cape Towns.
In places like Langa and nearby Khayelitsha township, barely one-third of the residents have access to piped water, and a quarter live without flush toilets. About one in five South Africans does not have electricity. Four in ten are unemployed. Whether this status quo derives from corruption, an influx of Zimbabweans and other Africans, the weak economy, or all of the above, poverty is pervasive and extreme. That's not to say there isn't a sizeable black middle class. There are even black millionaires—something that, not so long ago, was a contradiction in terms. Go to dinner at a trendy Cape Town restaurant, or a less trendy one near our apartment in Mouille Point, and the tables bustle with black South Africans and Africans of other nationalities. It's no longer a given that the patrons are white and the staff is black. Still, it's not the future I envisioned when the apartheid regime was toppled in the early Nineties.
When my family left South Africa in 1977, I was already ambivalent about my country and my blood-stained birthright. I was leaving behind friends and family, everything that I called home, but it was an oppressive place, ruled by a vicious and immoral government, a country with an uncertain future, beset by mounting violence. Like many young South Africans, I was hungry for change, and that hunger didn't abate with distance. In 1987 I wrote an editorial for the Daily Pennsylvanian calling Penn "tardy and wimpy" for failing to comprehensively divest from companies with ties to South Africa. In the years that followed, I didn't stop caring about South Africa, nor did I stop wishing that change would come. But I stopped feeling responsible. I'd become a citizen of another country. I lived elsewhere. I'd been a kid in South Africa; the wrongs of its regime were not my fault. Then good things began to happen. In 1989, President F.W. DeKlerk met with Nelson Mandela to talk about a new future for the country. A few months later, on February 11, 1990, Mandela was released from prison. Four years later, on May 10, 1994, he was sworn in as president.
At the western edge of Langa, my friend points out a new township zone, comprised of drab houses that resemble Brobdingnagian shoeboxes. For a long time, he explains, would-be residents refused to move in because the construction was so poor. The walls, made with inferior bricks and mortar, were already crumbling, and several roofs had been carried away by strong winds. Bad public housing, it seems, can be made worse with a bit of corruption and graft, two things South Africa has in abundance.
Yet that is only the tip of the country's crime problem. A wave of immigration has crashed over these under-resourced townships, and the informal settlements of corrugated tin and plastic sheeting that fringe them. So now an infrastructure that was already inadequate for South Africa's least fortunate citizens struggles to accommodate rising numbers of dislocated Zimbabweans, Congolese, and Rwandans who have troubles of their own, and dim prospects for finding a foothold in South Africa's anemic formal economy. The resulting political and social vacuum helps to fuel a countrywide murder rate thirty times higher than in the United Kingdom, and eight times higher than in the United States
But of course violence is distributed no more equally than wealth in South Africa. Mouille Point, our beachfront neighborhood, has largely been spared. A strong police presence is bolstered by huge investments in private security, making Cape Town safer than Johannesburg or Durban. Stellenbosch and Franschhoek are also safe havens, in part because all properties, from massive wine farms to modest houses, are fenced and guarded. So there's a safe South Africa, enjoyed by tourists and Capetonians, surrounded by a grimmer, more violent country.
There may be two South Africas but there is a single, pervasive sense of apathy. If the residents of Langa and Khayelitsha had anything in common with the denizens of our Cape Town apartment block and my old friends back in Johannesburg, it was a sense of hopeless surrender. For all South Africa's scandals and political tumult, the country has a strangely apolitical, ahistorical feeling these days. President Zuma has been charged with rape, implicated in corruption and bribery scandals, and forced to repay millions of dollars of state money lavished on his ridiculously opulent mansion in KwaZulu-Natal. But he has survived protests and calls for impeachment, and few pundits believe that he will leave office before his term ends in 2019—or that his party, the ANC, will lose the next election. (It didn't, winning 54 percent of the vote in August 3 municipal elections.—Ed.) Asked what can be done, most people just throw up their hands. "Wait for things to change," my friend responds when I put the question to him. "Or leave."
Around Stellenbosch, the two South Africas sit close together: massive wine estates, a string of McMansions and a golf course on one side of the bus depot, and a crowded informal township of migrant workers on the other. There's a thriving tourist trade, thanks to the beautiful countryside, picturesque vineyards, and a weak rand that keeps getting weaker. Amid the global rout in commodity prices and a cabinet reshuffle, South Africa's currency declined more than ten percent during our three-month stay. The country's credit rating sits one rung above junk.
Our next stop is Riebeek-Kasteel, one of the oldest towns in South Africa, nestled in a farming valley about an hour north of Stellenbosch. It's a lacquer box of history and a test kitchen of the new South Africa. Walking down Main Street, with the colonial Royal Hotel behind us and Western Cape's newest microbrewery in front, we can almost hear the past banging into the future. The growth of the Swartland and Malmesbury wine regions has brought food, lodging, and other tourist attractions. As a result, the area has become home to an increasing number of bed and breakfast owners (most of them Belgian and Dutch), as well as baristas and chefs weary of Johannesburg or Cape Town, eager to set up shop in a kinder, gentler town. There's a new retirement community and informal township springing up on the fringes of town. There are new restaurants, cafes, and places to stay—and reasons to want to settle down. Yet there are not enough schools for the children of the working poor who make it all possible. Is the future being developed as a gated community?
It's dark when we drive back into Cape Town. The city twinkles below the crest of Table Mountain. My friend drops me off, and I chat with my building's security guard before tiptoeing into our apartment. I kiss my sleeping wife and son, and then sit on the balcony above the dim Atlantic Ocean. The sea at night is mysterious—dark and immense, hiding the horizon, hoarding tomorrow's secrets. We're leaving soon, and I wonder when we'll be back, and what the country will be like when we return.
Anthony Schneider C'87 is the author of Repercussions (Permanent Press, 2016), a novel set in South Africa and New York.