Elite Eight Finish for Women's Lacrosse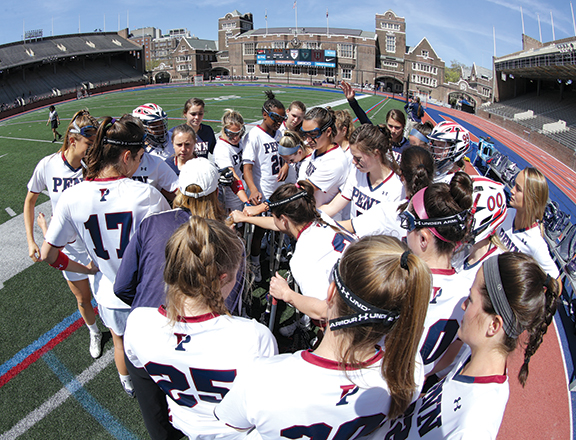 By Dave Zeitlin | It was raining and eerily quiet when the Penn women's lacrosse team returned to campus following an 8-4 loss to Penn State in the NCAA tournament quarterfinals on May 21. All that was left for the players to do was pack up their dorm rooms and return home for the summer—or, for the seniors, begin their new lives away from Penn.
The ending of all collegiate seasons can feel abrupt and final. But for those athletes who play in the postseason in the spring, it's even more jarring, since school is already finished for the semester. Add the fact that the Quakers were just one win away from qualifying for the NCAA Final Four, and it made for an especially solemn move-out day.
"I think it was the toughest ending to a season in a really long time," head coach Karin Corbett said. "They believed they should be playing that last week."
Over the next week, Corbett did her best to stay in touch with the seniors, even if it was just a quick text to say she was thinking of them. And she tried to help put all of their accomplishments in perspective, which included an Ivy League championship, two NCAA tournament routs, and a Top 10 national ranking at the end of the season.
Still, for the University's most successful team over the past decade, nothing could entirely take away the sting of just missing out on the program's first trip to the national semifinals since 2009. And that's mostly because they knew they could have stamped their ticket if not for an uncharacteristically poor shooting day in their quarterfinal matchup versus Penn State.
"Our offense had been winning games for us all year, and our attack just shot so poorly," Corbett said. "Our top three scorers had no points … Some days you just don't have it. You just hope it's not their last game."
One of those top scorers was Nina Corcoran W'16, who set the Ivy League ablaze with a historically good season. Corcoran was named an All-American by the Intercollegiate Women's Lacrosse Coaches Association (IWLCA) and was the unanimous choice for Ivy League Attacker of the Year after leading the nation with 58 assists—a program and conference single-season record. Her 85 points also set a Penn record.
But against the Nittany Lions, Corcoran—along with fellow All-American Alex Condon, a sophomore, and standout attacker Iris Williamson C'16—was held in check, much to her dismay.
"I wish I could go back and replay the game, but it doesn't really work that way," Corcoran said. "It all didn't really hit me until leaving campus. It was kind of like two things ended at once. It wasn't the best feeling. But I still think everyone had a lot to be proud of."
Coming into the season, Corbett said that "on paper," Penn was the fourth best team in the Ivy League after seeing their string of conference titles snapped at eight in 2015 and losing several significant players to graduation. Things looked even more dire when Penn lost at Dartmouth on May 27 to drop to 1-1 in the Ivies.
But after what Corbett called "a lot of painful video sessions," as well as some motivational words from Corcoran and the other seniors, Penn rallied to win its final six regular-season games to reclaim its place atop the Ivy League.
"She was such a leader for us," Corbett said of Corcoran. "The Dartmouth game was devastating to her because she felt she could have done more. Meanwhile, she was a part of eight of our nine goals. That is a champion."
The six-game winning streak was punctuated by a 10-6 win at Cornell on April 30 that clinched the program's ninth Ivy title in 10 years. But perhaps the more resounding road win came 10 days earlier when the Quakers went to Princeton and cruised past the rival Tigers, who had beaten them twice the previous season en route to the Ivy regular-season and tournament title.
"We walked into Princeton with them being undefeated in the league, and my kids won that game from the first whistle," Corbett said. "They played their hearts out and really dominated that game."
Sandwiched in between those victories was another impressive road win that showed the team's resolve—a 9-8 triumph at Yale. And then, following the title-clinching win at Cornell, the Quakers earned another one-goal win when they beat Harvard in the Ivy League Tournament semifinals on sophomore Caroline Cummings' sudden-death winner.
But things hit a snag in the Ivy League Tournament finals at Franklin Field when Penn fell behind 10-4 to Cornell and saw a valiant second-half rally fall just short in an 11-10 loss.
"Everyone knew we could make that comeback," said Condon, who finished her sophomore season with a team-leading 41 goals. "We had done it before."
As a consolation, the Quakers still earned an at-large bid to the NCAA tournament that same day. And they marked their 10th straight appearance in the national postseason tourney—and graduation weekend for several of the team's top players—with a pair of dominant wins over Wagner and Towson in the first two rounds.
That accomplishment, along with their regular-season Ivy title, made it a very memorable season for the Quakers, even if it didn't end exactly how they had hoped.
"The elite eight is a really big thing," said Condon, who will be one of the team's leaders next season. "At the end of the day, we're all really proud we are able to get that far."
Longtime Penn Athletic Administrator Hired as Johns Hopkins AD
Alanna Shanahan C'96 GEd'99 GrEd'15 has been at Penn for nearly a quarter-century, first as captain of the women's lacrosse team, then as a lacrosse coach and administrator in the University's Division of Recreation and Intercollegiate Athletics (DRIA), and, most recently, as the deputy director of athletics.
But in early June, Shanahan decided to move on, accepting the athletic director position at Division III Johns Hopkins University.
"Penn and DRIA have been an integral part of my life since the fall of my freshman year in 1992," Shanahan said in a statement. "Both have challenged, nurtured and engaged me for over two decades … Penn will always hold a special place in my heart."
"Johns Hopkins has hired a first-class athletics administrator in Alanna Shanahan," Penn athletic director Grace Calhoun said. "She is one of the very best and most talented colleagues with whom I have had the pleasure to work. Alanna's dedication and service to Penn have been truly extraordinary and she will be sorely missed."
Dave Zeitlin C'03 writes frequently for the Gazette.