Education Entrepreneur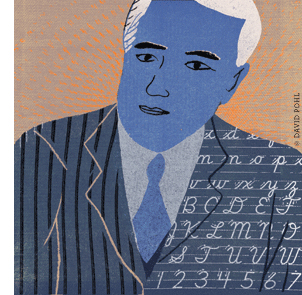 Class of '62 | By the time he celebrates his 50th reunion in 2012, serial entrepreneur Michael R. Sandler W'62 will have neatly split his career between the fields of business and education. For the first quarter-century after graduation, Sandler built successful small businesses that were bought by or merged with larger firms. Since then, he has applied his skills to a variety of reform efforts in K-12 and higher education. Now Sandler has written a book, Social Entrepreneurship in Education: Private Ventures for the Public Good (Rowman & Littlefield Education), tracing the development of the education industry and his own not-inconsiderable role in it.
He defines social entrepreneur as one who "thinks they can entrepreneurially use their skills and their experience to create positive outcomes and enhance society" on a given issue or problem. "We have huge problems globally," he says, "and it's all hinged on education."
Sandler is actually credited with coining the term education industry, but his involvement was, in his opinion, a case of serendipity. In a way, it began at his 25th Reunion in 1987—for which his class commissioned the now-iconic Ben on the Bench sculpture, and where he recalls a number of classmates expressing an itch for mid-life changes. That "was a resonating experience for me," he says.
Not long after, he was appointed a fellow at the Center for Business and Government at Harvard's Kennedy School. "I was very fortunate to get that appointment," he says, since it gave recipients an opportunity "to take a sector of the economy and say: 'What's in the public interest, what's in the private-sector interest, and how do you resolve the conflicts?'"
His wife Ellen CW'62 had studied education at Penn, planning to be a teacher, but Sandler had no particular interest in the field. As it happened, though, other economic sectors such as health care, energy, and financial services were already covered, "so I was assigned education," he says.
Boston University's president, John Silber, spoke at a seminar Sandler taught. After his stint at the Kennedy School, Sandler joined BU's ambitious program to manage the public schools in nearby Chelsea, Massachusetts, founding and chairing the A Different September Foundation to support the university's efforts. (The 20-year program, generally regarded as successful, ended in 2008.)
Sandler also served in the New American Schools project, an initiative begun under the first President Bush and extended by the Clinton administration to "use corporate funding to redesign the curriculum content of schools across the country," which helped to advance the school-reform movement and shape the thinking behind the No Child Left Behind (NCLB) legislation signed by the second President Bush. In 1993, he founded Eduventures, Inc. to distribute information about the education industry and match up companies and investors. He sold the company in December 2005, and is now chairman and CEO of the Education Industry Group, "an advisory company supporting social entrepreneurship in education."
Sandler draws on his own experiences as well as extensive historical data and analysis for Social Entrepreneurship. The book covers the period from the release of the seminal education report A Nation at Risk in 1983 until 2008, during which the education industry went from about a $5 billion market, consisting of mostly "textbooks, some school-supply business, a little software," to $100 billion, he says.
Much of this development has occurred with little public knowledge or understanding. Sandler describes the book as providing a foundation for representatives of different constituencies—business people, academics, government officials, entrepreneurs, investors, politicians—to learn "where we're at and particularly how the new technology is going to impact the future" of the education industry.
Having a better-trained and educated work force and the jobs to match is essential for the country's future, Sandler says, lamenting the fact that fewer than half of Americans have earned more than a high-school degree by age 27. "I think our society desperately needs a better respect for global competition in a global economy. Education, which was America's strongest suit, is going to be the driver for the future of our country."
Sandler says he is "totally independent" politically, but "philosophically in some ways I support more Republican ideals because I'm very market-oriented." He perceives a corresponding "distrust by Democrats of free markets and open competition, and union resistance" to change on education-reform issues. This attitude was present in the Clinton administration, he says, and seems to be coming back.
For example, one proposed provision in the legislation to replace NCLB working its way through Congress would prohibit for-profit companies from tutoring in public schools, he notes. And while the Obama administration's $4.35 billion Race to the Top reform initiative has gotten plenty of attention, Sandler bemoans the fact that some $200 billion in federal stimulus spending on education is being disbursed without accountability measures built in. "Why did they give them all that money with no strings attached?"
Sandler calls the "political back-and-forth [over education] without much outcome" the "key driver of public frustration." He says there is a "continuous push-pull on the role of the private sector," which has changed the relationship between entrepreneurship and education over the past couple of decades. Initially, his conception of a "private venture for the public good was more purist—a for-profit charter school," he says. These days, it has expanded to include "anything that's innovatively created through the forces of the private sector."
Unions take a lot of heat for standing in the way of education reforms—deservedly so, Sandler believes—but he also points to the "intransigence and lack of flexibility and innovation of the [textbook] publishers," and to the investment community's shortsightedness and unreasonable expectations for returns as barriers to progress, declaring that he is equally disappointed in all three sectors.
Nonetheless, Sandler does see some barriers breaking down. He cites a greater political receptiveness to incentive compensation for teachers, and the fact that publishers have finally begun to embrace new educational products for use on laptops and mobile phones.
With the investment community having largely fled the K-12 field since the failure of Edison Schools (which once projected a nationwide chain of privately run, for-profit charter schools and survives as a supplier of educational materials), Sandler places the greatest hope for reform in entrepreneurs like Bill Gates, who are using their wealth to spark innovation in a variety of fields, including education. The Gates Foundation and others active in education "have new metrics," he says. They don't just give money to help charter schools; they want those schools to be held accountable. As a result, he predicts, "we will end up seeing a different model for K-12, with lower returns and different expectations" as private philanthropy steps in for private equity.
Ultimately progress on education will depend on global competition through new technologies and more internal competition in America, says Sandler. "The money's in place; the social need is in place. We just need the group of entrepreneurs that is going to change us," which is the purpose of his book, he says. "The book says that a guy like me—who came from Portland, Maine, who went to Wharton with stars in his eyes, and had a good business career—could leave [that] career 25 years later, and write a book and have the opportunity to think about how the same energies and creativity that I learned to help my business could be used to help education." 
—J.P.