Death Watch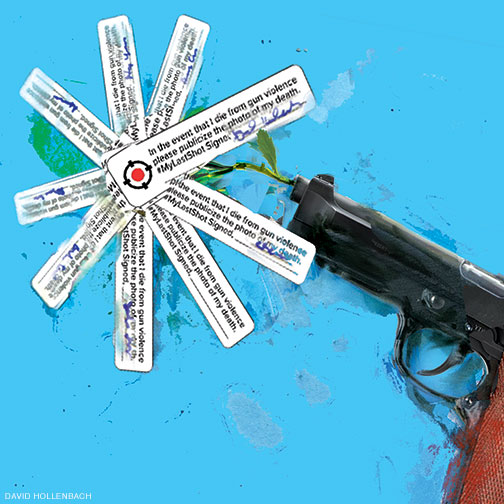 The US press rarely publishes photos depicting death. But victims—and prospective ones—make a powerful case for why they matter.
By Jessica M. Fishman
---
As students return to school this fall, 20 years after the Columbine High School massacre, some children are planning for their future by preparing for death. Fearing that Americans have grown "numb" to mass shootings, they are advancing a campaign to share images of their dead bodies if they are killed by gunfire. Launched in 2018 by Kaylee Tyner during her senior year at Columbine, the #MyLastShot campaign asks students to place a sticker on their driver's license or cell phone requesting: "In the event that I die from gun violence, please publicize the photo of my death."
News editors have avoided showing the Americans killed by guns. "Broken bone fragments. 3-inch bullet holes. Blood-soaked uniforms," the campaign's website notes. "These are some of the familiar and horrifying symptoms of a shooting, but you wouldn't know it." Those of us who have not been at the scene see only the highly sanitized news coverage, "but if we can't handle the reality of what our gun violence epidemic is causing, we'll remain stuck in a loop" where shootings vastly outnumber legislative attempts to curb them.
With their call to document the reality of this epidemic, #MyLastShot is taking aim at what may be the most persistent bias in American journalism. While it may seem that news media are awash in graphic images, photographs and videos depicting the dead are in fact exceedingly rare. Television newscasts may dutifully lead with announcements of death tolls, and newspaper headlines may blare "At Least 80 Civilians Die in Iraqi Violence" or "Fire Kills 283 at Supermarket in Paraguay," but pictures of the dead appear in less than 1 percent of such stories. When editors need illustration, they reach for imagery of rescue workers, distraught survivors, damaged buildings or vehicles, smiling yearbook photos of victims before they were killed—virtually anything but a photograph documenting a body. These choices are dictated not by law, but by a compulsive self-censorship within an industry that makes death nearly invisible.
The bias against depicting death is useful in a business that depends on attracting and retaining viewers. In America, the default attitude toward dead bodies is that they deserve privacy. Drawing a veil over the dead, many argue, is an essential expression of respect for the deceased and their families. Some consider publishing images of death an unethical practice that should be banned.
When news media do show death, outrage often follows. Earlier this year, international controversy erupted after the New York Times showed bloody victims of a terrorist attack in Nairobi, Kenya. These pictures were condemned as "exploitive," "desensitizing," "disrespectful," and "deplorable" because they were believed to deeply harm the dead and their loved ones.
As someone who studies the portrayal of death in the media, I am often asked to explain the effects of these images. As shown by the charged reaction to the Nairobi photos—or the widely published photo of a Salvadoran father and his two-year-old daughter drowned in the Rio Grande this past June—there is no doubt that these depictions spark powerful emotions. On the rare occasions that the news media decide to show a dead body, many are enraged that the image has been made public, but I have learned of many survivors who seek visibility and do not want the camera to avert its gaze. These include parents who have lost a child and depend on the news media to expose the awfulness.
In 2014, two girls in a remote Indian village, ages 12 and 14, were gang-raped in a field and then hung by their colorful scarves from a mango tree. While some American news outlets decided to visually document their death, others instead published images from which the bodies had been digitally obscured by a haze. Some editors cropped pictures to remove the victims and permit only a view of the surrounding crowd. Although many media gatekeepers did not want the dead girls to be seen, the next of kin felt otherwise. Because violence against girls is typically ignored, the parents desperately wanted the horrific hanging to be shown by local, national, and international news outlets so that authorities would be pressured to investigate. The parents felt that photographs testifying to the tragedy offered a path towards justice, and that privacy would only make it harder to achieve. The father of the youngest girl "didn't have any problems with people taking photographs," he explained: "The problem is the thing that happened with our children."
Yet when the New York Times published an undoctored postmortem photo of the hanging girls in an online article—and explained the families' wishes at length—the comments section still filled with readers adamantly opposing the image's inclusion. One argued that, despite the published accounts to the contrary, the families' "wishes were to not publish the photos." Because an alternative was inconceivable, readers insisted that the picture was offensive to the families.
This disconnect repeats in a wide variety of circumstances. When US news media showed victims killed by Haiti's devastating earthquake in 2010, viewers judged the pictures "unethical," "unkind," and "inhumane." Yet some Haitian survivors had pleaded with photojournalists to take pictures of their dead loved ones. A father carrying the lifeless body of his five-year-old girl, Tamasha Jean, exclaimed to a photojournalist, "This is my baby! Give me a picture!" He and others begged photojournalists to recordtheir dire reality, hoping that images could bring them global attention and help.
When gas attacks exterminated hundreds of Syrian children, families tried to publicly share postmortem pictures. On Twitter, a caption to one of these pictures implored, "Keep watching world. #Syria #Damascus." When we saw the little Syrian boy, Alan Kurdi, lying dead on a Turkish beach after his family had tried to escape the war by fleeing to Europe, the pictures ignited moral outrage.
For many decades, some US military families have argued that we should confront the real cost of war by witnessing the ultimate sacrifice. During the Iraq war, when American news media shared pictures from Baghdad of Army Spc. Travis Babbitt in his last moments of life, his anguished mother explained, "I do think it's an important thing, for people to see what goes on over there."
There are real struggles for visibility among American civilians, too. African American scholars and activists credit the camera as an agent of change because of the gut-wrenching photos and videos that helped spark the Black Lives Matter movement. When the death of Walter Scott at the hands of a South Carolina police officer was publicly witnessed, his father offered that, without the images, the injustice "would have never come to light." Precisely because they made death visible, these images have helped strengthen the 21st century's civil rights movement.
A postmortem picture published in 1955 helped to propel the earlier civil rights movement. When the deeply distressed mother of Emmett Till invited the press to show how white men had mangled the body of her 14-year-old son, she did so with a clear and urgent purpose. "We had averted our eyes for far too long, turning away from the ugly reality facing us as a nation," she explained. Her choice helped to galvanize one of the most significant social movements in US history.
Today, Columbine students are drawing upon the same intuition—with the imaginitive twist of recognizing themselves as potential victims who don't want to die in vain. "Your final shot can save lives," their website declares, expressing a grim hope that images of their corpses might capture the attention of a nation that can demand change.
Should gunfire take any of their lives, there will doubtless be no shortage of people speaking on behalf of the deceased, arguing that these kinds of images victimize the victim again, cruelly compounding the calamity. They assume these images harm, but as the students instinctively know, they can help. When we deem graphic news images an ethical transgression we ignore important struggles for visibility. The news camera can document a loss and protect it from neglect. Sometimes the harm is not in showing a tragedy but in hiding it—a comforting sin of omission that allows injustice to be more easily ignored. Privacy is a privilege that not everyone can afford.
---
Jessica M. Fishman Gr'01 is the author of Death Makes the News: How the Media Censor and Display the Dead. She holds a joint appointment at the Perelman School of Medicine and the Annenberg School for Communication.