Danke Schoen, Wayne
What do you sing before Wayne Newton comes on stage?
Carly Robyn Green C'05—known during her Penn days as Carly Greenberg—faced exactly that question on Saturday, April 8, when she opened for Newton at the Saban Theatre in Beverly Hills.
Green has been singing professionally since her Penn days, but the Newton gig was a big moment: a 1,900-seat theatre in front of her, a new single under her belt, and the veteran entertainer known as Mr. Las Vegas waiting in the wings.
She decided to start with "Natural Woman," then launched into a mix of covers and original compositions—including that new single, "What Love Is All About."
[youtube height="HEIGHT" width="WIDTH"]http://www.youtube.com/watch?v=B0uzm3AQY5U[/youtube]

Audiences aren't always open to hearing music they don't yet know, but Green reports that "people's comments were amazing. Afterwards they said that they loved the songs they knew but they really loved the originals. So that was nice to hear."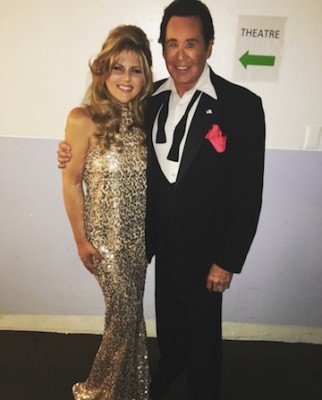 Green says Newton has long been one of her musical inspirations—and she was thrilled when he told her that he'd like their performance relationship to continue. Much like Mr. Las Vegas, "my goal is to sing classic music that lasts," she adds. "Timeless melodies and messages that are meaningful—that's what I love. I want my music to touch people and affect them and make them feel things."
The Saban performance capped off a busy few months for Green. In February, she made her New York debut at Feinstein's/54 Below—and again paired her own compositions with classics.
[youtube height="HEIGHT" width="WIDTH"]https://www.youtube.com/watch?v=88RgYVrN7Tg[/youtube]

[youtube height="HEIGHT" width="WIDTH"]https://www.youtube.com/watch?v=nm9Vd6W-LAw[/youtube]
Green's music is available on Soundcloud, and she plans to go on tour this fall.
—Molly Petrilla C'06