Crossing the River on Horseback in the Night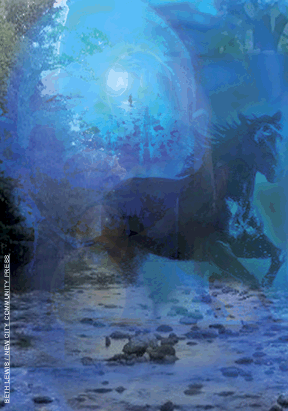 Excerpt | Dismal. On Christmas night, 1856, Robert Brown left Martinsburg, Virginia, in the cold dark, in freezing rain. His mind and heart were dismal, too, frozen underneath a low-slung sky stained purple with grief.
Just five days before, Mrs. Brown and their four children had been sold by a master who was angry with her. Robert was crazy with trying to find a solution. He had found a buyer in the county, and he had told the master, so that even if his family were separated, he would still be able to visit them. But the Browns' master was so angry that he would only sell them to someone who lived far away. Robert Brown could not find or follow them. His family was split apart. Brimming with sadness and rage, Robert Brown stole a horse and galloped north.
At the Potomac River, he and the horse plunged into the water. Strong and game, the horse began to swim. The river spread out for half a mile—half a mile of cold, rushing water. The horse pumped his legs. Robert hung on against the drag and pull of the tide; his clothes froze to his skin. He wrapped the reins around his hands and dug his fingertips into the mane. He squeezed the flanks with his knees and lay his body close along the horse's neck to keep from being washed off the saddle. Together, Robert and the horse stroked to the other bank.
Then, as Christmas night wore on toward a swollen, wet, gray morning, Robert Brown rode another 40 miles along the muddy roads. When the courageous horse gave out, Robert tied him to a fencepost and walked on.
For two days, he dared not talk to anyone for fear of being arrested. So he walked on, driving himself as he'd driven the horse: Walk on.
He walked on despite the cold and without any food. Walk on.
He arrived in Philadelphia a few hours before dawn on New Year's morning, carrying inside his coat a picture of his dear wife, and small fuzzy locks of black hair, wrapped in thin scraps of fabric, from his four children. He knew each lock, one from the other.
---
Reprinted with permission from Third World Press, from Free! Great Escapes from Slavery on the Underground Railroad, by Lorene Cary. Copyright © 2006 by Lorene Cary.
See Free! At Last for an interview with Lorene Cary about the book.