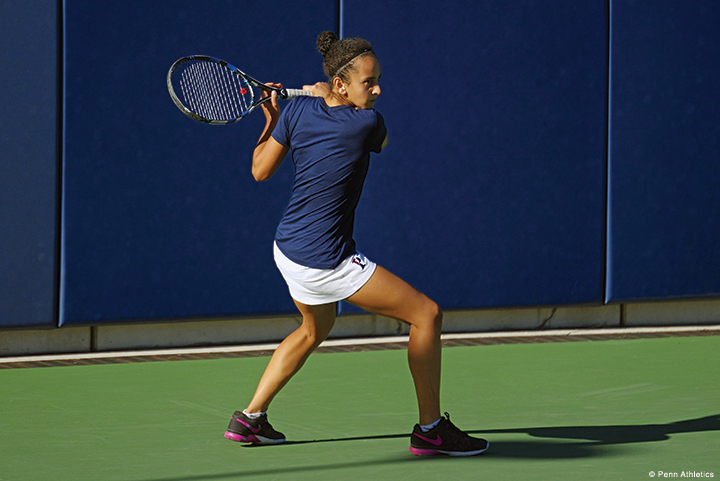 Lina Qostal shifts her sights from political philosophy to pro tennis.
---
As graduation neared, Lina Qostal C'18 would invariably be asked what she'd be doing next. When she told friends and classmates she planned to play tennis professionally, she was typically greeted with a mix of curiosity and amazement.
"It was always like, 'Oh my god, that's so cool,'" she said. "Then I'd have to tell them the part that's really not that cool."
For Qostal, a native of Morocco and the No. 1 singles player on the Penn women's tennis team in 2017–18, the "not cool" part includes challenges like finding a coach, a sponsor, and a country to serve as a home base between competitions. She also knows people might wonder why an Ivy League grad who majored in Philosophy, Politics and Economics (PPE), minored in theater and psychology, and notched a 3.75 GPA wouldn't choose a more traditional—and more predictably bankable—career path.
Heck, she used to have those same questions herself.
"It was easy my first two years at Penn to get wrapped up in the culture and to think, I'm getting a degree from Penn, why would I try to play professionally when I could get jobs like everyone else?" she said. "But then I started to realize this is always going to be something I'd regret not having tried."
Penn women's tennis coach Sanela Kunovac C'04 CGS'07 can relate. Like Qostal, she embraced all that Penn had to offer as an international student. And she too once hoped to forge a professional career, before injuries set her on a coaching path.
In many ways, though, Kunovac believes Qostal has even more potential than she did, calling her "one of the most talented and athletic players" that she has encountered in her nine years at the Quakers' helm.
Since Kunovac became the team's head coach, three other players have tested the professional waters: Connie Hsu, the 2011 Ivy League Player and Rookie of the Year who left Penn after one season; Sonya Latycheva C'16; and Kana Daniel C'17. Qostal didn't earn the same kind of league-wide recognition as those players, in part due to a wrist injury this spring. But she did advance to the quarterfinals of the 2017 Intercollegiate Tennis Association Northeast Regional. And before ascending to the No. 1 singles spot at Penn, she competed in big tournaments in Morocco and was ranked in the top 200 in the world in the International Tennis Federation (ITF) juniors circuit.
Now she's confident that without her attention divided between schoolwork, tennis, and other college activities, she'll see major improvements.
"My whole life I've been playing tennis and studying," Qostal said. "The idea of being able to just focus on tennis is something I'm really, really looking forward to."
Kunovac agrees that Qostal is uniquely suited to take a big leap now that she has concluded her undergraduate studies. For one thing, adjusting to college was difficult for her—not just in tennis (where she had to get used to hard courts after growing up playing on clay) but also because she had never even been to the United States when she arrived at Penn, having learned about the school only through a referral from fellow Moroccan Ismael Lahlou C'16, a player on the men's tennis team. "Everything was new, everything was different," said Qostal, a native French and Arabic speaker.
Kunovac thinks the personality traits that allowed Qostal to succeed in the classroom—organization, diligence, patience—should help her create a disciplined daily regimen that allows her to get the most out of her body.
"I feel like what we've seen is only the tip of the iceberg," Kunovac said. "Everyone who sees her is like, 'My god, she's so talented.' And all I'm thinking is, 'Wait until somebody comes with a chisel. You'll see what a diamond is in there.'"
Kunovac will try to help Qostal through her connections in the International Tennis Federation. Qostal also hopes to lean on Penn's alumni network for advice—former pro Rick Meyer W'77 has already offered some—and, she hopes, for donations through a GoFundMe page (tinyurl.com/ycu9lkx7) she set up after graduating. Prize money at some tournaments won't even be enough to cover expenses. (Finding a sponsor would help, but that will depend on notching some wins and climbing the ITF rankings.) Financial considerations will also play a role in where she moves. She feels that a visa to stay in the US would cost too much, while the cost of living in France could be too high. Spain and Serbia are options—they tend to produce good players—but she also doesn't want to risk getting lost in the shuffle among hundreds of other aspiring professionals.
"The probability you'll make it is low," Qostal admitted. But she knows the opportunity to go to graduate school or get "a regular job" will always be there. And from acting to social justice, she has a lot of other interests, many honed from four eye-opening years at Penn. But for now, the only thing on her mind is tennis, and dreams of one day playing at the French Open or Wimbledon.
"Everyone tells me that when I start talking about tennis, my eyes light up," she said. "My dream is to just take it as far as I can take it. I want to see how good of a tennis player I can become."
—Dave Zeitlin C'03