Counting the Complaints, Not Just the Votes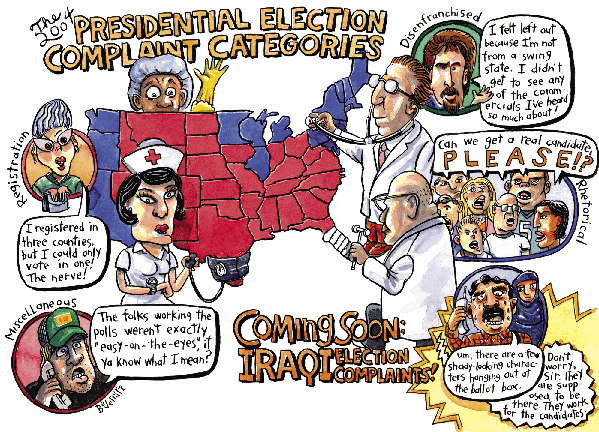 ---
Elections | If nothing else, this past presidential election has made one thing clear: the voters of Allegheny County, Pennsylvania, don't hesitate to pick up the phone. Surpassing Los Angeles, New York, and even Florida's Broward County of "hanging chad" fame, the residents of Allegheny County made more calls to a national voting-complaint hotline than any other county in the nation.

Allegheny's frustration was one of the surprising findings uncovered by the MyVote1 project, a non-partisan study launched by Penn's Fels Institute of Government in collaboration with Voter Link Data Systems, NBC, Common Cause, the Reform Institute, and the National Constitution Center.

"In the 2000 election, it became clear that there were systemic problems with the electoral system in the U.S.," says Dr. Christopher Patusky, executive director of the Fels Institute. "Those problems were not centralized; states are responsible [for elections] and each has their own system. That's not one [problem] but several thousand." Following up on reforms legislated by the Help America Vote Act of 2002, "We wanted to investigate if it helped solve the problem."

Although it would appear that the MyVote1 team took on an insurmountable task, the solution was actually quite simple. They created a hotline answered by 150 volunteers, including Penn students.

"We needed to design a method of diagnosing problems within the electoral system just as a doctor has a method for diagnosing patients," Patusky says. "We thought the best source of information [on problems with the voting process] would be the national voters."

NBC broadcast the MyVote1 number 10 days before the election and election officials also informed voters of the hotline at the polls. The MyVote1 complaint line used technology created by Voter Link Data Systems to log where calls were coming from. It also referred voters to poll locations, recorded complaints, and transferred calls to local voting officials upon request.

Complaints were divided into eight categories, including difficulties with registration and intimidation or coercion at polling places; in Allegheny County and across the nation, problems with registration were the most frequently reported complaints. By the end of Election Day, 210,000 calls had been made to the hotline; of those calls, nearly 56,000 left recorded statements. "In the next phase of this project, we're going to analyze all [of the] messages and we're going to code them in a much more detailed and scientific way," Patusky says. "Instead of only eight categories, we'll have 15 to 20." Registration, for example, can be subdivided into voters who never received their registration cards and those who showed up at the polls and were told they weren't registered.

In addition to examining the incidence of different complaint categories, MyVote1 expects to locate counties that require immediate voting reform by tracing the origins of the 210,000 received calls. It also hopes to identify characteristics of these counties, such as income levels, age groups, and predominant ethnicities, by comparing its data with census figures.

Having a more complete picture of the communities that had the most difficulties with voting procedures will help government and advocacy groups make reforms, Patusky believes. Before MyVote1, it was difficult to substantiate sources of voting problems. "In the past we relied on rumor and conjecture with almost no systematic evidence to support those allegations. Now we have a contemporaneous record of what happened."

The success of MyVote1 has increased the ambition of the Fels Institute. "We expect that this will become a standard election-evaluation tool in every federal election," he says. "We also assume that the states will begin to use it as well. It's a relatively inexpensive way to pinpoint problems that occur in different counties."

At press time Fels was looking into a new challenge, creating a hotline for use in Iraq during future elections, if not the ones scheduled for this month. "We believe that there are about a million people with land lines and an additional 500,000 with cell phones," Patusky says. "This number can be used to analyze what actually happens in Iraq by recording thousands of eyewitnesses and also by pinpointing where those calls are coming from."
—Chelsea Tanimura C'06