Composer for Hire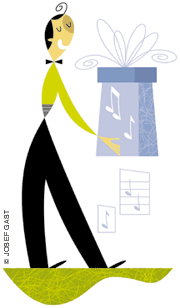 Class of '96 | The Soule-Chouinard wedding was an exquisitely orchestrated affair. Held in a bucolic area of southern Michigan called the Irish Hills, the nuptials were planned to the last detail, save for a Midwestern thunderstorm that rolled over the reception at the Soule family farm. Linens were laid out under a dinner tent; a creaky barn nearby was outfitted as a dance hall. The band had been transported from the East Coast. (Full disclosure: the author of this piece was the drummer.)
But what really distinguished this wedding from numerous others was the music itself, which had been entirely composed and/or arranged by the groom, Charles Soule C'96.
"I saw the ceremony music as a gift to Amy," said Soule recently, just shy of their one-year anniversary. "The long piece that opened the ceremony was a song-poem, a portrait of our relationship. Then there was the processional and the recessional. I wanted it all to be as beautiful as possible. I wanted it to be the strongest thing I'd ever written."
It was certainly his most ambitious work, having taken roughly six months to compose. And along with the post-dinner reception music—a mix of soul classics, rock staples, and Great American Songbook fare, hand-picked by Soule—the suite for chamber ensemble brought a distinctly personal touch to the proceedings.
It also brought a substantial new idea. During their months of preparation, Charles and Amy had encountered services offering customization for virtually every aspect of the wedding experience—but not the music. Having composed pieces not only for his own wedding but also for those of friends and family, Soule saw a business opportunity. By the time they returned from their honeymoon, the bride and groom had the makings of a plan. It was only a matter of months before Soule tendered his resignation at the Manhattan law firm where he was an associate, and founded SouleMusic.
"What we're doing is enabling people to have a piece of music that's connected with some of the most emotional moments of their lives," Soule explains. Weddings are the most obvious occasions; others might include anniversaries or baptisms. Clients choose from a number of packages, ranging from a single piece ($1,200) to a full suite ($5,000). They consult with Soule from the start, providing personal information that helps shape the music. When the work is finally finished—a process that can take anywhere from six weeks to six months, depending on the scope of the work—Soule delivers the songs and their copyrights, along with sheet music and a sample CD.
Leaving a lucrative career for the uncertain promise of artistic entrepreneurship was hardly out of character for the energetic, self-assured Soule. During his undergraduate years, he was an active musician, performing in folk-rock duos as well as a jazz combo. (Here, too, the author was the drummer.) Music was his minor; his major was Chinese language, a passion honed during his formative years at the American International School in Hong Kong. After Penn he earned a degree from the Columbia University Law School, and then joined a mid-sized corporate firm.
Along the way he formed the Charles Soule Band, a five-piece featuring his own power-pop tunes; composed scores for very independent films; and wrote not one but two as-yet unpublished novels, the first of which—"The Land of Ten Thousand Things"—he describes as "a big, epic adventure set in China, around 400 A.D."
Soule's background, both musical and legal, helped define the parameters of his new venture. The finishing touch was the guidance and vision of Amy Chouinard Soule, an event planner who has, for the past four years, coordinated marketing for the Architectural Digest Home Design Show in New York. In a sense, SouleMusic taps into the same lifestyle impulse that drives the higher echelons of home design: the promise of a stylish, functional piece of art built to someone's specifications, and never duplicated.
And that, so far, has been the challenge of the business. "The biggest hurdle we seem to have with the company," Soule says, "is that people don't really understand what it is. People don't understand the need for, or usefulness of, customized music." For most couples headed down the aisle, there's no reason to tamper with tried-and-true matrimonial themes. Soule is hardly in a position to topple the reign of Felix Mendelssohn (who intended the traditional "Wedding March" as incidental music for A Midsummer Night's Dream) or Richard Wagner (whose "Here Comes the Bride" fanfare was composed for his opera Lohengrin). What he does offer is music made to order, bearing the celebrants' names in the title. His most recent commission, a solo piano piece for a 35th wedding anniversary, begins in a slow 4/4 cadence and moves on to a waltz theme—the two sections intended to reflect characteristics of the husband and wife, respectively. Carried by pop undercurrents, and seasoned with a spritz of New Age, it's a simple but handsome piece of music.
This anniversary commission joins the SouleMusic scrapbook alongside six weddings, a baptism, and a first communion. Roughly half of these clients were personal acquaintances. Soule sounds just the slightest bit unsure when he predicts that demand for the service will grow. "In the same way that you might leave a film and feel like the soundtrack really affected you during a particular scene," he says, "people should be able to do the same thing with the music of their lives."
—Nate Chinen C'9