Coaching Shakeup for Men's Hoops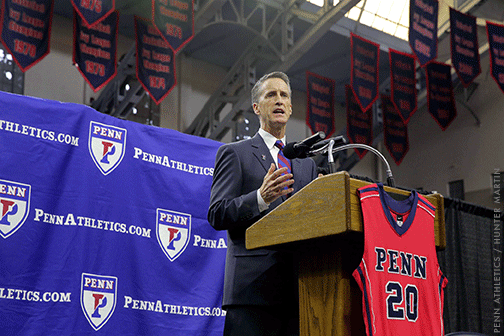 By Dave Zeitlin | The most pivotal moments at the Palestra this year came after the men's season had ended.
The first occurred on March 10. Jerome Allen W'09, one of the greatest Penn basketball players ever, had just coached his final game for the Quakers, a 73-52 loss to Princeton. Days earlier, news had leaked that Allen would be stepping down as Penn's head coach after a rocky five-and-a-half-year tenure, an announcement that gave the game an emotional pitch. Afterwards, Allen expressed humility and gratitude, saying he "was being pushed into the next season of my life." He remained at the Palestra for a long time to shake hands with alumni and friends.
One week later, athletic director M. Grace Calhoun hired Steve Donahue, a former Penn assistant and former head coach at Cornell and Boston College. At his introductory press conference at the Palestra, Donahue outlined a vision for the future while expressing appreciation for Penn's role in his career to date.
Donahue certainly has plenty of great Palestra memories. As a Penn assistant from 1990 to 2000 under Fran Dunphy, he recruited some star players—Allen among them—and helped guide the Quakers to six Ivy League championships. Because of that success, many longtime fans had wanted Penn to hire Donahue away from Cornell to fill the head coaching vacancy in 2006, when Dunphy left for Temple. Instead, former athletic director Steve Bilsky W'71 chose Glen Miller. The program's fortunes fell sharply under Miller, who was replaced by Allen after only three-and-a-half seasons. Penn hasn't won a title since 2007.
It was Donahue who ended Penn's reign by leading Cornell to three straight Ivy League championships from 2008 to 2010, capped by a stunning run to the Sweet 16 of the NCAA tournament. He then parlayed that success into a major-conference job at Boston College, but was dismissed in 2014 after three straight losing seasons.
Donahue had long been on the short list of potential replacements, and was seemingly the top choice among many longtime program supporters. But the speed of his installation was somewhat remarkable. Calhoun had a five-and-a-half-hour interview with Donahue a mere three days after Penn's season ended—before other potential candidates even finished their seasons—and officially made him the program's 20th head coach just a few days after that. But Calhoun maintained that her first big move as Penn's athletic director came after careful consideration.
"Doing your due diligence and making sure you make the right decision is critically important," she said. "But on the other hand, we're in a competitive industry, and with a lot of jobs opening and searches gearing up, I certainly was acutely aware that our ability to talk to the most desirable candidates was going to be predicated on our ability to move quickly."
The Quakers have gone 26-61 over the last three seasons, and have been plagued by off-court issues, including the suspension and dismissal of a handful of players. But this past season's freshman class offered occasional glimmers of hope for the future. Donahue is also retaining Allen's two top assistants, Nat Graham C'97 (who was on his staff at Cornell and Boston College) and Ira Bowman W'96 (who played under him at Penn).
Calling recruiting "the lifeline of the program," Donahue said the program needs to shift its priority back to finding players who live within a two-and-a-half-hour radius, noting that almost all of the Quakers' first team All-Ivy players over the past 25 years have come from relatively close by.
"It's critical that's where we recruit our hardest," he said after the press conference ended. "We need Philly-type kids—ones that are gritty, understand the Palestra, [whose] parents understand the Palestra [and] cousins understand the Palestra, [whose] older brothers want to go see you play. That's where we have to bring in players."
The Palestra's allure for standout student-athletes from Pennsylvania and New Jersey has always been a great recruiting tool for Penn coaches. At the same time, Donahue knows that the landscape of the Ivy League has changed, acknowledging that "the days are over in this league where you can rely on this building and the Big 5 to take to you the NCAA tournament." Now, Harvard is the king of the league, having recently become the first Ivy team to reach four straight NCAA tournaments since Princeton did it from 1989 to 1992. And other teams in the league have gobbled up talented players who in another era used to almost exclusively pick Penn or Princeton.
But before the hard work begins of trying to restore Penn's preeminence, Donahue made sure to take a quick moment to look around the Palestra and cast a broad smile.
"The feeling of this building—it's amazing," he said. "You know what the problem is when you leave this place and you try to go to other arenas in college basketball? Even at the ACC level, there's nothing like this building when those corners are filled. There's nothing like it. I get chills now on the back of my neck. It's just a unique place. And I feel almost not worthy of being the coach at a place like this."
Third Straight Postseason Trip for Women's Hoops
Penn's victory over Princeton in the final game of the 2013-14 regular season came as a shock to many fans, so dominant have the Tigers become in women's basketball over the past few years. That upset seems even more unlikely in hindsight, given that Princeton responded by winning every single regular-season game this season, becoming just the 15th team in history to enter the NCAA tournament undefeated.
Yet Penn churned out another big season, too—albeit in Princeton's shadow. Led by senior captains Katy Allen, Kara Bonenberger, Kathleen Roche, and Renee Busch, as well as talented underclassmen Sydney Stipanovich and Michelle Nwokedi, Penn went 21-9 overall and 11-3 in the Ivy League (with two of its three losses coming to Princeton) to book its third straight trip to the postseason, this time with an appearance in the WNIT.
The Quakers also earned a share of the Big 5 championship for the first time in program history after beating Temple in January. Penn faced Temple again in the second round of the WNIT, but fell short in the rematch with a 61-56 season-ending loss at the Palestra.
The difference in the two games might have been that Bonenberger couldn't play in the second one after tearing her ACL against Hofstra. It was the only game the senior forward ever missed in her four-year career.
"She wore her uniform the entire game, sat on the bench, and walked off with everybody," head coach Mike McLaughlin said. "So I think emotionally she handled it great. She had a tremendous career."
Still, it was hard for Bonenberger to walk off the floor for the final time with her classmates—a foursome that not only helped the Quakers win the Ivy League and go to the NCAA Tournament last year, but leaves as the winningest class in program history.
"To be the winningest class ever, to play in three postseasons, to win an Ivy League championship, what else can you ask for?" McLaughlin said. "And they should be commended for how they represented the program. I've been coaching for 20 years and it was the hardest-working group of four that I've ever had."
Dave Zeitlin C'03 writes frequently for the Gazette.