Celebrating Cities
Nathaniel Popkin C'91 GCP'95 strides purposefully down 8th Street in the Bella Vista section of South Philadelphia on a sweaty September afternoon, extolling the arrival of both Mexicans and their eateries to the neighborhood. When a brand-new façade catches his eye, he does a double-take.
"Hey, this is a French restaurant now!" he exclaims, welcoming a new cuisine to the street's bouillabaisse of mostly Italian with a pinch of Vietnamese. "This wasn't here before."
Don't mistake Popkin for your typical young urban foodie. His addiction isn't to gourmet eateries—but to cities.
A child of the Philadelphia suburbs, he has devoted most of his adult life to cities. Initially, armed with his master's degree from Penn in urban planning, his goal was to rescue them—before he wearied of Philadelphia's head-butting bureaucracies and political red tape. Now, 33 and a married father of two young children, Popkin is less concerned with saving cities than with celebrating them.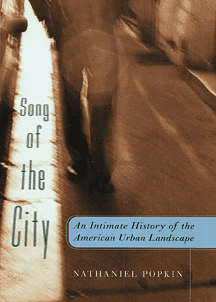 Earlier this year, Popkin came out with his first book—Song of the City: An Intimate History of the American Urban Landscape, published by Four Walls Eight Windows. It was nothing like the book that Popkin had started out to write—a political treatise on the importance of urban renewal. Instead, it is a loose, first-person essay on his forays around Philadelphia, on his friends, and on the highs—and occasional lows—of city life.
And here is Popkin's main point. In 21st-century America, the debate about urban affairs is framed around the same tired assumption—that our cities are dying. He argues the exact opposite—that cities are alive and doing just fine. He sees Philadelphia—which after a half-century of much-ballyhooed decline is still home to the trials and triumphs of 1.5 million souls—as a prime case in point.
Popkin reveals his unorthodox view of the city on the very first page, with a map of Philadelphia that highlights one famous landmark—Independence Hall —and a lot of obscure ones, like the Cemetery Cathedral on Girard Avenue.
The book is part history lesson, part urban travelogue, and part meditation. As the map promises, it is a quirky tour guide to Philadelphia, more likely to highlight Harry's Occult or even Mid-City Tires than the Liberty Bell. A ride on the Market-Frankford El through fading, industrial Kensington energizes him. He writes: "On this day, this corner at the southern edge of the barrio in Philadelphia, a half a block from the factory where 3,500 men and women once came together to turn the fur of rabbit, muskrat, and beaver into Stetson hats, is the fury of motion, of creation, of destruction. Human energy is deployed here in concentrated bursts. People react and interact and act on this environment. It moves in all directions."
Growing up in the suburban sprawl of Bucks County, Pennsylvania, Popkin first developed his affection for cities from a distance. His family had always had a stake in nearby Trenton, N.J., where his grandfather had started a chain of small hat shops, and he had watched with a mixture of anger and bemusement as a 1970s-style pedestrian "urban mall" strangled the city's retail district. He was intoxicated by Philadelphia when he arrived at Penn in the late 1980s, frequently exploring the rowhouse blocks and Victorian homes of West Philadelphia on foot.
"My wife said that when she went to grad school at Annenberg, she was told never to go west of 40th Street or north of Spring Garden Street, but I had never heard that," Popkin recalls. "Nothing prejudiced me about the city."
In fact, he stuck around to get his master's degree in 1995, and for a time it seemed like that would be his career track. He worked for the University on its West Philadelphia project, expanding Penn's ties to its surrounding neighborhood, and then moved over to 46th and Market, where he helped direct an incubator for small businesses on the poverty-plagued neighborhood. But large-scale urban renewal could be slow, and frustrating. Burned out, Popkin and his wife took off to live in Spain and France for a couple of years.
When they returned, his take on cities was much more personal. He bought a home in Bella Vista and restored it, and then started buying and renting out others. And he drastically retooled Song of the City. He also works with neighbors and community activists to maintain his neighborhood's green oasis, Cianfrani Park at 8th and Fitzwater streets. Sitting on a sun-soaked wooden park bench, he renews his oath of loyalty to the city, even if it means sending his toddler kids to Philadelphia's much-maligned public schools.
"My kid just gets to play in public with the other kids—we don't have to make 'play dates' like they do in the suburbs," Popkin says. "Here in the city, it doesn't work that way."
—Will Bunch