Cable Guy: The Prequel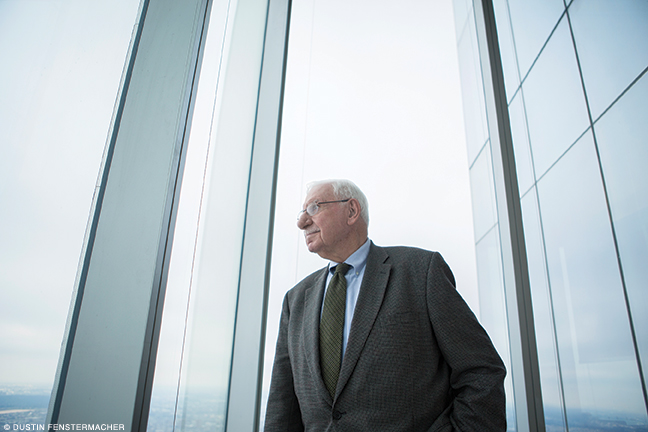 Class of '56 | As a Wharton undergrad, Julian Brodsky W'56 was something of an anomaly. It wasn't just that he was on the staff of The Pennsylvania Literary Review, Penn's main literary magazine, or that he was, in all likelihood, the only Wharton student sporting a beard. It was something else.
"I was probably the only socialist at Wharton," he says. "I thought that humanity's problem was that the state should own the means of production."
Life has a quirky sense of humor sometimes. Capitalism has worked out pretty well for Brodsky—nine-figures well, in fact—thanks to a fortuitous friendship, a cable-television industry that was about to explode, and his own hard work. But we're getting ahead of ourselves.
By the early 1960s—after a year working with the International Ladies Garment Workers' Union and a stint doing finance for the US Army's space program in Huntsville, Alabama—Brodsky was a rising talent in a Philadelphia accounting firm. Then one of his clients needed someone with his particular expertise to help sell a company.
The client was the late Ralph Roberts W'41 Hon'05, who owned the nation's second-largest belt-manufacturing business, the Pioneer Belt and Suspender Company. Since the Sansabelt craze was getting under way, it seemed a propitious time to sell out to Hickock, then the largest manufacturer.
"We had a very successful completion of the sale and there was not much left of his company"—just some money and a minor toiletries business, says Brodsky. So little was left, in fact, that no one else at the accounting firm wanted to do the quarterly audits. Brodsky, though, had an ulterior motive: he was fascinated by Roberts.
"He was always a big thinker," says Brodsky, who would go to Roberts' office every three months, work on the audit for a few hours, and spend the rest of the day just talking with him.
For several years, Roberts had been looking around for new businesses and coming up short. Then his friend Warren Musser offered to sell him a franchise in a virtually unknown industry—cable television—in a relatively remote locale: Tupelo, Mississippi. Brodsky had had some clients in the nascent cable business in upstate Pennsylvania, and when he heard what Roberts had in mind, his eyes brightened.
"I told Ralph, 'There is no way you are doing this without me—I just resigned,'" recalls Brodsky. "He thought I was out of my mind. I don't know why, but he bought it. I have been so lucky."
That Tupelo franchise was the beginning of Comcast Corporation, now the largest broadcasting and cable company in the world, not to mention the largest private company in Philadelphia. Brodsky—the last living member of the founding troika that included Roberts and Daniel Aaron G'54—says that he would love to be able to say that he knew Comcast would become a communications giant, but in reality, he just had a strong hunch that it would become something worthwhile.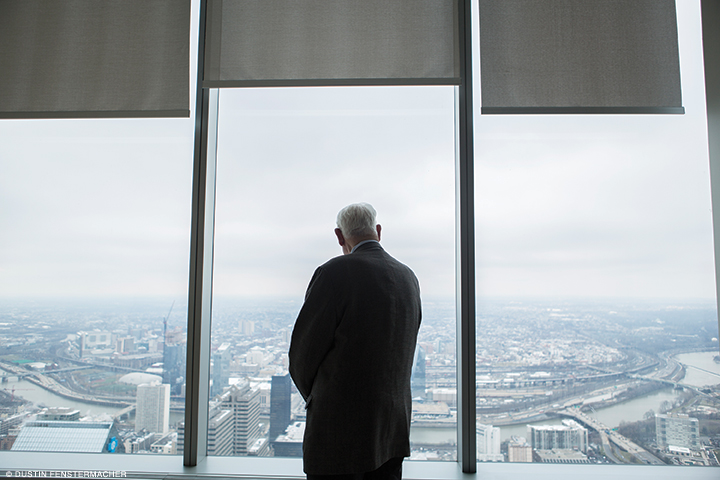 "The entire cable industry is based on the fact the Earth is curved and television signals travel in a straight line," he says. Every 50 or 60 miles, the Earth curves enough so that signals are interrupted, and those living beyond that distance from the transmission station need some sort of enhancement to get the signals. Tupelo, for instance, which is about 110 miles from Memphis and its big-city TV stations, was a very good candidate for cable.
Brodsky got to travel to lots of out-of-the-way places—the rest of Mississippi, southwestern Michigan, rural New Jersey, the west coast of Florida—to take care of the financial aspects of cable franchising. There were mergers, buyouts, the advent of cable programming—all manner of deals and details, none of them simple.
"We always played up," says Brodsky, referring to the high level of competition in the field. The partners would get on trade-association boards to make connections and influence policies and standards. He fondly recalls them yelling and screaming at each other in private—Brodsky wanting to go faster, Aaron wanting to slow down, and Roberts insisting that all three ultimately come to an agreement on every major decision. Afterwards they would relax and socialize.
"It was the best way to run a company," says Brodsky, who speaks with great fondness of Roberts, his partner and mentor, who died last year. "He was so charismatic. To work for Ralph Roberts was to love him."
Brodsky, who retired as vice-chair of Comcast in 2011, is proudest of the tone that the three of them set for a good corporate culture at Comcast.
"We always have had a flat structure," he says. "Dissent is welcome, even prized. And the next generation, particularly Ralph's son Brian [W'81], has continued that. It is still a wonderful place to work."
For all their financial success, Brodsky and his wife, Lois, still live in the relatively modest house in Cherry Hill, New Jersey, that they bought in 1972.
"We have wonderful neighbors and the house is comfortable, so what more do we need?" he says with a shrug, eating his usual breakfast of French toast and scrapple at nearby Ponzio's diner.
The 82-year-old Brodsky still plays tennis two or three times a week at 6 a.m., putting his $10 into the kitty—an open tennis-ball container—along with everybody else. Though it's been many years since he played basketball, you could say that he traces his athletic prowess back to his youth in the Overbrook section of Philadelphia, where he played the game daily. Once, when he was 17, the 6-foot-4 Brodsky took an Overbrook schoolmate named Wilt Chamberlain to the cleaners. "Then the next year, Wilt turned 14," he says with a laugh, "and it was all over."

—Robert Strauss