Business Over Broadway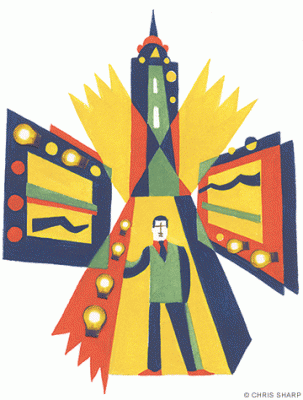 Class of '94 | On the morning of June 9, Elie Landau C'94 could have been sleeping off a late night at the Tony Awards. Or he could have been savoring his first experience up on stage at Radio City Music Hall, where Hedwig and the Angry Inch had just won a Tony for Best Musical Revival (among other categories).
Instead, Landau was in meetings about ticket sales for the final weeks of The Cripple of Inishmaan, starring Daniel Radcliffe, and elbow-deep in budgeting for A Funny Thing Happened on the Way to the Forum, scheduled to open next spring. Hedwig continued to demand his attention as well. The cast album, for which he was executive producer, came out four days after the Tonys.
There's just not a lot of down time on Broadway. "As soon as one show has opened and made it through the juggernaut of the Tonys, you're on to the next one," says Landau. "You get a show on its way and hopefully it's humming along so that you're not struggling to sell tickets. Immediately you're thrust into the show that's going to happen next year."
It hasn't always been glamor and Tonys for Landau. After he graduated from Penn, he went to work for producer Alexander Cohen, helping out on a revue called Comedy Tonight, featuring a juggler, two comedians, and a song-and-dance act. The show advertised with taglines such as "Shorter than Les Mis, but twice as funny," and "Free Playbills at every performance." When Cohen insisted on running a quote from The New York Timesin the advertising, the most positive words Landau could find were, "Comedy Tonight runs two hours with an intermission."
But Landau kept scrambling up the show-business ladder, doing everything from working as a doorman to managing theaters. Then, in 1998, he was hired as a company manager for 101 Productions, one of perhaps 10 general management companies helping producers negotiate the famously tricky terrain of Broadway.
"The stage manager is responsible for maintaining the artistic and logistical integrity of most everything that goes on onstage," says Landau. "The company manager is directly or indirectly responsible for just about everything else involved in the day-to-day running of the show—financial oversight, ticketing, union relations, human resources."
The bigger issues and long-term planning, he adds, "are handled by general management in consultation with the producer." He's now an associate general manager at 101 Productions.
"The general manager is some combination of CEO, CFO, and COO," he explains. "But it's a small industry and everyone pitches in everywhere."
Everything from consulting with lawyers to supervising the accounting systems to evaluating advertising strategies falls under Landau's scope, and it's often through him that all these different professionals communicate with the producer. "If I could ever concisely describe what I do," he adds, "then somebody tell my mother."
His mother, Edna Landau, may already have some idea, as she herself is a well-regarded arts manager. Landau's father, David, did some amateur singing as well. But while Landau insists that his parents never pushed him into the arts, it's fair to say that the arts were in his blood, because from the moment he went to see the 1979 revival of Oklahoma, with Harry Groener, Landau knew he wanted to be involved in Broadway. (Twenty-seven years later, Landau was company manager on Spamalot when Groener joined the cast. "I told Harry, 'This is an incredible thing for me, because you were in one of the first shows where I fell in love with the theater,'" he recalls.)
Since you're only on Broadway if you're in a Broadway theater, one of the most important things a general manager does is help the producer negotiate and book a venue. There are 40 or so Broadway theaters, and once you take out the nonprofits and those that have long-running shows in them, "that leaves 25 to 30 buildings that you have to choose from," says Landau. "If you're a musical, that probably takes half of those buildings off the table. Now there are 10 theaters to choose from. And maybe six of those are booked already. That puts the theater owners in a very good position."
The nonstop pace of Broadway leaves little time for anything else, but Landau has been careful to carve out a bit of time for his creative outlets. A Glee Club and Pennchants alumnus, he remains active in the a cappella world, performing, teaching master classes, and writing reviews.
Landau also started a production company, Ergo Entertainment, with two friends. Through it, he worked on what he believes to be his most meaningful project to date—a documentary called Paper Clips(2004), co-produced with Miramax. The film was shot in the small Appalachian town of Whitwell, Tennessee, where a group of middle-school students had decided to collect six million paperclips to help them understand the number of Jewish people murdered in the Holocaust. The project snowballed, eventually leading to a permanent Holocaust memorial in that town, which is situated just a hundred miles from the birthplace of the Ku Klux Klan.
Even though their first love is theater, Landau says that as soon as he and his partners saw some footage from the proposed documentary, they all said, "We have to do this. If we were ever going to do something for the right reasons, this is the project."
Paper Clips continues to be viewed in classrooms around the country, and not a month goes by without someone contacting Landau and his partners about the film. "It's all over the place," says Landau. "That's the ultimate dividend."
Most days, Landau is all but consumed by the business of Broadway. He acknowledges that some people look askance at the big, commercial shows he works on, sometimes arguing that it's not real art. For someone who grew up knowing every line in Joseph and the Amazing Technicolor Dreamcoat and hoping to work with the likes of Harry Groener, however, there's simply no other place to be.
"I occasionally get scolded for making it seem like Broadway is the pinnacle of the theatrical universe," he says. "It's not the pinnacle for everyone—it's the pinnacle for me."
—Emily Rosenbaum C'95 GEd'96