Building Leadership—And Wells, and Hospital Wings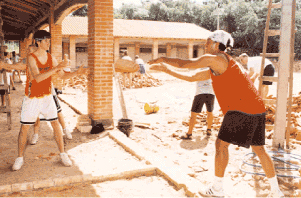 In the village of Tobatí, Paraguay, siblings in a family often share a single pair of shoes to go to school. They are able to take turns wearing them, explains Benjamin Cruse C'04, because facilities are so overcrowded that each child is relegated to a three-hour school shift.
"The disparity between the rich and poor [here] is enormous," says Cruse, who is working to improve conditions for residents who lack access to sanitary drinking water, adequate medical care, and educational resources needed to get into college.
Cruse, student director of the Fox Leadership Program, is organizing a team of 25 Penn students to travel in May to Tobatí, a place he has been visiting since he was a high-school student in Hartford, Connecticut. The goal of the Fox "Think Big Initiative" is to raise about $50,000 for the construction of four public restrooms, four wells, and a medical-center wing that will provide a place for mothers to stay before and after they give birth. In addition, the Penn students will collect shoes and English-language children's books to distribute.
Parasitic illnesses, transmitted by contaminated drinking water or walking in bare feet, are a major health problem for residents here. So shoes and wells can take a large burden off the local medical center, Cruse says.
The books are important, because English proficiency is a requisite for college admission in Paraguay. The only access to English instruction here is through private tutors, making it virtually impossible for poor families to get ahead.
Think Big will contribute to a long-term initiative, called Team Tobatí, which has built a literacy center, supplied medical equipment, and more. Cruse was one of a handful of students from Kingwood Oxford School who set up the organization in 1999 with high-school teacher Ronald Garcia. 
In this community, where the average income is about one dollar a day, most families live in one-room shacks. Because of low life expectancy and lack of birth control, more than three-quarters of the 21,000 residents are under the age of 19.
"I wanted to get Penn involved in this initiative because it changed my life so drastically by going down there and seeing those things," Cruse says. "I think this trip and project would allow us to apply everything we've learned and really see what leadership skills can do, if applied correctly. I also think it's important for kids at Penn to see how fortunate they are [and take on] the responsibility of giving something back throughout their lives."
Cruse plans to live in Tobatí for two years after he graduates in May and serve as co-director of the new education center. Starting this fall, it will tutor students in English to help them pass the college entrance exams. The following year it will open a middle school.
Eventually Cruse hopes "to start my own company to do things like this on a larger scale. Not just in Tobatí but throughout the world—working with communities to achieve their goals."
—S.F.
For more information contact Cruse at blcruse@sas.upenn.edu.