Brooks Was Here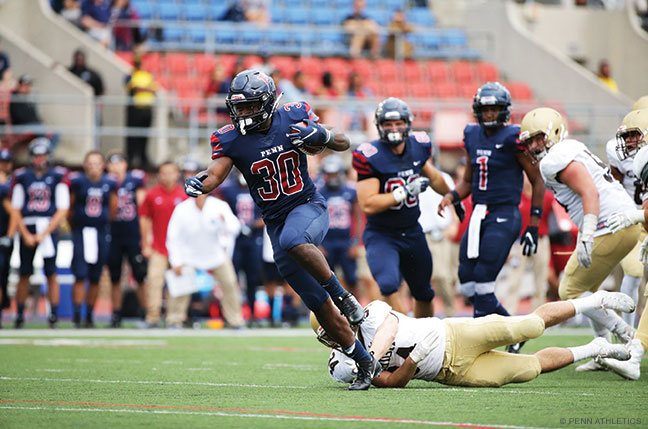 Sidebar: Replacing a Legend
---
Despite the football team's stumbles, a senior running back scrawls his name into the record books.
---
During the second quarter of the Penn football team's 2019 finale versus Princeton, a woman in fancy clothes rose from her Franklin Field seat and yelled toward the field.
"DON'T DO THAT!"
Senior running back Karekin Brooks had just gone airborne to hurdle a potential tackler and, like any mother, Rhonda Knight was concerned about her son's safety. "It's the same way I watch every game," Knight says. "I'm just worried he gets up after every play."
Brooks did get up after that highlight-reel run … and kept on running right into the Penn record books. With a 95-yard performance in his final collegiate game—a 28–7 loss to Princeton in late November that capped an up-and-down 5–5 season—the senior became the 12th player in program history to eclipse the 1,000-yard mark in a season. He also graduated third in career rushing yards with 2,847, behind only Kris Ryan C'02 and Bryan Keys C'90.
And it all happened because of his mother's wish.
As soon as Penn offered him a spot, Brooks recalls, "she was like, 'Oh my God, this is the Ivy League, you don't understand the things an Ivy League school can do for you after you graduate and when football is over.'"
Penn wasn't necessarily a tough sell for Brooks, but it still felt foreign. Growing up in Marietta, Georgia, he was used to big-time college football in the South, where the games are all-day events and stadiums are packed with up to 100,000 people. His younger half-brother, Djimon, currently plays for Georgia Tech, where Brooks was also recruited. His father played at Auburn. His mother went to the University of Georgia, where she first learned to dress up for football games—which she quickly realized was not a custom for spectators up North. "The first game when he was a freshman, I had on a Maxi dress, and people were like, Where are you going?" Knight recalls with a laugh. "One lady goes, 'You're from the South, aren't you?'"
But after getting a positive impression from head coach Ray Priore and longtime assistant Steven Downs (who greeted Knight before senior day festivities by calling her "the fashion queen"), she insisted her son say yes as soon as the Quakers made their offer, even though Brooks initially thought it was too early to commit. "And now look at where he is," she says. "Look at what he's done here."
A runner who's both powerful and patient, Brooks scored his first touchdown as a freshman during Penn's 2016 Ivy championship campaign, taking a pitch from fellow running back Tre Solomon W'19. That was his favorite memory, until the next season when, in his first start, he racked up 268 rushing yards in a wild 65–47 win at Lehigh—the second highest single-game total in Penn history. "They probably don't like me too much," Brooks says of Lehigh, which also recruited him.
From there, Brooks became an indispensable workhorse for the Quakers, ranking second in the Ivy League in rushing yards in both 2017 and 2018 before leading the conference with 1,003 yards this season, despite getting hurt in the second half of a loss to Yale and missing the next game versus Brown.
Some of his other notable achievements include ranking second all-time at Penn in yards-per-carry (5.51), sixth all-time in career rushing touchdowns (26), and eighth in all-purpose yards (3,355)—none of which Brooks had any idea about. He recalls Rich Comizio W'87, who's now sixth all-time in career rushing yards, telling Brooks to pass him. And "I'm like, 'I don't even know where I'm at!'"
But others certainly knew of the running back's climb up the charts, and marveled at his improvement each season. "Ever since he stepped on the field as a freshman, he's gotten better and better in every aspect," says Priore, who credits Brooks and fellow senior captain Sam Philippi for "keeping things together" after an 0-3 start in league play. The Quakers responded with three straight wins before the season-ending loss to Princeton. "There's a lot of pressure on people like him," Priore adds. "I'm just so proud of how he handled it."
Priore plans to hold a pro day in March for Brooks so scouts can see if he has what it takes to follow other Penn alumni like Justin Watson W'18, Brandon Copeland W'13, and Greg Van Roten W'12 into the NFL. A communications major, Brooks has thought about careers outside of football, including possibly working as a television producer. And he hasn't forgotten about his mother's high hopes for his future away from the field. But coming from a football-crazed family, with five brothers who've all played or still play, he's ready to first see if he can make the sport last just a little longer.
"I want to see what else I can do," he says. "I want to see what else there is."
---
Replacing a Legend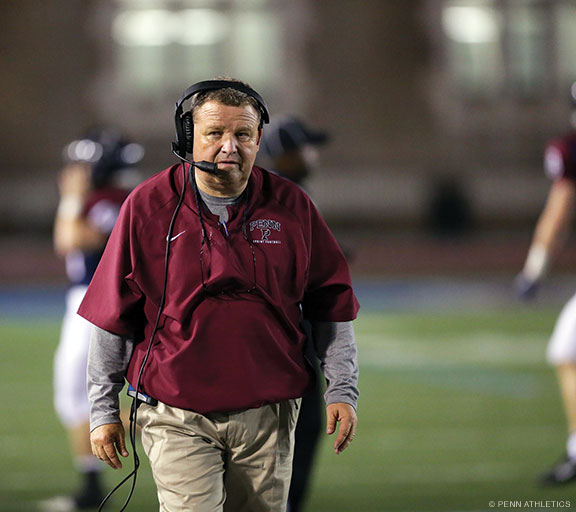 Jerry McConnell had already coached football at several colleges and high schools over the course of about 25 years when he thought he might like to step away from coaching. But that plan quickly changed in 2007 when, through a mutual connection, he had a meeting with Bill Wagner about joining the Penn sprint football staff.
"I was at practice the next day," McConnell says. "And I've never left."
Now, after more than a decade as the head coach's trusted assistant, he's taken the reins from Wagner, who retired at the end of the 2019 season after a staggering 50 years in charge ["The Unlikely Legend," Nov|Dec 2019]. The Quakers sent Wagner out with a 31–21 win over Caldwell—the 141st victory of his career—in early November to end a 5–2 season highlighted by senior quarterback Eddie Jenkins tying the single-season program record for total touchdowns (26) to win the Collegiate Sprint Football League's Player of the Year award.
"It's kind of overwhelming," says the 60-year-old McConnell, who was officially named the William R. Wagner Head Coach of Sprint Football in mid-November. "It's hard to follow a legend."
Luckily, the legend will still be "involved in the program for as long as Wags wants to be," McConnell says, calling it a blessing that the 80-year-old "head coach emeritus" will continue to keep alumni connected and raise money. Those fundraising efforts remain important for a program that's been threatened to be cut at various points over the past 50 years. But "I think Wags has gotten the program to a point financially where that fear isn't there anymore," McConnell notes.
McConnell also feels fortunate that the coaching staff will remain intact and that Chuck Hitschler W'73, who Wagner coached early in his Penn tenure, has been promoted to a full-time assistant role. "I really view him as my partner in this deal," McConnell says. Several other former Penn sprint players will remain on the staff, as will McConnell's son, Frank, who joined the program this past season as an offensive line coach.
Like his other son, Tim (a special teams graduate assistant at Rice), and his two daughters (one of whom, Katie, is the head women's lacrosse coach at Lafayette), Frank grew up with Wagner and Penn sprint football. "My children all became close with Wags," McConnell says. "Really, we view Wags as part of our family."
Those family ties made him a logical choice to be Wagner's hand-picked successor—an opportunity which McConnell admits has always been a "dream." Now he hopes to carry the program forward with the same care Wagner gave it for a half of a century.
"You could tell by the first time you met with Wags that he's a special person," McConnell says. "He cared about his players, he cared about this program, and you just wanted to become a part of it—which I did. And it's been the best thing that's ever happened to me." —DZ