Bringing Penn's Treasures Back Home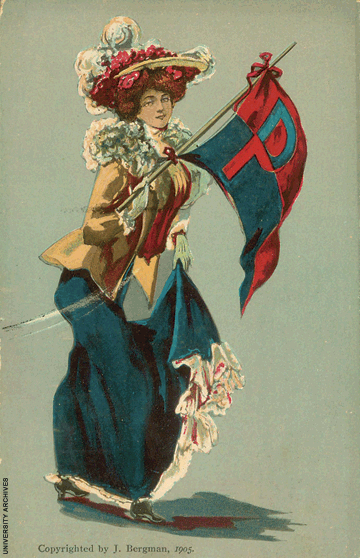 Postcard, 1905.
---
A red-and-blue plush Humpty Dumpty, with U of Pprinted on its chest and a freshman beanie on its head. An exquisite sterling-silver and enamel stickpin in the shape of a pennant spelling out Pennsylvania. Vintage sheet-music, and a series of picture-postcards depicting "Gibson girl"-style coeds decked out in the University's colors. A tiny, leather-bound dance book from the 1930 junior prom. The second edition, beautifully illustrated, of a volume by student members of the Philomathean Society offering the first English translation of the Rosetta Stone.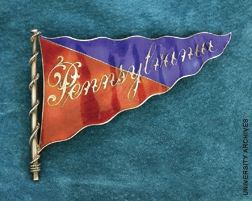 These are just a few of the items that Susan Molofsky Todres CW'75 WG'77 has acquired for the University through a special search-and-rescue mission of her own devising. Sleuthing the Internet and working with a growing network of vendors and other interested third-parties, for the past few years Todres has been finding, bidding on, and buying Penn's scattered treasures of memorabilia and other ephemera, which she then donates to the University Archives and Records Center.
Center Director Mark Frazier Lloyd calls Todres "the most generous patron the University Archives has ever known." Neither of them would place a dollar value on her contributions, but the sheer number—more than 200 in just the past two years—is testament to her commitment, as is the estimated 35 hours per week she puts in at the keyboard or scouring antique sales and shows organized by groups like the Ephemera Society. This past fall Lloyd mounted an exhibition of some of her acquisitions (filled out with additional materials from the Archives collection), which is currently on display in the first floor of College Hall.
It was a chance compliment that brought Todres into the "quite extraordinary," and at times highly competitive, world of Penn collectors. When she admired the earrings of the waitress serving her and her husband at a Connecticut inn, a "lively conversation" ensued, during which Todres discovered that the waitress was the daughter of a former University official and had grown up on the periphery of campus. The waitress also remarked that she often sold things on the Internet and wondered if Todres had ever bought any Penn-related pieces that way.
At the time the answer was no, but when the woman later called Todres and told her about a "wonderful old stickpin" in the shape of a flag marked U of P that she was planning to offer, Todres decided to give it a shot.
"I didn't win that piece," she recalls. But she was hooked.
She has since acquired a number of other similar pins, several of which are included in the College Hall show. In a tour of the display cases, they seem to be particular favorites, along with the Humpty Dumpty toy and a pillow-cover showing a bevy of coeds out motoring, with Penn pennants flying (more memorabilia can be seen at www.archives.upenn.edu).
While she's been beaten out by some fellow alumni collectors with "pockets down to the floor," she says, others, as her effort has become more widely known, have stepped aside when she bids on an item, or they acquire and donate it themselves. They've been valuable sources of information, too, like Edward Vickers C'57, who, after outbidding her on one pin (not the one above), consulted for her about another and even introduced her to "Boris the enamelist," who does his jewelry repairs.
Many of the items available at auction come from estate sales and "people in the Pennsylvania back country," she says. "There are some real buried treasures out there." But sometimes Todres ventures farther afield, in virtual terms, at least. In the case of the Rosetta Stone book, she was at the computer at 4 a.m. to put in a bid in an auction that was being held in London.
While the Internet has opened up an "enormous world" for collectors, it has also driven up prices, she says. More often these days her best leads come from attending shows and meeting dealers, or from vendors who contact her directly. One advantage is that many of the other collectors she competes against are drawn more to sports-related memorabilia, which is not a primary interest of hers and with which the archives is relatively well-supplied.
Among her recent finds, which did not lend itself to display, was a set of rare "magic-lantern" slides from 1889, depicting scenes from the University's medical school. These included everything from portraits of professors to some timeless medical-student humor, she says, like "a cadaver posed with its leg crossed, seated in a chair."
Todres and Lloyd first met and "became pals" while she worked with him to compile a list of women's "firsts" as part of the 125th Celebration of Women at Penn in 2001. When she asked Lloyd whether Penn had one of the stickpins she had seen, she eventually learned that the archives center had been able to devote little in the way of budget or personnel resources to acquisitions of this type. Todres decided to take it upon herself to rectify the lack.
It's one she connects to her own student days in the historically clueless 1970s. "I lived in Hill Hall in the fall of 1971," she says, the first year it was coed. "I didn't even know that the dorm was all female until the year before. We had no sense of what came before us, no historical context whatsoever."
She hopes that efforts like hers, and campus programs such as Penn Traditions, which seek to promote more knowledge of University history and culture, will help change that for current and future students.
And, she adds, the show should send a message to other alumni, who may be considering donating their collections now or by means of a bequest, that the University will truly value their materials and not just lock them away in storage.
"People out there have incredible treasures," she says, "and they need to bring them back home."—J.P.