Better Days Ahead?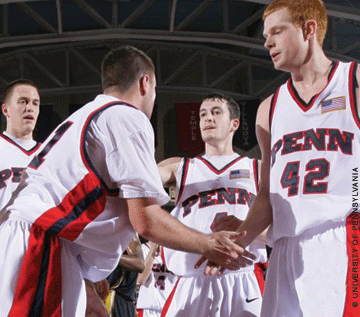 By David Porter
---
Watching the Penn men's basketball team navigate through what has lived up to its advance billing as a rebuilding season, one frequently is reminded of a line from Frank Capra's classic 1946 tearjerker It's A Wonderful Life.
"You're going to see a lot of things you've never seen before," the angel Clarence tells Jimmy Stewart's despondent George Bailey as he takes him on a tour of his hometown to show him the evils that would have taken hold had he never been born.
Quaker fans are seeing many things they've never seen before in 2007-2008, and many undoubtedly have wished they could fast-forward to the end of the movie, or at least to next season when a young and inexperienced team will have matured to the point that its not inconsiderable talent can reach full bloom. In the meantime, the periods of inspired play were likely to continue to be balanced with stretches of baffling inconsistency.
The latter description could apply to a 74-58 loss at Columbia on February 8 that was Penn's worst loss at Levien Gym since a 76-59 defeat in 1989 in coach Tom Schneider's last season. The Quakers' full litany of shortcomings was on display, from sloppy offensive execution (17 turnovers compared to just seven assists) to poor outside shooting (2-for-11 from 3-point range) to an inability to stop the opponent's 3-point shooters (the Lions were 11-for-19). Penn has historically faced a tough challenge from the Lions even in years when the Quakers held a wide advantage in talent, but that didn't make the sight of Columbia's John Baumann spinning inside for dunks and K.J. Matsui burying shot after shot from behind the 3-point arc any less unsettling.
With freshman Tyler Bernardini, the Quakers' leading scorer, out with a concussion suffered in practice earlier in the week, Penn's inexperience was exposed against a Columbia team that started four seniors. To its credit, Penn rallied against preseason favorite Cornell in Ithaca the next night—again with Bernardini not in the lineup—and pushed the Big Red in the final minutes before giving up a late flurry of points to lose 87-74.
The weekend's play illustrated both the strength and the weakness of this year's Quakers: So many players, so many lineups. The Columbia and Cornell games marked the 10th and 11th different starting quintets Penn Coach Glen Miller put on the floor over the first 21 games. The minutes have been spread around liberally: Eleven different players had reached double figures in a game at least once, including four freshmen, and seven different players had led the team in scoring in at least one game. But on occasion, such as in the Columbia game, the lack of continuity was evident.
Seven days earlier, the opening weekend of the Ivy season featured edge-of-the-seat wins at the Palestra against Harvard and Dartmouth, programs that hadn't defeated Penn in Philadelphia since 1991 and 1997, respectively. Bernardini scored 20 points against the Crimson and fellow freshman Jack Eggleston had 16 the next night against the Big Green.
"You're going to see a lot of Ivy League games like this throughout the season that are going to go right down to the wire," Miller said presciently after the Harvard game. The next night, the Quakers proved him right by leading Dartmouth by 12 points with under 10 minutes to go, then escaping with a 68-66 win in regulation when Dartmouth center Elgin Fitzgerald's lay-up attempt at the buzzer hung on the rim for what seemed like days before falling off.
After spending seven seasons at Brown struggling to break the Penn-Princeton stranglehold on the Ivy title, Miller is keenly aware of his role as custodian of one of the Ivy League's elite programs—and that whatever might have happened during November and December, the onset of the Ivy League season is expected to bring with it a fresh start, an improved level of play … and, regardless of who is wearing the jerseys, victories.
"I won't say 'we,' but the program hasn't lost an Ivy League home game going on four years, and there's some confidence there and certainly some pride in the fact that we're three-time defending champions," Miller said after the Dartmouth victory. "So we're not just going to roll over and play dead."
After losing 12 of 17 non-conference games, including a 60-30 loss at Florida Gulf Coast on December 29 that may qualify as one of the worst in the program's history, Penn's Ivy League schedule didn't begin until February, a few weeks later than usual. In most seasons that would have created no small degree of impatience among the players, who are schooled from the day they set foot on campus to treat the 14-game Ivy League season and its single NCAA Tournament bid as sacrosanct. But this is not one of those seasons, and the extra time was a welcome tonic, particularly an eight-day layoff after an 80-64 loss against Temple and former coach Fran Dunphy on January 23.
"Starting in February was a blessing," forward Brian Grandieri, the team's lone senior starter, said after the win against Dartmouth. "The more time we got to jell and work on a few things definitely benefited us. I can pretty much with confidence say that if we'd played this game two weeks earlier the outcome wouldn't have been the same."
Patience should be this season's buzzword, both on the court and in the stands—where the realities of injuries (sophomore Darren Smith, junior Tommy McMahon, Bernardini), youth (eight freshmen and sophomores) and an improved Ivy League have gradually altered the mindset of even the most ardent Red and Blue supporters. Coaches aren't allowed to be patient, however.
"We have better days ahead," Miller predicted after the loss to Columbia. "Our opponents in the Ivy League are enjoying it. It won't last long … We wear Penn across our jerseys. We'll get back to where we always want to be. Real quick. Quicker than a lot of people think."
---
Congratulations were in order for the undefeated women's squash team, which made a drive through a snowstorm to Hanover, N.H., worthwhile by defeating Dartmouth 9-0 on February 10 to clinch its first Ivy League title since 2000.
The win over the Big Green was tension-free compared to a 5-4 victory at Harvard the day before that clinched a share of the league title. Sophomore Britt Hebden defeated Harvard's Johanna Snyder 9-4, 9-7, 9-7 to clinch the match. Penn's 1999-2000 team went on to win the Howe Cup, symbolic of the national championship, and this year's team aimed to duplicate that feat on February 22-24 at Princeton.
---
David Porter C'82 writes for the Associated Press.