Being There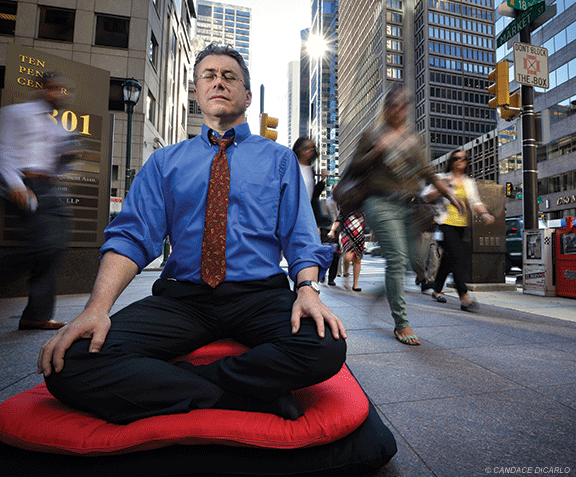 As director of the Penn Program for Mindfulness, Michael Baime M'81 has helped hundreds of healthcare professionals acquire the skills to improve their interactions with patients, increase their job satisfaction, and reduce stress in their personal lives. "You just have to be there," he says, "aware of what is already happening."

BY KATHRYN LEVY FELDMAN | Photograph by Candace diCarlo | PDF download
---
"It is very easy for a doctor to disappoint a patient in need," says Michael Baime M'81. "It is all too easy for that doctor to not even notice the disappointment. It happens every 15 minutes."
Over time, this "not noticing" takes its toll on healthcare providers, he adds. "Even the most sensitive and caring physicians begin to feel less and less of the distress that their patients bring them. It just happens." They lose touch with what called them into the profession, the promise of "a deeper kind of healing that was based on selfless caring, on a deeper wish to participate in something more profound than a prescription."
Baime—the director of the Penn Program for Mindfulness who also serves as director of Mind-Body Medicine for the Abramson Cancer Center—has been treating this condition for decades. His method?
First, sit still.
Second, notice what happens when you do.
---
In the sixth week of Healing the Heart and Mind, an eight-week stress-reduction course specifically tailored to the needs of healthcare professionals, the class begins with meditation practice.
Thirty students settle into their seats. Each finds a posture that is upright and alert, closes his or her eyes, and concentrates on breathing. Baime, who teaches the class twice a year, guides and participates, speaking softly, almost seductively, into a microphone, his eyes closed. Tonight's direction is to focus on "allowing," with instructions to be "open to whatever happens." After a few reminders to settle into the nuances of the breath and the sensations of the body, there is silence. For almost 30 minutes. There is no magic, mystery, or chanting—just the act of being in the moment.
After a break, the class forms into pairs. One partner listens as the other tells a stressful story, first while counting backwards from 100 by threes and then while paying careful attention to the body language of the narrator. "A heavy-handed exercise," Baime acknowledges, when his students reveal they feel better when they can empathize with the narrator. Unspoken is the recognition on many of their faces that they had metaphorically "counted backwards" in a clinical encounter in the past.
"Pesky thoughts are almost continuous when you are listening," Baime says. "But if you notice them, you can dial them back and fully engage with the patient. The most important information is not the narrative, but how the person feels about it and how you feel about it. The interaction becomes more alive and satisfying to everyone. It doesn't take any more time; you don't have to do anything more, or different. You just have to be there, aware of what is already happening."
---
For almost as long as he can remember, Baime has known there was a different way to experience the world. He grew up in what he describes as a blue-collar neighborhood in suburban Pittsburgh, the eldest of three boys raised by "pretty traditional" parents. ("Not a wind chime in sight," he says with a smile.)
But from the age of six or seven, he recalls experiencing powerful shifts in his awareness, which offered him glimpses of "tremendous openness, space, and freedom, and kinship with everyone and everything." Creating those experiences became central to him. "I learned that I could make them happen if I walked at a certain pace or closed my eyes a certain way," he says. "Of course, nobody had any idea what I was talking about."
An avid reader, he combed the library for some explanation. In a book by the British popular philosopher and writer on Eastern thought Alan Watts, he discovered a word for his feelings: meditation.

"So I went to my parents and asked them if I could learn about meditation," he remembers. "The only place I could find made me wait until I was 14. That was my birthday gift." In his twenties, he met the controversial Buddhist meditation master Chogyam Trungpa, who until his death in 1987 was Baime's teacher in Tibetan Buddhism. In 1983, Baime was authorized to teach meditation in a formal Tibetan ceremony, taking a vow never to abandon anyone he taught. He honors that vow to this day, telling his students he is always available by email.
Baime's more conventional education proceeded in parallel. After majoring in biology at Haverford College, he graduated from Penn's medical school in 1981. He did his internship, residency, and fellowship training at the old Graduate Hospital in Philadelphia, all while continuing to teach, study, and practice daily meditation. ("The only time I had any trouble fitting everything in was during my internship when we were working 14-hour days," he says.) By 1985, he was board-certified in internal medicine and on his way to building a large and gratifying primary care practice.
Eliot Nierman, assistant professor of clinical medicine at Penn, was Baime's residency training director and invited him to join Graduate's practice in general internal medicine. He describes Baime as an "excellent and caring doctor and teacher" who "was always sensitive to patient issues and motivation.
"You wouldn't have known he had this other side," he adds. "He wasn't out there prescribing herbals to patients."
Brian Mandell, currently chair of the Department of Medicine at the Cleveland Clinic and editor of the Cleveland Clinic Journal of Medicine, who also practiced with Baime at Graduate, offers a similar take. He calls Baime "the finest internist that I have ever worked with." But while he acknowledges his superior skills in relating to patients and his "calming manner," he adds that "his defining skills as an exceptional internist are from the traditional doctor's bag: great fund of knowledge, inquisitive and explicit history-taking and examination skills, and the ability to integrate the scientific and technical with the human aspects of patient care."
Despite his success, Baime soon felt dissatisfied with how traditional medicine was practiced. Even in those days of 30-minute patient visits (15-20 minutes is more common now), he could feel the same frustration coming from his patients. "We all sense the need for a system that includes more than purely mechanical or pharmacologic interventions," he wrote in 2003. "Few would wish to give up the freedom from pain, disability, and early death that we gain from medical science, but at the same time we long for a more comprehensive view of health and healing, for environments that support growth as well as they eradicate disease."
A decade earlier, in 1992, Baime had begun teaching a course in medical-stress management for patients with chronic health conditions. The classes were held at Graduate Hospital and based on his training in traditional Tibetan Buddhism. Around the same time, someone gave him a copy of Jon Kabat-Zinn's Full Catastrophe Living: Using the Wisdom of your Body and Mind to Face Stress, Pain and Illness, the 1990 book generally credited with merging meditation and yoga with science and mainstream medicine.
"When I first read it, I thought it was Buddhism lite," Baime says. But having learned that Kabat-Zinn had also gone to Haverford—and had even thanked one of Baime's favorite professors, Alfred Satterthwaite, in his acknowledgements—he called him up. Kabat-Zinn invited him to visit the stress-reduction clinic that he had established at the University of Massachusetts Medical Center. "This was in the days when he wasn't famous, and his office was in the basement," Baime notes.
Sitting in on one of Kabat-Zinn's classes was, Baime says, "deeply profound" and changed his idea of teaching meditation. "He was doing it in the way I thought was most effective, and he became an important person to me," he told Haverford's alumni magazine in 2009. Baime enrolled in Kabat-Zinn's residential training program and adopted aspects of his curriculum in his classes at Graduate.
In 1996, Baime secured enough funding to hire two other meditation teachers, Scott McBride and Larry Ladden—both of whom still teach in the program. They occupied a small office in the hospital and held classes in the evenings in a Graduate-owned, but vacant, brownstone across the street.
"Imagine a bunch of people meditating in an empty living room and dining room," says Karen Bowles, clinical assistant professor of medicine at Penn and director of professional training for the mindfulness program. Bowles was invited by Baime to take the course in 1996. "I lasted two weeks, and I make sure people that I now teach know that. I was working extremely long hours and every time I tried to meditate I would fall asleep," she says.
There didn't used to be any pre-screening of students, but these days anyone who signs up for a course undergoes a phone interview to make sure they understand the rigors of the program and must take a pledge to complete the homework, which includes eight weeks of daily practice for 40 minutes.
When Allegheny Health System acquired Graduate Hospital in 1998, the internal-medicine group moved over to the Penn Health System, with an office at 1845 Walnut Street. Baime was named director of the Penn Program for Stress Management (the name was changed to the Program for Mindfulness in 2009).
"Before the move to Penn, teaching stress reduction was something Michael did on the side," says Bowles. "After we moved, it became an official part of his job."
Baime continued to practice medicine by day and teach stress-management courses, in the conference room, by night. In 2004, the program relocated to Penn's main campus and was no longer tied to a clinical practice. Baime devoted more of his time to managing the program, seeing patients two days a week.
The centerpiece of the mindfulness program remains the eight-week stress-reduction course that Baime and his eight teachers offer three times a year (fall, winter, and spring), in Philadelphia and the surrounding suburbs. (Disclosure: I completed the program in the fall of 2012.) According to Program Manager Mara Wai, there are, on average, 20 people per class, each of whom pays approximately $550. The program is self-supporting, through tuition and donations. "We rely heavily on philanthropy to survive," says Baime.
In addition to the specialized classes for healthcare professionals, the program offers classes for educators; cancer patients and their caregivers; medical, nursing, graduate, and (with permission) undergraduate students; psychotherapists; and customized work-site training. There are also advanced classes for people who've completed the eight-week course. These include full- and half-day retreats, membership in a monthly group-meeting, practice refreshers, drop-in meditation sessions—all part of what Wai calls an ongoing and evolving effort "to meet the demands of people who have gone through our program."