Shell's Odyssey
Wharton professor Richard Shell's unorthodox new book on success draws on his own wandering path to an academic career—which included jobs house-painting and fundraising in DC, a nasty bout of hepatitis in a Kabul flophouse, and a flirtation with monastic life in Korea—and celebrates the power of uncertainty.

BY DAVE ZEITLIN | Illustration by Gina Triplett | PDF download
---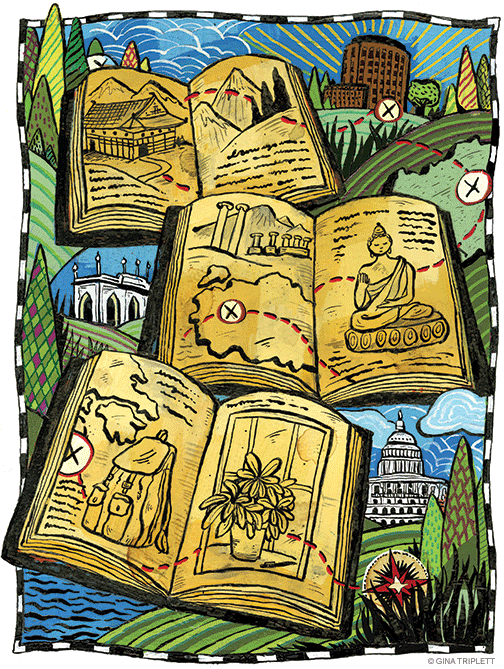 On the last day of the class he teaches on the meaning of the word success, as the students turn in their final papers—"exploring, based on course readings and original research, [their] personal philosophies of success," in the words of the course description—Wharton professor G. Richard Shell is almost always asked the same question:
"OK, Professor Shell, what's your final paper?"
For a while, he deflected such inquiries, telling his students that the course—The Literature of Success: Historical and Ethical Perspectives—is about them discovering how they define success and how they plan to achieve it. It wasn't about him.
But about three years ago, he decided that he would take his students up on their request. His answer is Springboard: Launching Your Personal Search for Success, published by Portfolio/Penguin in August, which he hopes will shift the conversation on what it means to be successful.
"A lot of professors write books and then devise courses," Shell says in his Huntsman Hall office. "But I actually devise courses and then write books."
Shell—the Thomas Gerrity Professor and professor of legal studies and business ethics and management at Wharton—is best known as a leading expert on negotiation, the subject of his previous three books: Make the Rules or Your Rivals Will (2004), Bargaining for Advantage: Negotiation Strategies for Reasonable People (2006), and The Art of Woo: Using Strategic Persuasion To Sell Your Ideas (2008) ["The Guru of Woo," May|June 2008]. In part because it strayed from his main area of expertise and also because he says he had to "ditch and dodge" the clichéd rhetoric endemic to the American success-book genre, Springboard turned out to be a more daunting project.
"When I started to write it, I thought, 'This will be easy. I've got the course. I'll just turn the course into a book,'" Shell says. "But I realized about three months into trying to do that, that [it] was impossible—because the course is very interactive, it's very intimate, and the students and I have a dialogue. I couldn't write a book like that. I would say of all of the books I've written, this was twice as hard to write as anything else."
But as he wrote, Shell was guided not only by the readings he assigned for the success course (ranging from self-help books to Charles Lindbergh's autobiography to Arthur Miller's Death of a Salesman) but also the tattered notebooks he found in his closet. In many ways those notebooks—journals he had written decades ago—turned out to be his biggest resource of all. As he read through them, he realized that to finish his "final paper," he needed to go back to the beginning, when he embarked on a remarkable journey of self-discovery that would transform him from what he called "a lost soul" into a popular professor at one of the world's most prestigious business schools.
In other words, he had to retrace his own path to success.
"I've been researching the subject since I was 21," he says with a grin. "I just didn't know I'd be writing a book about it."
---
Shell never thought he'd use his journals to write a book. He kept them around, he says, on the off chance his kids might some day like to read them. He'd never looked at them himself—what would be the point of reading about his own life when he had already lived it?
But as he spent a couple of months poring over those notebooks—"I was an obsessive journal writer," he remarks—it quickly dawned on him that his memories were drastically different than the reality.
"The first thing I recognized, which I thought was astonishing, was I had told stories in my head about myself that were absolutely not true," he says. "I had written a past about myself that was just a convenient story that led me to Wharton. All of us tend to do that. Wherever you are in life, you sort of write a mental story to make the present make sense. So reading those journals, I suddenly realized how clueless I really was about who I was and what I wanted to do."
Reading through his journals, he says, was one of the most emotional things he's ever done. He laughed. He cried. And then he summarized nearly 20 years of his life into 15 pages for the introduction to Springboard.
It begins with a startling admission that few people know about him: that he didn't start his academic career until he was 37 and spent most of his twenties unemployed, "much of it deeply uncertain about who I was and what I wanted to do." He then details those uncertain "Odyssey Years" (a term he uses throughout the book to describe when people set out to discover their own values and goals), chronicling his early life as a part-time housepainter in Washington, DC, who had severed ties with his parents. "Painting houses gives you plenty of time to think and I spent much of mine in culturally inspired success fantasies," he writes. "I became a world-famous poet. Then I was an important member of Congress. Then it would be time to paint the trim on another window sash."
Goaded by those visions, he eventually found a job at a fundraising consulting firm, and was given an office with a window and a potted plant (which actually was another one of his fantasies). But despite the window, that job proved to be no better for him than painting houses, and feeling like "an actor posing as a professional," he quit his job and set off to "travel the world with my life savings of $3,000 and a backpack."
Shell traveled from Greece to Turkey to Iran to Afghanistan, reading the entire Bible as he went. The journey, he says,  was "not just a physical one but an intellectual one, an emotional one and a spiritual one." But it also proved to be a dangerous one. While in Afghanistan on Christmas Eve, he blacked out and collapsed on the side of the street. When he came to, a couple of other travelers told him he probably had hepatitis. Dizzy and sick, he stumbled back to the cot that cost him 50 cents per night, located in a dirty hallway of a flophouse.
At that point, he was certain he had hit rock bottom and that "the status quo of my life on the road had become intolerable." And when two "cheerful, energetic and generous" European teenagers who belonged to a religious group called the Children of God gave him Christmas cookies that night, he became inspired to find something that would make him equally happy.
"One of the things I think is important is letting yourself be able to hit the bottom," he says, now almost 40 years removed from his lowest point. "Because if all you're doing is avoiding the risk of hitting the bottom, you're basically in self-protection mode—which is going to keep you from finding out what you're capable of. For me, I had stretched myself as far as I could, to the limit of my endurance. I exhausted myself in the search for finding an answer. And I had been looking in the wrong place."
The right place, it turned out, was the classroom. He realized that while attending law school at the University of Virginia, where the "energy and intellectual excitement" of a particularly good class left him wanting to be the "person in the front of that room." By that time, he finally felt like he was on the right path in other aspects of his life. He had reconciled with his parents and gotten married to his college sweetheart. And after finishing law school, clerking for a federal appeals-court judge and working briefly as a lawyer, he joined the Wharton faculty in 1986 to teach legal studies.
In many ways, Wharton was an unlikely landing point. He was an English major in college who never even considered the idea of teaching business. In fact, in one of his journal entries, he wrote business as the first item on a list entitled "Things I could never teach." But after so much intellectual searching, being on a college campus just felt right to him—so much so that he "never paused long enough to wonder if I was out of place or not."
"By the time I had done all the work to figure out who I was and what I wanted to do—and I had my wife to counsel me as well—I hit the ground here at the age of 37 on a mission," he says. "I wanted to succeed, so I could have a career. I had never had a career."
Shell has been at Wharton ever since, often standing in a room in front of determined students who know exactly what they want to do with their lives. But for those who don't, he tries to relay a message from his own experiences—and which he offers now in the book:
You don't need to avoid uncertainty.
"The truth of the matter is that nobody is certain," he says. "But the culture here discourages any sign that you're not sure. I really feel like part of my mission is to be the person who says, 'It's OK. Be uncertain. Everybody's uncertain. Don't feel inadequate. Embrace it. Go with it. Let that lead you to the interesting stuff.'
"I think everyone who knows exactly what they want to do is closing their lives down."