Battling a Binging Brain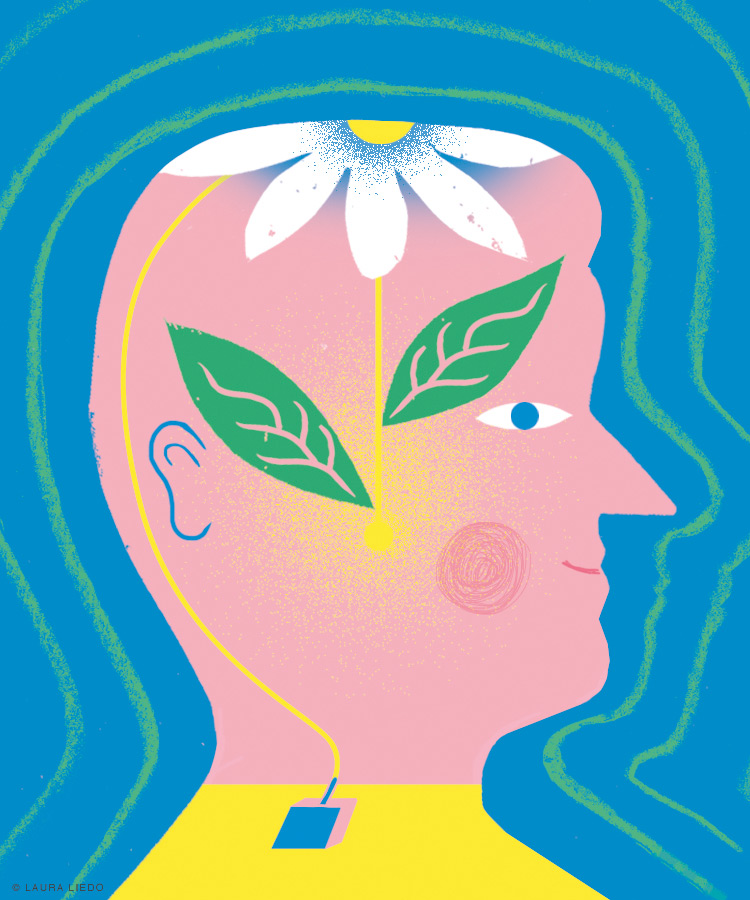 A Penn neurosurgeon believes deep brain stimulation can be a tool to fight obesity.
---
A chance encounter on Locust Walk sent Casey Halpern C'03 M'07 GM'09 down an unexpected scientific path.
Halpern was a freshman classical studies major at Penn when he ran into Murray Grossman, a professor of neurology who had once been Halpern's youth soccer coach. After catching up, Grossman invited Halpern to check out his lab, to see if any of its research projects might spark his interest. "He was so welcoming," Halpern recalls, "and eager to educate me and mentor me."
That introduction set off a chain of events that came full circle in 2021, when Halpern returned to Penn as an associate professor of neurosurgery and division head of functional and stereotactic neurosurgery. He is particularly interested in applying novel therapies to complex and stubborn problems like mental-health disorders, addiction, and obesity.
Lately he has been investigating the use of deep brain stimulation (DBS) to curb binge eating. In a pilot study whose results were published last August in the journal Nature Medicine, he and other coinvestigators focused on two women who'd had initial success losing weight via bariatric surgery but found it difficult to keep it off years later. Halpern hypothesized that the problem lay not in the gut but the brain. 
His lab implanted a pacemaker-like device with electrodes in each woman's brain. The device was used to monitor the women's eating tendencies, in the lab and natural settings, for six months before a stimulation phase in which electrical pulses were applied. Both women lost weight and reported "restored inhibitory control" over their eating habits. Though both women remained obese, one no longer met diagnostic criteria for binge eating disorder. And both opted to retain to the devices rather than have them removed after 12 months, which Halpern calls "a true success."
The pilot study will be expanded to six participants, though it will take proof of efficacy in a much larger number for the treatment to have a real shot at FDA approval. But the initial success aligns with Halpern's overarching research goal: to give care providers more tools to treat seemingly intractable conditions. He's done that by finding new applications for a well-established technology, drawing on the foundation of curiosity and collaboration he developed at Penn.
DBS was first used in the late 1940s to treat Parkinson's disease. In the 1960s the FDA approved neurostimulation devices for wider use, and a series of approvals in the early 2000s cleared it to treat tremors associated with Parkinson's disease, dystonia, and obsessive-compulsive disorder, with epilepsy added in 2018.
Treatment for Parkinson's targets areas of the brain involved in motor function. Halpern's work focuses on the mesolimbic dopamine pathway, a part of the brain's reward system that seems vulnerable to hijacking by conditions like addiction, OCD, and binge eating. The binge-eating study specifically targets structures in the basal ganglia known as the nucleus accumbens.
The exact neurochemistry of how DBS quells urges is not fully known. Part of Halpern's research seeks to devise new ways to measure effects within the brain and hone our understanding of neural connections.
Those unanswered questions have piqued Halpern's curiosity since his first stint at Penn, where he spent 15 years as an undergrad, medical student, intern, and resident, before becoming an associate professor of neurosurgery at Stanford University. Returning to his alma mater in 2021, he says, was "transformative" for his research because of the University's collaboration across disciplines. "For the work that we're doing, you really need that vibrance and enthusiasm for collaboration."
Halpern hopes to help establish DBS as one more treatment option for obesity. The need is clear: more than 40 percent of Americans are obese, and around three percent suffer from binge eating disorder. DBS is reversible and adjustable, and patients might benefit from combining it with other interventions (like pharmaceuticals in OCD and Parkinson's, or bariatric surgery in obesity). By expanding the clinical and scientific knowledge base, Halpern hopes to make it more than just "a treatment of last resort."
Halpern's work involves significant ethical questions. He's working in brain areas thought to contribute to the formation of personhood. He frequently combats negative perceptions of DBS, which can conjure images of electroshock therapy and other older procedures that caused psychosurgery to fall out of popularity before, and his team includes bioethicists to tackle such issues.
Yet Halpern says he is guided by a respect for patient autonomy and restoring power in the lives of people struggling with compulsions they can't control. He describes his most rewarding study as one in which he helped a dentist with essential tremor continue his practice, quelling the tremors via DBS.
"For patients with OCD and addiction and obesity, we're just scratching the surface of applying deep brain stimulation to these disorders," he says. "But our initial efforts have been very promising."
—Matthew De George