Arts and Culture, Homecoming Style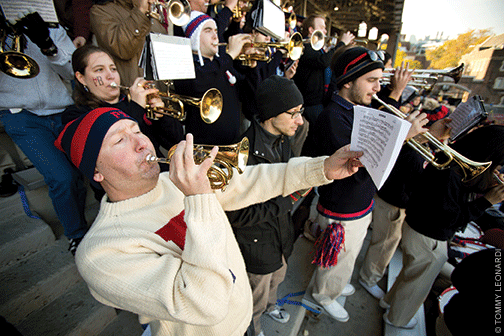 It's almost that time—the fall weekend when alums race back to campus for Homecoming: Featuring Arts and Culture. Here are some of the arts-oriented events that we're especially excited to attend next weekend. (The full list is here, along with registration information.)
Friday, Oct. 31, 2014
Phantom of the Opera
4 p.m. and 7 p.m., Irvine Auditorium
Join in a 40-year-old tradition. To celebrate Halloween, Penn will once again screen the 1925 Phantom silent film with live organ accompaniment and movie snacks.
Arts@Homecoming Launch Party, Featuring Old Books, New Tricks
4 – 6 p.m., Van Pelt-Dietrich Library, 6th Floor
A presentation on how new technologies can bring Penn's rare books and manuscripts to life.
Voices on Freedom and Social Justice: Featuring Diverse Intercultural Artistic Expressions from Students, Alumni and Local Artists
5:30 – 7:30 p.m., Greenfield Intercultural Center
This curated, open-mic-style event will reflect on 30 years of building intercultural community at Penn and also explore the universal values behind intercultural community-building.
Saturday, Nov. 1, 2014
Art History Matters
10 a.m. – 12 p.m., Fisher-Bennett Hall, Room 419
A panel including Kathy Sachs CW'69, Michael Rosenfeld C'84, Kimberly Michelle Brown Gr'04 and Michael J. Lewis G'85 Gr'89 will lead this interactive discussion. They'll explore questions such as: How can art history help us navigate our image-rich culture? Is collecting art more than an investment strategy? How many art historians does it take to change the world?
Screening of The Phantom Tollbooth: Beyond Expectations with author Norman Juster Ar'52
10 a.m. – 12 p.m., Meyerson Hall, Lower Gallery
PennDesign will screen a playful documentary that explores the creation, creators and impact of the beloved children's book The Phantom Tollbooth. After the screening, a panel discussion will include The Phantom Tollbook author himself—alumnus Norton Juster Ar'52. He'll also sign copies of the book afterward. Registration is strongly recommended for this one: www.alumni.upenn.edu/thephantomtollbooth.
DesignPOP: Conversation and Book Signing with Lisa Roberts CW'74
12:30 – 1:30 p.m., Meyerson Hall, Upper Gallery
Alumna Roberts talks about her new book, DesignPOP, and screens an episode from her TV series, "My Design Life." Her book explores game-changing product design and innovation in the 21st century. Roberts will sign books afterward, and registration is strongly recommended: https://pennhomecomingdesignpop.eventbrite.com.

Alumni Authors Panel: Writing for Children and Young Adults
4 – 6 p.m., Kelly Writers House, Arts Cafe
A reading and panel discussion featuring four alumni writers: Lorene Cary C'78, Beth Kephart C'82, Jordan Sonnenblick C'91 and Kathy DeMarco Van Cleve C'88. Seating is limited.
Alumni Bacchanal
9 – 11 p.m., Platt Student Performing Arts House
Performing arts alumni will gather to chat, sing and celebrate the arts at Penn.
Sunday, Oct. 2, 2014
Walk for Literacy
8 – 10 a.m., Penn Park
The Philadelphia Writing Project hosts its second annual walk to support writing camp scholarships for students and community-based writing programs. It will start on Shoemaker Green (217 S. 33rd St.) and pass through Penn Park. Contact Miriam Harris—miriamh@gse.upenn.edu—for more information.
Coming Home to Morris Arboretum
10 a.m. – 1 p.m., Morris Arboretum
Start the day at an alumni brunch with featured speaker and acclaimed landscape architect Rodney D. Robinson GLA'78. Small guided tours of the arboretum will begin at 11:30 a.m. (Cost: $20.)
—Molly Petrilla C'06