Anna Deavere Smith on "Let Me Down Easy"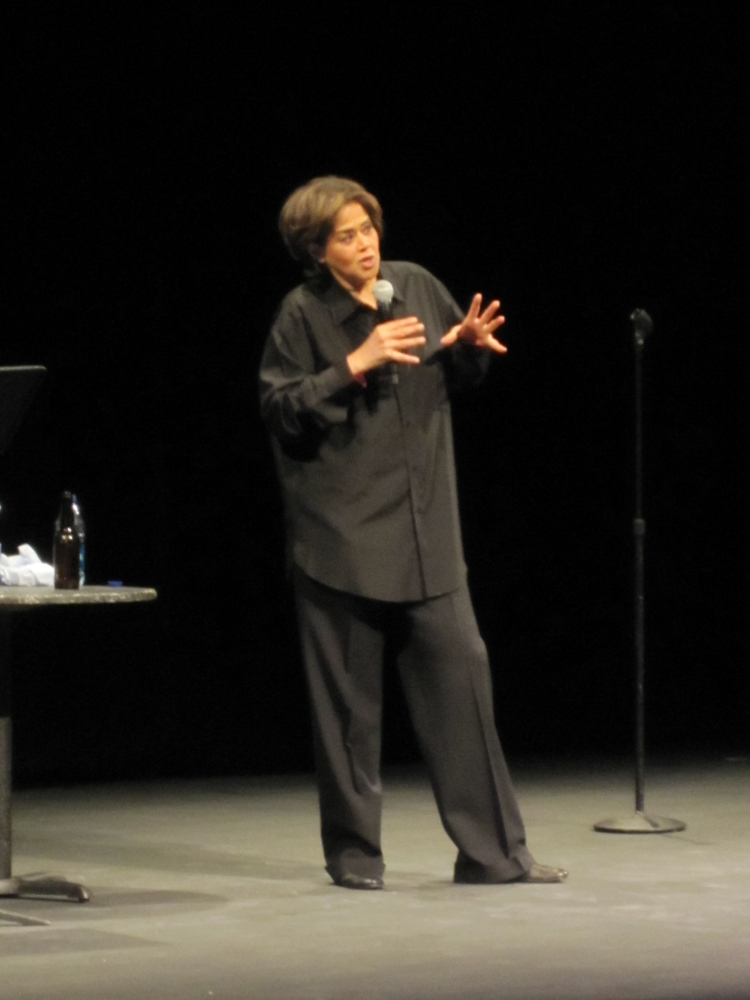 Photo by Bruce Coletta
Last night, I watched Anna Deavere Smith channel a rodeo cowboy, the dean of Stanford's School of Medicine, the head of a South African orphanage and the former governor of Texas. And that's just part of the list.Smith came to Penn yesterday for a Center for Public Health Initiatives … initiative:  a year-long seminar series titled "Creative Action: The Arts in Public Health." On the Annenberg Center's Zellerbach stage, she discussed and performed select scenes from her recent one-woman show, Let Me Down Easy.
The play consists of monologues drawn from Smith's interviews with doctors, patients and healers about "the human body, its resilience and its vulnerability" (her words), often shining a light on both health and healthcare.
"When I started this play in 2000, healthcare was really not a part of the national conversation," she told the audience during a post-performance question-and-answer session. "[Now,] I wonder what is needed … so that we believe what's good for everyone is good for the country—that everyone should be taken care of."
Smith said she specifically selected monologues from Let Me Down Easy that had to do with public health: former Texas governor Ann Richards' battle with cancer; a conservative Republican bull riders' progressive view of health care; Stanford School of Medicine Dean Phil Pizzo's thoughts on end-of-life care. "My intention and my process are very different from [those of] an impersonator," she added. "They want to make you laugh. I want you to look at the strangeness of me inhabiting [someone] so different from myself … [and] ultimately, I want you in the heart of that person."
When asked whether she observed any trends in health care over the decade she worked on Let Me Down Easy, Smith said, "One recurring thing that intrigued me…is the gap between technology and healing. I find myself thinking, 'I'd better find some doctors who are healers—not doctors, healers.
"It's time we find the other part of medicine, which is about care."
You can read the New York Times' review of Smith's performance here.