Across The Spectrum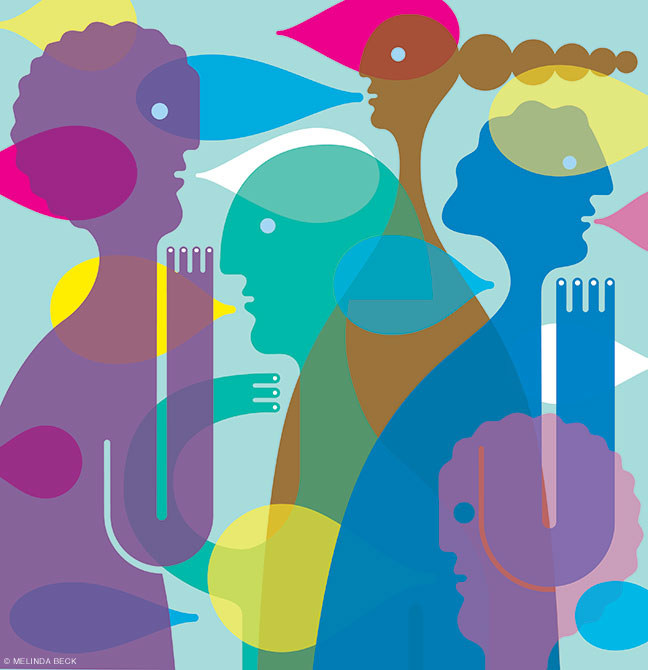 From artists to athletes to activists, Penn Spectrum Weekend fosters a sense of belonging.
---
In early October, close to 800 people attended Penn Spectrum Weekend, an event held every three years focused on cultural identity issues pertinent to Penn's black, Latinx, Native, Asian, LGTBQ+, and Muslim alumni and students. With a broad array of panels that featured alumni, students, and faculty, the three-day conference, first held in 2010, stirred a dialogue—and, oftentimes, heated debate—on issues ranging from the #MeToo Movement to gentrification.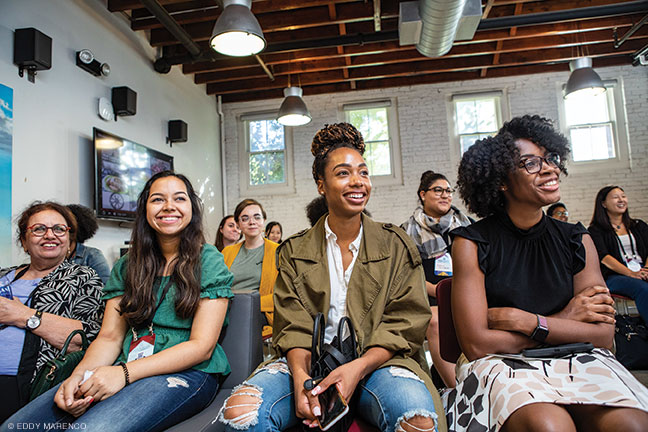 "One of the things we committed to is making sure the conversations were relevant to the challenges diverse communities are facing today," says Marvin Rocha C'05 LPS'16 LPS'18, the director of multicultural outreach at Penn Alumni. Rocha helped to organize the event, partnering with the University's cultural centers and an alumni committee chaired by Eric Apple W'91, Mireya Kam W'93 C'93, and Nayab Khan C'18 SPP'19. "The second commitment we made," Rocha adds, "is we really wanted to highlight intersectionality—issues that touch more than one community."
The weekend opened with multiple roundtable discussions (on everything from the experience of black educators to the experience of women on campus throughout the University's history) and networking opportunities. It closed two days later with an award brunch in honor of Kusum Soin CGS'07, founding member of the Pan-Asian American Community House, who is leaving Penn after 18 years.
In between, there were many more thought-provoking panels and celebrations, including a Taste of Penn Spectrum event that featured remarks from Provost Wendell Pritchett Gr'97, performances from various student groups, and a powerful speech by former first-generation, low-income student David Thai C'18, who invited all of the important people in his life on stage with him to shine a light on his support system. Here are a few more highlights.
La Casa's Art Exhibition
La Casa Latina celebrated 20 years of community building on campus by showcasing an exhibition dedicated to the challenges Hispanic and Latinx students face before—and often during—their time at Penn, as well the sense of unity the cultural center provides to help them overcome those challenges. The product of interviews with former students and La Casa founders, the project includes both a mural created by local artist Betsy Casañas and a collection of poems written by the 2019 Philadelphia Poet Laureate, Raquel Salas Rivera Gr'19.
On one end of the mural, which spans the length of an entire wall on the bottom floor of the ARCH building, a mother-like figure protects huddled masses. The other end reveals a group of people standing together against a backdrop of Philadelphia rowhomes. In the middle, clusters of hot–button words and phrases contrast with the distinctly human faces of each person rendered.
Juxtaposing the humanity of Latinx students on campus with the stereotypes they're working against, Casañas said she created a mural representative of La Casa's true purpose: to facilitate programming that provides marginalized students with opportunities for success.
Studying Slavery
Kathleen Brown, the David Boies Professor of History and lead historian for the Penn and Slavery Project, addressed the long-held misconception that Penn had no ties to slavery. Brown recalled being initially skeptical of the feasibility of an investigation into Penn's involvement to slavery, due to both a lack of interest from students and "whether there was any there there." But she said that she was quickly proven wrong, as five students, including VanJessica Gladney C'18, led an independent study project completed in 2018 that found that more than 70 early Penn trustees owned slaves ["Penn and Slavery," Nov|Dec 2018].
"One thing that I've learned during my research is that slavery did not exist within a vacuum," Gladney said. "And neither did Penn's complicity."
Breanna Moore C'15, who also conducted research for the Penn and Slavery Project and is currently working toward a PhD in history at Penn, later spoke of her experience discovering that her fourth-great-grandmother and third-great-grandparents were enslaved by a Penn medical school graduate from the early 1800s—more than 100 years before anyone in her lineage had "access to the educational institutions to become literate," she noted. "I'm here today to speak for my ancestors," said Moore, before reciting many of their names. "You will forever live on."
Lenape Land Acknowledgement
In "Uncovering Truth," Tina Pierce Fragoso, who works in Penn's admissions department and is a member of the Nanticoke Lenni-Lenape Tribal Nation, argued that it's important to acknowledge that Penn is located on land that once belonged to her ancestors in the Lenape tribe.
Fragoso emphasized that "land acknowledgment" recognizesNative Americans' spiritual connections to their territories, and can help repair relationships between the descendants of the land's original inhabitants and its colonizers. She pointed to annual powwows put on by the student group Natives at Penn ["Native Pride," July|Aug 2019], the Lenape Garden built behind the Greenfield Intercultural Center, and the Penn Museum's Native American Voices exhibition ["Know That We Are Still Here," July|Aug 2014] as "just a few examples of land acknowledgement that have been happening at Penn—not necessarily in a verbal statement but in actions."
"It's respect and healing, it's reconciliation, it's building positive relationships," added Fragoso, who also reminded attendees that Native Americans are still present in academia. One of them is Ben Ototivo, a staff psychologist at the University's Counseling and Psychological Services (CAPS) and member of the Comanche Nation. He spoke of ways for people to engage with land acknowledgement—such as promoting and supporting Native voices in their communities. "This is not a script," he said. "This is a way to avoid the Native erasure that has happened throughout all of our educations."
Activist Athletes
In "Playing Out Activism: Athletes, Corporate Interest, & Social Justice," Brian Peterson EAS'93 GEd'97 Gr'13, director of Penn's Makuu Black Cultural Center, moderated a discussion on the changing roles of social media and activism in sports.
LeBron James, Kevin Durant, and other NBA stars, for instance, have shattered the "stick to sports" mantra. "For a lot of athletes, you become your sport," noted panelist and former WNBA player Andrea Garner, "and now, you can say, 'I'm more than that. I have a voice, and I'm going to use it.'" The calculation, however, can be trickier for others.
Benjamin Oh C'19 SPP'19, a former nationally ranked short-track speedskater, and Penn junior track standout Marvin Morgan, both acknowledged the risk of speaking out, especially in lesser-known sports, when sponsorship deals could be at stake.
Oh, who competed at the 2017 US Olympic Trials, noted that getting "punished on the international stage" can be particularly damaging because "those international competitions are really the only chances we have to showcase our skills." Pointing to American foil fencer Race Imboden, who was placed on probation for 12 months by the US Olympic and Paralympic Committee for kneeling on the medal podium during the national anthem at the 2019 Pan American Games, the speedskater added, "If you want to sacrifice yourself in a sport that's really small for an issue that you care about, someone else who is more willing or doesn't care about it as much will just take that spot from you."
Morgan added that athletes "shouldn't be afraid to actually speak what [they] believe." But when they do, athletes should aim to be informative rather than declarative, because "a lot of people don't understand or aren't as informed, so if you give a little information here and a little information there, it can go a long way."
Diverse Narratives
As representation on screen and on stage continues to evolve, how have popular films like Black Panther, Crazy Rich Asians, and Coco changed the way minority communities are represented? That question was at the heart of the "Diversity Takes Center Stage" panel on creating stories authentic to particular communities' experiences.
Justin Ching C'11—an award-winning filmmaker whose work spans Disney projects, YouTube Originals, and streaming-platform documentaries—emphasized the importance of first-person narratives in minority filmmaking. "We're making sure for ourselves that we have control, instead of people just exploiting us," Ching said.
The panelists also spoke about trying to dispel the notion that movies and TV shows about minorities need to focus on trauma or tragedy. "There are stories of joy and laughter and humor. There are stories of success, all of which are also important to tell," said trans artist, writer, and activist River Coello GEd'15. "It's so crucial for some of these stories to be easy-to-watch movies," whose popularity can serve to naturalize diverse narratives into the media canon.
Similarly, Coello advocated for more "compassion" in casting, especially when it comes to groups historically shut out of movie and theater roles. For example, in response to claims about the difficulty of finding qualified Asian actors to take roles in projects such as Disney's upcoming live-action film Mulan, Coello noted that "there are ways for actors to be pushed to deliver [performances] they need to deliver—it just takes more work."
Civil Rights Now
"The future is intersectional."
That was the theme of Saturday's keynote address: "Civil Rights in the Populist Era"—a panel that included remarks from Penn President Amy Gutmann and focused on the role of law in upholding civil rights protections across a variety of marginalized groups, including the LGBTQ+ community and Native Americans.
"As a lawyer, I think it is very important for us to win in the court of law, but I always think it is equally important for us to win in the court of public opinion," Iván E. Espinoza-Madrigal C'01 said. "It is extremely important for us to change hearts and minds as we're doing our work."
The director of the organization Lawyers for Civil Rights, Espinoza-Madrigal discussed cases relating to LGBTQ+ workplace discrimination argued before the Supreme Court in October. Invoking the precedent set by the Obergefell v. Hodges ruling in favor of gay marriage, he sounded a note of optimism about the uphill battle for acceptance. "To see all of this happening within the Supreme Court is a victory for LGBTQ+ rights," he said.
Not all parts of the discussion struck such a hopeful chord.
Maggie Blackhawk, an assistant professor at Penn Law and a Native American, argued that the plenary power doctrine allows "the federal government to treat anyone on the margins of empire in any way without any constitutional limit." First put forward to forestall constitutional protection of Native Americans against government actions and later used to justify the US expansion into territories like Puerto Rico and Guam, it isnow helping lay the foundation of the current administration's immigration policy, she asserted.
"These laws are ongoing," Blackhawk said. "So we end up treating people the same way again and again, generation after generation."
—Beatrice Forman C'22 and Sam Kesler C'20