A Pioneer Owner (and Spoon Man) in the Hall of Fame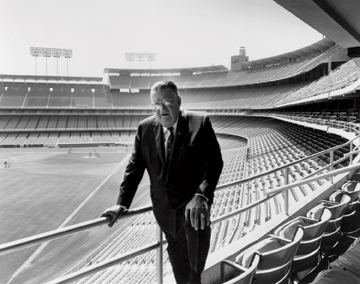 Class of '26 | The first Penn alumnus to enter the National Baseball Hall of Fame never played professional baseball. He did, however, own a team, and under his leadership that franchise became one of the sport's great success stories.
On July 27, the late Walter O'Malley C'26, visionary owner of the Dodgers in Brooklyn and then Los Angeles, was posthumously inducted into the Hall in Cooperstown, New York, having been elected this past December by the veterans committee. He joins a very select group: Only 26 of the 286 members of the Hall of Fame are in the Pioneers/Executives category.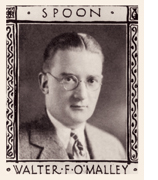 O'Malley owned the Dodgers from 1950 until retiring in 1979, and was succeeded by his son Peter O'Malley W'59, who served as president from 1970 to 1998. Under the senior O'Malley, whose contributions to baseball have been amply chronicled on www.walteromalley.com ["Alumni Profiles," July|Aug 2004], the Dodgers won 11 National League pennants and four World Championships. More significantly, perhaps, he helped open up the West to Major League Baseball by moving the Dodgers to LA in 1958.
While his decision to move the Dodgers from Brooklyn broke many hearts and soured quite a few others, he made it only after his attempts to build a new domed stadium at Atlantic and Flatbush avenues were thwarted by planner and power broker Robert Moses.
"Over time, I believe that people understand the extraordinary, decade-long efforts my Dad made to remain in Brooklyn and build a stadium there to replace aging Ebbets Field," says Peter O'Malley. "When that was not deemed feasible, only then did he consider his options, which included Los Angeles." There he built (with private financing) a beautiful stadium and oversaw the development of a remarkably fan-friendly franchise.
Among the memorabilia in the exhibition accompanying his selection is the carved Spoon Man award presented to him in 1926 as the outstanding overall student at Penn. O'Malley was also a two-time class president at the University, as well as chairman of the student council, president of Theta Delta Chi fraternity, and a member of the Friars Senior Society. Though he graduated from the College with a BA, he later recalled that he took a number of electives in "courses that would lay the groundwork for engineering, in the event I wanted to make that a career." That groundwork would come in handy for a man who would oversee the design of two stadiums and the construction of one.
—S.H.
---
Thrust into the Fencing Hall of Fame
Class of '59 | Over the years, Dave Micahnik C'59 has had his full share of honors. He was a member of the 1960, 1964, and 1968 United States Olympic Épée teams. From 1960, when he won the U.S. National Épée Championship, through 1973, he was continuously ranked in the top 10 in men's épée, and was nationally ranked in foil and sabre. He was the épée gold medalist in the World Maccabiah Games.
In 1974 he became Penn's head fencing coach, and since then his teams have had winning records every season and won a combined 22 Ivy League championships, as well as two NCAA team championships and 10 Intercollegiate Fencing Association team championships. He was chosen the 1997 Collegiate Coach of the Year by the U.S. Fencing Coaches Association.
In July, for those and other accomplishments, Micahnik was inducted into the U.S. Fencing Hall of Fame. Though the Hall is technically located in Shreveport, Louisiana, the ceremonies were held in San Jose, California, following a private reception in Palo Alto hosted by Young Sohn EE'79. The reception, attended by a highly accomplished group of Penn fencing alumni, featured a DVD filled with highlights of Micahnik's career—including footage of him receiving some pointers from the late Maestro Lajos Csiszar, then age 91.
—S.H.