A New Era for Mask and Wig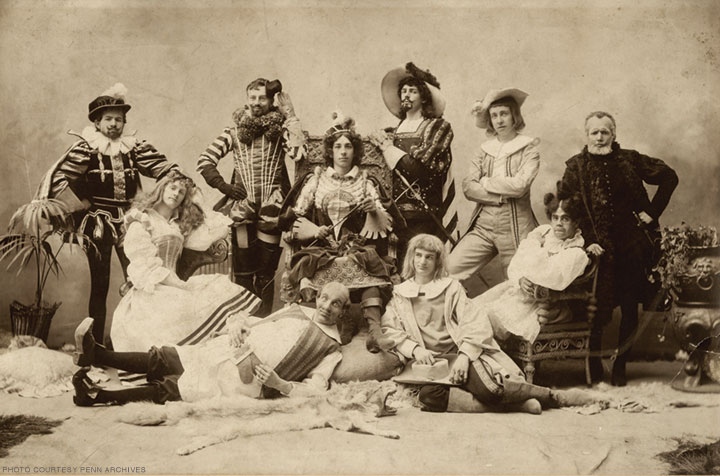 The country's "oldest all-male collegiate musical comedy troupe" will welcome all genders beginning next fall.
---
For much of the last 133 years, members of Penn's famed Mask and Wig Club have performed a song called "There's Only Room for One"—a nod to its unique history of singing, dancing, cross-dressing, and old-timey train tours and television performances.
But beginning in the 2022–23 academic year, Mask and Wig will make room for more than one.
More than one gender, that is.
Following several town hall sessions and impassioned discussions, the club's alumni and undergraduate members voted in September to open the doors of its historic Center City Philadelphia clubhouse to all genders, relinquishing Mask and Wig's claim to be the "oldest all-male collegiate musical comedy troupe in the United States."
The change came about, Mask and Wig President David Simon EAS'86 explains, during an "all-encompassing strategic review" of the club precipitated by the COVID-19 pandemic, which halted performances. And although some of the more than 300 active alumni members voted to keep the club as it's been since its formation in 1889, a significant majority voted to allow women, transgender students, and all other gender identities to join for the first time. Simon says that leading up to the vote, there was "respectful but at times passionate discourse to make sure that everyone felt comfortable that we, as an organization, were going to make the right decision for the good of Mask and Wig—and for the good of sustaining our mission of Justice to the stage; credit to the University.
"Regardless of your position on this question, we will still have relationships with our fellow classmates and other members—that doesn't go away," Simon adds. "The shift to being gender inclusive is expected to allow us to continue to build on our traditions and maintain the camaraderie that's kept Mask and Wig strong for 133 years."
Eliminating gender as a qualification to create and participate in Mask and Wig productions will lead to "rich new material," says Dean Jones, the group's current undergraduate chairman. Jones, a Wharton senior who joined Mask and Wig's business staff as a freshman, notes that some of his female friends occasionally expressed a desire to have joined the troupe had it been an option for them. "Just having that broader, more diverse perspective on comedy and writing is really going to open us up to improve tenfold over the next few years," he says.
Simon and Jones are unsure about what might come of some of the group's longstanding traditions—such as men dressing up as women for laughs and ending shows with a "female" kickline. "At this point," Simon says, "I expect certain traditions we will maintain and others we may revise or adjust." But the primary "tradition of being one of the funniest groups and one of the most entertaining groups on campus" will endure, Jones predicts.
Kyle Kozloff W'90, the secretary of Mask and Wig's board of governors, says he "did a 180" during the process as he came to support gender inclusion. "If you had asked me four or five years ago, I would have said, 'We are a specific art form. We have traditions, we're popular, and people want to see that art form,'" says Kozloff, who often dressed up as female characters during Mask and Wig shows in the late 1980s. But societal shifts about gender identity caused him to rethink his position. "I started thinking about our past and wondered if perhaps there have been some guys in Mask and Wig that, if we use today's lens, maybe wouldn't have identified as male," he says. "So would they have not been allowed in Mask and Wig?" He also thought about how many more performing arts groups there are on campus than when he was at Penn and "why we would want to further restrict our talent pool to less than half of the student body?"
"If you look throughout our history, what has always driven Mask and Wig is a commitment to smart, satirical comedy that can parody or reflect things going in the world around us," Kozloff says. "An advantage of being gender inclusive is it'll increase the number of people and the number of perspectives for how we go about doing that."
As for possibly losing certain traditions, Kozloff points out that the only reason Mask and Wig held the "oldest all-male collegiate musical comedy troupe" title is because Harvard's Hasty Pudding Club had gone co-ed. And while Kozloff and others have gone on the road with Mask and Wig, they didn't get to experience the lavish train tours that the most senior Mask and Wig alumni prided themselves on (and fondly reminisced about for the Gazette when the group celebrated its 125th anniversary ["Still Kicking," May|Jun 2014].)
"Mask and Wig has been entertaining audiences for 133 years, and we expect to be around for another 133 years," Simon says. "This is another natural evolution that Mask and Wig will do. Mask and Wig has gone through several evolutions in the past. … At the core of our focus is comedy—and comedy that is relevant for the current audiences. Comedy from 50 years ago would probably not play well today, and vice versa. We all look at this as just a natural evolution."
Aside from the tenor and the makeup of the shows changing, the club is going to spend the next few months tackling logistical issues like providing appropriate backstage space for multiple genders inside its quaint clubhouse at 310 South Quince Street (which is listed on the National Register of Historic Places). Jones adds that they'll work with the Platt Student Performing Arts House and other campus groups to "really make sure we have a safe and welcoming environment for everyone to come in next year," when they open what they hope will be a more inclusive—and competitive—audition process in September. "We're trying to get back to the days where there are lines of 200 people trying to get into auditions."
Jones also says that Mask and Wig will continue to work closely with Bloomers, which was founded in 1978 as the first women's comedy troupe in the country after female students had tried and failed to get into Mask and Wig ["In Full Bloom," Jan|Feb 2019]. Bloomers has since opened its membership to "all gender identities underrepresented in comedies," which, as they describe it, entails "ABCD—Anyone But a Cis Dude."
"I think there's definitely room for both groups to exist," Jones says, adding that there haven't been talks of merging the two groups—as the Penn Glee Club recently did when it joined forces with Penn Sirens after welcoming in female singers for the first time since its founding in 1862 ["Glee for All," Jul|Aug 2021].
For now, the club is focusing on its long-anticipated annual production, which will run from January 22 through April 8. Then, the stage will be set for a new era of Mask and Wig to kick off.
"I hope that the people who sign up to do this understand that they're pioneers and that there may be a learning curve with stumbles," Kozloff says. "But they get to be the start of an amazing century-and-a-half of the next generation of Mask and Wig." —DZ