A Forgettable Finish for a Celebrated Coach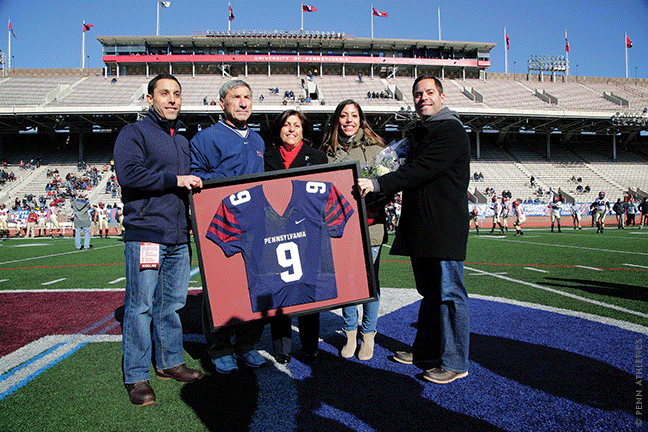 Three days after coaching his final game in 23 years at Penn, Al Bagnoli sat in front of a computer, tapping his fingers nervously. He was supposed to be cleaning out his office to make room for Ray Priore, the longtime assistant who officially succeeded Bagnoli as head football coach after the 2014 season. But there were no boxes in sight; instead, Bagnoli was watching game film.
"I'm programmed," he said with a laugh. "There are going to be hard habits for me to break."
Bagnoli may not need to study tape for next season, but forgive the newly retired coach for wanting to relive his last game on film. In what was a memorable end to an otherwise disappointing season, the Quakers outlasted Cornell, 34-26, in a wild shootout that featured lead changes throughout.
And although the victory was just the second of the season for Penn—the lowest total of Bagnoli's illustrious tenure—the head coach still had Gatorade dumped on his head right before the clock hit zeroes, just as he'd been doused following his record nine outright Ivy League championships.
"I didn't see that one coming at all," he laughed. "I don't know if people were trying to get their last shots at me, since I won't be around anymore."
"What's wrong with one last Gatorade shower before you're out of here, right?" senior captain Mitch King said. "He kind of underplayed his retirement the entire season. He never wanted it to be about him. But to see him smiling after that last game, we knew how much it meant to him."
With that final win in Ithaca, Bagnoli finished his career at Penn with a 148-80 record, giving him the second-most Ivy League victories of all time.
That longtime success made it all the more puzzling that the Quakers only went 2-8, and 2-5 in the league—well behind unbeaten Ivy champs Harvard—in Bagnoli's final season. But Penn's uncharacteristic woes didn't come without explanations this season. In addition to being young at certain positions and facing a daunting non-conference schedule, the Quakers were hit hard by a plague of injuries Bagnoli called "as devastating as I can ever remember."
Still, Bagnoli is confident the program will get back on track next season under Priore.
"A lot of things didn't go right," Bagnoli said. "But that's not to say the program's in disarray or anything else. I think it's going to be a pretty quick fix ,because I think we've got kids that like football, and like to practice, and enjoy the process. At no time, despite the frustrations, did they point fingers at each other or go out there and be lethargic. That never happened, which is tremendous."
That devotion made Bagnoli emotional toward the end of the season.
For months after announcing his retirement in April, the head coach tried his hardest to deflect attention away from his impending retirement and refocus the spotlight on the games themselves and seniors who were also nearing the end of their college football careers. But after bottling up his emotions for most of the season—and, really, most of his career—they finally spilled out when the typically stoic 61-year-old choked up at his final weekly press conference, when other coaches from Penn surprised him with a toast. He was also overcome while delivering a speech to his team a day before the Cornell game, telling the seniors: "I'm going out with you guys. We're in this together."
"Emotional for Bagnoli isn't exactly the definition of emotional for everyone else," King said with a laugh. "But you could see he was getting a little glassy-eyed during his last speech, the week of the Cornell game. He doesn't always show it, but he cares so much about the program and the kids."
Looking back on it, Bagnoli admitted that the 2014 season was an "uncomfortable year for me" because of all the attention he got. The head coach had long preached that no one person should be bigger than the team. But how could he tell that to his players when there were tributes to him at almost every stadium they visited, some of which he didn't even know about beforehand? (Bagnoli said he was criticized at times for "not being as welcoming to other people's tributes" as some thought he should have been.)
After the final home game, at which Bagnoli was presented with a framed jersey before the Quakers narrowly lost to Harvard, the coach apologized to the seniors for usurping their senior day. And he thinks his players may have felt burdened by the pressure to "maybe try too hard to end it in a fairytale way"—though he acknowledges that other factors contributed more to the two-win campaign.
Bagnoli said he would have preferred to have kept his retirement under wraps until the end of this season, but felt that announcing it a year in advance would dispel potential speculation that he was stepping down on account of new athletic director M. Grace Calhoun, who took over for former AD Steve Bilsky W'71 at the beginning of the academic year ["Passing the Baton," Sept|Oct]. Bagnoli said he has a good relationship with Calhoun and looks forward to working alongside her in a new administrative role.
But first, he needed to get some rest.
"I'm emotionally shot more than I'm physically tired," he said. "So I'd like to get a week to catch my breath. But I'm not programmed to take a month off. It's not in my DNA. I've never done that. I don't know what the hell I would do, to be honest with you."
He won't have to travel far to his new office, which will be in the same building as his last. The hard part will be adjusting to a job that focuses on fundraising and alumni relations rather than recruiting and running practices.
"I've known nothing but football," he said. "I've been coaching football since 1976. I'm excited to see what else is out there on the professional side. I'm excited to do something different."
Jerome Allen turns to his freshmen
Because more than half of the Penn basketball team's roster changed from last season, it was clear from the start that head coach Jerome Allen W'09 would need to rely on some newcomers in 2014-15. But just how heavily he's leaned on his freshmen has probably surprised some fans.
Through the first five games of the season—all losses—rookie point guards Antonio Woods and Darnell Foreman and forward Mike Auger were averaging more than 25 minutes per game, and freshman sharpshooter Sam Woods played more than 10 minutes per contest.
Combined, the four players were averaging 25.5 points per game, and Woods and Auger looked like an especially promising inside-outside tandem.
"That's my roommate," Woods, who logged 11 points, four rebounds, and four assists in an 83-77 loss to Lafayette on November 22, said of Auger. "We talk over a lot of stuff. We basically said that we're going to be that 1-2 punch coming off the bench and provide that spark."
In line with the bad luck that has contributed to the Quakers' struggles under Allen, Auger hurt his foot while scoring 18 points against Lafayette, forcing him to the bench for the next few games.
But the play he got hurt on—a steal and dunk during an exciting comeback against Lafayette—still provided Penn fans with a glimpse of what the future may hold.
"It was a great moment," Woods said. "I had a perfect view of the student section, him throwing it down and the crowd getting loud. I'll always have that snapshot in my head."
Dave Zeitlin C'03 writes frequently for the Gazette.