Rivalry Renewed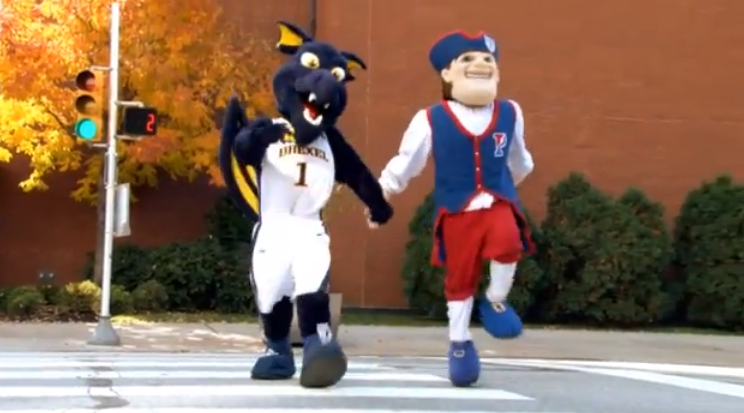 The Battle of 33rd Street is making its grand return.
And it's headed to a new locale.
On Thursday, Penn released its schedule for the 2015-16 basketball season and, for just the second time ever, it included a game vs. neighborhood rival Drexel at Drexel's Daskalakis Athletic Center.
This is a good thing.
Let's be honest, it's silly for two Division I college basketball teams as close in proximity as Penn and Drexel are not to play every season. They did for a while but have only played twice in the past five seasons (the last one coming on Nov. 17, 2012) because Drexel coach Bruiser Flint eventually took objection to every game between the two schools being held at the Palestra, Penn's home gym.
Former Penn athletic director Steve Bilsky, meanwhile, didn't want to budge from what had been the arrangement since the Palestra could draw big crowds for both teams (as opposed to the much smaller DAC) and is so close to Drexel that it's practically on its campus.
Here's what he told me shortly before retiring from Penn:
"It's not like it's anything autocratic. The deal has always been to play at the Palestra. It's such a great marketing concept. We are the home team and we have further to get to the game than Drexel does. We are prepared to split the house with Drexel like we do with St. Joe's. There's some politics going on but if they want to play here, we'd love to have them. But to play in a smaller gym and to have so many fans not be able to see it every other year just doesn't make any sense."
From a general perspective, Bilsky is right. The Palestra is a better venue for fans, revenue and atmosphere. And Penn-Drexel games in the gym have certainly been fun with Drexel fans doing a nice job packing one side of the building and the Dragons even winning the last four of them.
But Flint also has a point. Even though the Palestra is close to Drexel's campus, the Dragons are still playing in an unfamiliar venue (relatively speaking), making it tougher for them to win. And considering Flint's teams have probably missed the NCAA tournament by a game or two in the past, every win matters. Besides, if Penn is now willing to travel to other smaller gyms in the city like La Salle, why are they making such a big stand with Drexel (aside from the fact that Drexel isn't technically in the Big 5 so Penn doesn't NEED to play them)?
Either way, the impasse seems to be over. Now that Bilsky's no longer at Penn, it looks like the new regime of athletic director Grace Calhoun and head basketball coach Steve Donahue are more willing to throw Drexel a bone and play every other year "on the road" (as they now do with all of the Big 5 schools except Saint Joseph's).
And so on Dec. 22, Donahue and the Quakers will head (walk?) over to the DAC for the first time since 2008 when the two teams met at 10 a.m. for ESPN's college tip-off marathon and Drexel won an exciting one by two.
It might look a little different but it should still be a fun reunion.
Hey @PennBasketball, someone should tell these guys that the #Battleof33rdStreet is back! pic.twitter.com/eMXtECw58A

— Drexel Dragons MBB (@Drexel_MBB) August 13, 2015
 — Dave Zeitlin C'03