Passing The Torch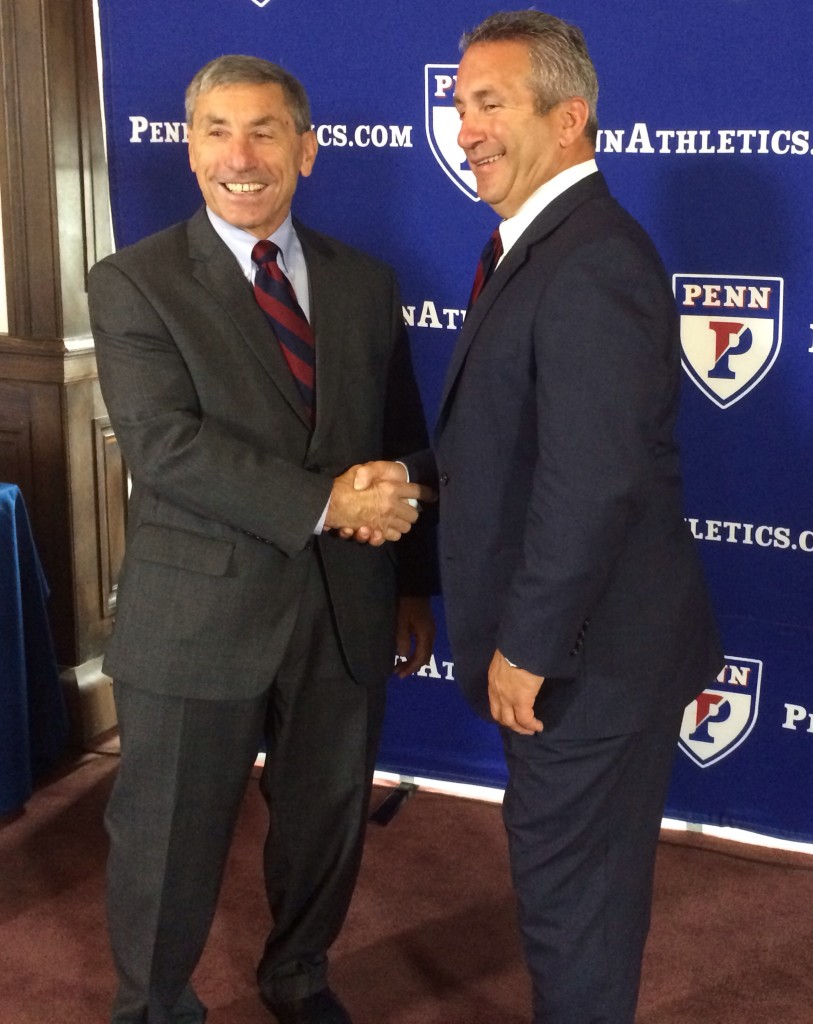 For almost all of his 20-year tenure, Penn's outgoing athletic director Steve Bilsky never had to worry about the school's football program.
Such was the good fortune he inherited by arriving at Penn a couple of years after Al Bagnoli, who for the past two decades has led the football team to great heights.
But in recent years, Bagnoli (pictured, above left) started to think about retiring. So instead of signing multi-year contracts, he would sign one-year deals and then talk to Bilsky after every season about transitioning to a new coach, who he hoped would be his longtime defensive coordinator Ray Priore (pictured, above right).
Finally, after the 2013 season wrapped up, Bagnoli decided that one more season would be enough. And at a press conference at Penn on Wednesday, Bilsky announced that, after 23 years and nine Ivy League championships, Bagnoli would retire at the end of the 2014 season and that Priore would step into the role as the George A. Munger Head Coach of Football.
"It's obviously bittersweet," Bagnoli said to the assembled reporters at Wednesday's press conference. "When you've been here so long and you get an opportunity to call Franklin Field you're home and you get an opportunity to work with some great student-athletes, I've been truly blessed. Not many people have had the opportunity to be a head coach as long as I've had the opportunity to be."
Bagnoli cited a number of reasons for wanting to retire while also dispelling some rumors. Saying the move has nothing to do with the arrival of new athletic director Dr. Grace M. Calhoun, who will replace the retiring Bilsky on July 1, the longtime football coach admitted that he relishes the chance for more free time (and to spend more long weekends at his Jersey Shore house) and was eager to go out on top.
"I was always really concerned that I didn't want to overstay my welcome," he said. "I happen to be my own biggest critic."
Bagnoli has few other critics. Per the press release announcing his retirement, the 61-year-old coach is "the active wins leader in the NCAA Football Championship Subdivision, owner of the second highest winning percentage in Ivy League history, the only Ivy coach to ever capture nine outright titles, the winningest coach in Penn's 137-year football history and is one of just six FCS coaches to record 200 career wins."
A Central Connecticut State alum, Bagnoli was the head coach at Division III Union College from 1982 to 1991 before coming to Penn, amassing a whopping 232 career wins between his two stops (to just 91 losses).
"They are legendary," Bilsky said of Bagnoli's accomplishments. "In my opinion, they will rank among the greatest coaches in Ivy League history – or really football history for that matter."
While it will be hard for anyone to replace such a successful coach, Bagnolis's hand-picked replacement seems up to the task. Priore, after all, has been coaching at Penn even longer than Bagnoli has, joining the staff in 1987 and staying on after Bagnoli was hired (in part because he knew the new head coach from when he played at Albany and Bagnoli coached at Union).
"I'm a dinosaur in this profession to be at one place that long," Priore told me after the press conference ended.
But Priore never wanted to leave, in part because he kept getting promotions but also because of the allure of Franklin Field, which still gives him chills when he walks across it.
Bagnoli doesn't want to leave Penn either, telling reporters that he hopes to work in an administrative role on Dr. Calhoun's staff following his retirement. "My plan is to retire from work," he said. "It's not to retire from coaching." But until then, he will remain Penn's head coach for one more season and look to capture one more Ivy League championship before riding off into the sunset.
"I'm happy to point out he's still our coach," Bilsky said. "There's really nothing that's changed in our program. And I can't think of a better ending to his career at Penn than to hold up that trophy in November after we play Cornell [in the season finale].
"Or it's OK if he wants to clinch the championship earlier."
– Dave Zeitlin C'03