Manufacturing a Future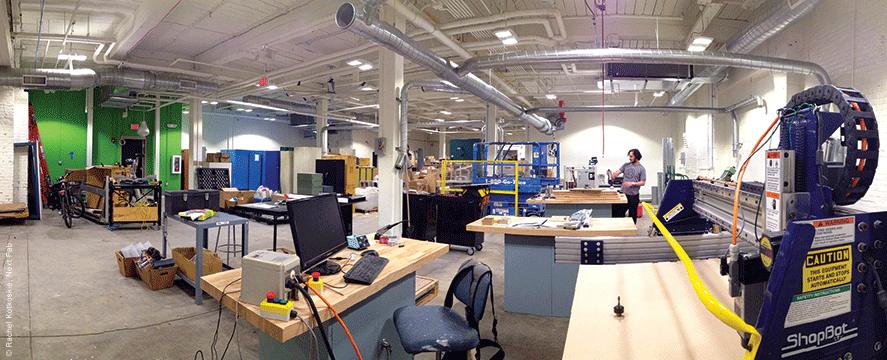 Class of '99 | Evan Malone C'99 is on a mission: to get America back on its manufacturing feet.
"Philadelphia was once one of the largest centers of manufacturing in the country," says the 43-year-old Malone. "The spirit of those times is still present—the craving to make things is still very strong here. My hope is that Philly's maker movement will be a resource for problem-solving for the city, its economy, and its people."
Five years ago, Malone used his mind and his money to establish NextFab, a membership-based design and fabrication studio in South Philadelphia. By providing designers with access to, and training on, equipment they'd never be able to afford on their own, members can scale up from prototype to about 100 units.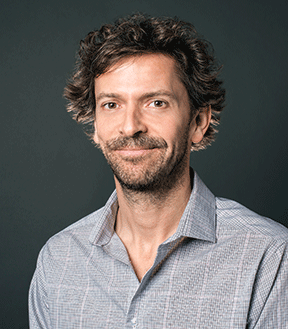 "Our mission is to help people learn about and use new technology to satisfy a creative urge, get a better job, or, ideally, start a company employing people and making things here," he says.
The idea for NextFab came to him when he developed an affordable and portable 3D printer while pursuing his PhD at Cornell. He took it to Johannesburg as part of MIT's Fab Lab, an outreach effort that introduces off-the-shelf digital fabrication tools and design software to communities around the world.
"It was inspirational to see how people with absolutely no technical background were able to invent and produce things that could lift them from poverty," Malone says. "Plus, it got tons of publicity. I felt like I could have an impact."
It's a calling that's taken him a while to discover. Growing up extremely privileged in suburban Colorado—his billionaire father made his fortune in the 1970s as CEO of the cable giant TCI—Malone was ready for an urban experience by the time he reached college age.
"So I dove into the deepest end of the pool," he says, referring to the then-rough edges around Penn. "I found myself at sea—I wasn't mentally prepared for that setting or, even, college."
For a decade, Malone engaged in a love-hate relationship with the very idea of higher education: moving to community college back home, then returning to Penn, then dropping out again to start a company that made robot kits (it flopped). He finally completed his undergraduate degree in physics at Penn at the age of 29. An internship at Chicago's Fermilab, home of the world's top particle accelerator, morphed into a full-time position for two years.
"I began to see some threads linking my interests—some kernels of what I might want to do with myself," he says. "I'm so thrilled to have that physics background. It helps me understand all kinds of 'stuff.'"
Malone would go on to earn a doctorate from Cornell in mechanical and systems engineering—the major he'd first pursued at Penn—but he still contends that kids "shouldn't go to college just because everyone else tells them to." In fact, he adds, "a lot of what we're doing at NextFab is opening up paths other than college. It's vocational training."
It hasn't taken people like Peterson Goodwyn long to realize that this self-styled "gym for innovators" isn't your dad's wood and metal shop. A 28-year-old musician with no training in manufacturing, Goodwyn is keen on designing parts for hobbyists who want to build their own audio equipment. Before joining NextFab, his "entire business was me in my basement in West Philly with my grandfather's old drill press."
Through his $129 monthly membership, he's been able to learn how to use top-of-the-line metal-welding machines, mills, and cutters—and received tons of free advice in the bargain.
"The minute I got here, someone pulled me aside and said, 'Why don't I show you how you can use the vertical mill? It'll be faster and more precise.' Now, I'm making 100 cases an hour instead of 10. Then someone offered to show me the shopbot [a robotic arm] and my horizons expanded exponentially. My capacity exceeds my demand—[so] I'll be ready when things take off."
For the scruffily handsome Malone, whose graduate work explored the intersections of 3D printing, robotics, and space exploration, such comments are music to his ears.
Malone started NextFab with $400,000 from his family trust, eschewing MIT's nonprofit model because he didn't want to depend on government funding. The outfit operated out of the University City Science Center for a few years until relocating early last year to a 21,000-square-foot Washington Avenue facility that, thanks to a substantially larger ($5 million) cash infusion from the Malone trust, has been souped up with machines worth hundreds of thousands of dollars. Membership has climbed to 300 (about 10 percent of them women), and some two dozen employees are on hand to offer expertise on the machines.
NextFab also provides contract services to outside clients like Dos Equis Beer, which asked it to produce a contraption that would simulate the experience of logrolling for promotional events. It was, says Malone, "a great teamwork effort and a very complex project that involved engineering, metal and wood fabrication, and outsourcing for the mattress and padding."
NextFab has also dipped a toe into incubating hardware-technology startups—including a two-person team that's developing a semi-autonomous wheelchair and a four-person biotech firm that's paired an iPhone with a custom hardware cradle to create a machine that identifies the presence of harmful pathogens.
"These companies are bringing very exciting new products to market," says Malone, "and I'd love to see us [improve] our own process and support network for helping them succeed."
In addition to his Internet cafe in South Africa and the two South Street restaurants he co-owns with his wife, archaeologist Jill Ann Weber Gr'06, there is, always, at the back of his mind, his own research and development.
"I look forward to handing off some of my management duties," he says. "There are still some things I attempted during my PhD that no one else has achieved yet—and I'd like to be the first."
—JoAnn Greco