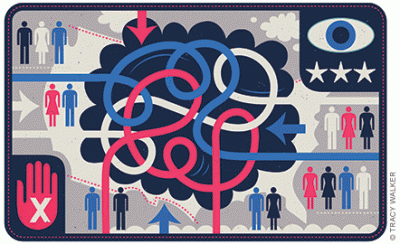 In contemporary politics and punditry, there is hardly a shortage of commentary on immigration reform. Yet a talkative public is not necessarily an enlightened one. As associate professor of criminology Emily Owens pointed out in a lecture in June, most Americans know surprisingly little about immigration and immigration reform. Owens's talk was an installment of the Penn Lightbulb Café, a lecture series held at the World Café Live where faculty can share research with the greater Philadelphia community ["Gazetteer," May|June 2013]
Owens noted that most Americans believe that about one in three people living in the United States are foreign born. Actually, it's closer to one in 10. Similarly, immigrants, especially undocumented ones, are commonly believed to be dangerous. But in fact, native-born Americans are statistically more likely to commit crime.
Nonetheless, according to Owens, the potential for criminal activity (above and beyond tax evasion) represents the most common anxiety Americans have about illegal immigrants. And, perversely, the resulting public policy may be turning this fear into a self-fulfilling prophecy.
US policy currently focuses on discouraging illegal immigration by punishing employers of illegal immigrants. Owens presented evidence that this may inadvertently drive illegal immigrants toward criminal behavior by limiting legal employment opportunities.
She shared a study she co-authored examining the effects of the Immigration Reform and Control Act of 1986 (IRCA) on San Antonio and its immigrant population. IRCA provided a pathway to citizenship for immigrants who entered the country before 1982, but it also made it illegal for employers to hire undocumented immigrants—and burdened employers with a requirement that they attest to their employees' immigration status.
"On average, it looks like in San Antonio, the federal government created about 100 to 200 more felonies each year because of this restricted access to labor-market opportunities," Owens said. "For about every hundred people coming over," she elaborated, "four to eight more crimes" occurred than would have been expected under normal conditions.
"This isn't something inherent about the immigrants themselves. This is something we created with our policies," Owens said.
"We should be very worried about the unintended consequences of our favorite way to reform immigration policy. Because by making employers suffer consequences from hiring immigrants, by putting up barriers to hire illegal immigrants, we're potentially depressing illegal immigrants' wages—and therefore making them more likely to commit crime, based on economic models of rational behavior. But that's why we don't like illegal immigration in the first place."
—Matt Fernandez C'14