Fluharty Named Next SAS Dean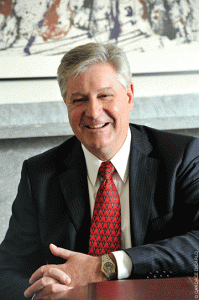 "As a country, we are incredibly focused on short-term returns," says Steven Fluharty C'79 G'79 Gr'81, Penn's senior vice provost for research, who in January was selected to become the next dean of the School of Arts and Sciences. "What did that investment create in the following year? In the following two years?" he adds, by way of example. "That's just not the right timeline for academic pursuits. It's not the right timeline for research, but it's also not the right timeline for measuring the impact of an undergraduate education.

"I really believe passionately in the importance of the arts, the humanities, the social sciences, and the natural sciences, because collectively they give students the tools to understand any present-day problem," he continues. "From the historical perspective—'How did it come about?'—to the cultural impediments that might interfere with the implementation of solutions, to the mechanics of solutions, the politics that underlie implementation, the policy that has to follow, the changes in behavior that are measured by psychologists. That's really the strength, in my view, of a great undergraduate education. We're really preparing students for lifelong learning, to have really impactful lives, and to be global citizens."

Fluharty will begin his tenure on July 1, when current SAS Dean Rebecca Bushnell will return to full-time scholarship and teaching as a professor of English after eight years at the administrative helm.
Fluharty has been at Penn for 27 years. He joined the faculty in 1986. The professor of pharmacology, psychology, and research science is also a seasoned administrator. He directed the undergraduate Biological Basis of Behavior program for 10 years, and has served as a vice provost for research since 2006.
Though he called it "a little premature" to lay out a comprehensive agenda before he has had a chance to convene staff, students, faculty, and overseers in a strategic-planning process at the outset of his tenure as dean, Fluharty spoke with Gazette associate editor Trey Popp in April about the challenges and opportunities the School faces.
---

What are your priorities for the School of Arts and Sciences?

I think the school is in a very strong position. Rebecca Bushnell has done a great job as dean. She's built a strong foundation, and part of the appeal for me is to get to build on that foundation. The school's priorities during her tenure have really aligned nicely with President Gutmann's "Compact." The school is focused on integrating knowledge, on increasing access to the college for undergraduates, and is very much engaged locally and globally.
I continue to focus on what I see as the core missions of the College, which are the teaching and education mission, research, and service.
In the teaching space, I see wonderful opportunities for more multi-disciplinary, cross-school collaborative teaching. It is really our competitive advantage—we're peerless in many ways because of the compactness of our campus.
SAS has come through a period of substantial faculty growth. Do you expect that trend to continue or attenuate?
That's a complex question. There's no question that Arts and Sciences was on a trajectory for increased faculty growth—appropriately disciplined—prior to the economic downturn. The downturn made it more difficult to sustain that growth. As we come out of that, we will need to evaluate: what is the slope of that line? I don't want a School of Arts and Sciences that's a mile wide and an inch deep. I think that's a recipe for mediocrity. I want a School of Arts and Sciences that has distinguishing strengths, and I want to build, in every department, on those distinguishing strengths.
I also want to be mindful of the fact that faculty numbers can be very misleading. One of the advantages of Penn as a university is that the physical proximity of all our schools creates a real culture of collaboration. So what you really want to do is look at how your distinguished faculty drive that collaborative agenda. So, how does our population-studies center in our sociology department work well with the School of Social Policy and Practice, work well with the Law School, work well with Wharton? Because what's really embedded in the numbers are these bridges that are built across these disciplines.
The rise of the Massive Open Online Course represents challenges and opportunities for traditional universities. Where do MOOCs fall on your radar as you begin your deanship?
I see this as transformative. There are so many opportunities now to increase access to a Penn education through MOOCs. There are tremendous opportunities for us to enrich what we do in the classroom, as we do more of the traditional lecturing, as it were, through online platforms.
Then there are the possibilities of how the accreditation of some of these courses—for instance, Rob Ghrist's "Single-Variable Calculus"—will change the landscape. Whether, for instance, other colleges and universities who don't have the resources to mount the course will start to use that, and get the Penn name and Dr. Ghrist out there in an even bigger way. I think President Gutmann referred to him as an "emerging rock star."

Which raises another question. Of course superstar professors are not new—they've been around since Einstein, if not longer—but what potential do you think MOOCs have to change the academic labor marketplace, and the way you try to recruit and retain faculty?
I believe that because Penn is a founding member [of Coursera], and we've created an environment that's extremely supportive of our faculty doing this, I'm not sure that even a faculty member who achieves superstar status through their courses on Coursera will necessarily find a more supportive environment. So if this becomes part and parcel of what they are—and let's face it, faculty love to disseminate knowledge—and if the stage becomes global, and not limited by any physical boundaries, you want to be at a university that embraces that and provides a supportive environment. So I believe this actually makes Penn an even more attractive university for those who are looking to utilize these new means of communication.

We may be entering, as a country, a prolonged period of governmental budget austerity. What challenges will that pose for the School's research mission, and what's the right way to face them?
It presents significant challenges. We as a university receive substantial funding from the federal government for research across all areas: the arts, the humanities, the social sciences, the natural sciences, the biomedical sciences—there isn't a part of research on this campus that doesn't receive significant federal funding. In fact, if you look at the overall funding that comes to the University—right around $900 million a year—82 percent of that comes from the federal government. So with sequestration and with looming cuts in non-defense discretionary spending, which is what funds these agencies, you're going to see decreases at all universities that are similar to Penn. There's no question—we're seeing those changes now.
One of the most significant adaptations is that you need to diversify the sources of funding for research and scholarship. Depending on what you do, that may be industry. There's no question that if you look at research and development in, for instance, the biotech and pharmaceutical industries, they're outsourcing more and more of it. If they're outsourcing it, the likely place it's going to go is to research-intensive universities. That means we are at a very opportune time for universities to partner more and more with industry, and to look for more early-stage industry investments in what research universities are doing—which in the end may better promote product development for the betterment of everyone in society. So that's a real opportunity. And Penn is beginning to take advantage of those opportunities.
Although the foundations were hit by the economic downturn, they are beginning to recover and putting more money into funding research and scholarship at universities—particularly the arts, the humanities, and some of the social sciences. Certainly some foundations have been game-changers. The Gates Foundation has fundamentally changed the nature of how research is conducted at universities.

How about curriculum? Do you see a need for any new academic tracks, or for revamping any existing ones?
One area I want to take a look at is how can we build upon our distinguishing strengths at the professional schools, our real competitive advantage, and get them more intimately involved in many of our outstanding programs. And there are examples of this already. The Biological Basis of Behavior program, which I ran for 10 years, is clearly an example. And there are many other success stories. But I think we need to focus on how to do that better, in part because there really isn't a peer university that can do it the way we can do it.