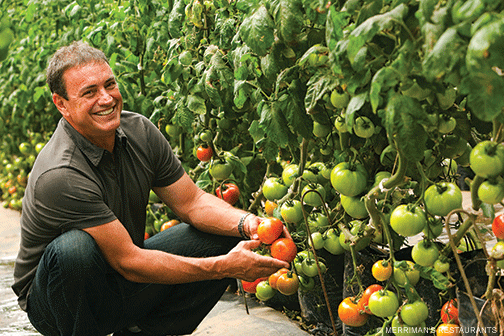 Class of '78 | It was a perfect chance to nail the job interview: "If you could do any type of restaurant," the man asked, "what would you do?"
Simple, Peter Merriman C'78 thought. "Regional cuisine," he replied.
The year was 1985, and he was interviewing to be general manager of a new restaurant at a resort on the Big Island of Hawaii. Merriman was seven years out of Penn, had been cooking in Hawaii for three years, and was starting to think big.
His phone rang; the man offered the job, saying, "We're going to do that regional cuisine thing you were talking about."
Merriman was thrilled. The catch: regional cuisine didn't exist in Hawaii.
"I thought, 'Oh, crap,'" Merriman recalls. "Now I've gotta invent that thing!"
Today the 57-year-old Merriman is arguably the best-known chef in Hawaii. He pioneered a style of cooking that celebrates the islands and its livestock and produce—the farm-to-table idea so familiar today, yet a hard sell to diners there in the 1980s. Hawaii, after all, imports 90 percent of its food, and celebrates Spam.
Merriman's empire includes seven restaurants scattered across four of the Hawaiian Islands, with more than 300 employees. The restaurants range from Monkeypod, a casual beer-and-burgers joint, to Merriman's, a fine-dining restaurant.
But when Merriman first arrived in Hawaii, his dreams were modest: work as a line cook, maybe open up a café.
"It's my art and it's my passion, and when I came to Hawaii I thought I'd be a line cook," he says. "I loved that and thought I'd do that the rest of my life. And I was totally happy with that."
It's a busy night in Merriman's, his flagship restaurant in Waimea, a small town surrounded by ranchland on the slopes of the dormant Mauna Kea volcano on the Big Island. It's a Monday, but nearly every plush chair under the vaulted ceiling is filled.
Merriman sits with friends, his mother, Woodene, and her husband, Carl. Wine flows, appetizers appear, and servers hover. Merriman finds his entrée under-sauced; a small dish quickly appears.
A couple stops by the table and he greets them warmly. They are coffee growers, and they thank him for using their beans in the restaurant. He returns the thanks. On the walls hang black-and-white photos of farmers who supply the restaurant. The menu cites each ingredient's home: chili pepper Kauai prawns a la plancha; Nakano Farm tomato, roasted beet and papaya salad; Kahua Ranch-raised lamb.
From the herb garden off the restaurant's front porch to the Hamakua Hawaiian Cloud Forest coffee in the French press, Merriman keeps his ingredients close at hand.
"You realize if you buy locally you help keep these people in business and you're perpetuating an agricultural lifestyle for these people in Hawaii," he says.
He's always been around food. His mother, Woodene Merriman, a food writer and restaurant critic for the Pittsburgh Post-Gazette, taught him to cook by example.
As a teenager, he drove to downtown Pittsburgh once a week to scrape carrots for chef Ferdinand Metz at the H.J. Heinz Company, and to take evening cooking classes from him. When senior year rolled around he had two options: study cooking at the Culinary Institute of America or play football at Penn.
His parents leaned toward college. "Cooking is not an easy life," Woodene says, "and if he didn't like it he wouldn't have anything to fall back on. When he was recruited for football, that cinched it."
At Penn, Merriman was a political-science major, a football player, a cafeteria worker—and a weekend chef. Every Saturday Merriman would host a dinner party at his house at 4040 Walnut Street.
"We'd go to the Italian Market in South Philly, buy a bunch of food," he says. "I would cook for them. We called it Dinner Club."
Now he jets from island to island, checking in, tasting, talking, visiting ranchers and farmers. "I just hop around. It's cool, you know," says Merriman, whose linebacker's body moves with a limp from a surfing injury.
"What I learned at Penn was how to think critically, and I could take it into any field and apply it," he adds. "I learned a way to examine situations and come up with creative solutions."
After college he accepted an apprenticeship with the RockResorts hotel group. Merriman worked around the world for RockResorts: New York; Jackson Hole; Martha's Vineyard; Frankfurt, Germany; and Washington. Then, in 1982, he heard that a new hotel in Hawaii needed cooks.
"It took me about 30 seconds for me to make up my mind," he says. "It was January in D.C."
At the Mauna Lani Bay Hotel, he lived in a bungalow on the beach and worked his way up to banquet chef. When he was put in charge of the resort's new Gallery restaurant in 1985, Hawaii Regional Cuisine was born.
But where would the ingredients come from? Thirty years ago, "agriculture in Hawaii was intended for export," he says. "They grew sugar, pineapple, raised cattle and exported it. There wasn't so much of a concept about domestic consumption. So what we started doing was contact small growers and get them to grow things specifically for our restaurant. We would drive around and if we saw something growing we'd knock on the door and say, 'Do you want to sell that?'"
Traditional Hawaiian food "was the food of the local field workers," Merriman explains. "There's interesting cultural influences here: Japanese, Filipino, Chinese, Hawaiians. The Hawaiians themselves didn't have an advanced cuisine, because they're pre-metal. There's poke, Kalua pig, but they don't have a whole advanced cuisine."
After Merriman spent three years running the Gallery, a developer offered him a spot for a restaurant in a shopping center in Waimea—and Merriman's opened. There are still several culturally Hawaiian things on the menu (poke and ahi sashimi, macadamia nut-crusted ono), but Merriman's definition of Hawaii regional cuisine is more geographic than cultural.
"We call it Hawaii regional cuisine," he explains. "I don't like to say Hawaiian because that implies the indigenous people and culture of the Hawaiian people. This is more about the place.
"The reason I did it was it tasted better fresher," he says. "It wasn't altruistic—it was just trying to make food taste better, trying to be the best cook you can be."
Merriman ran advertisements in the newspaper: "If you grow locally, we'll buy it!" Days were split between the kitchen and the farms. He calls his sourcing amid the island's mountains and valleys "guerilla purchasing." He'd visit a farmer for one crop and leave having purchased several more.
"They'd bring us a seed catalogue and I'd take a highlighter and choose the things I'd like to use," he says. "One guy would take it back to all the different farmers at different elevations, which signified different microclimates. And he'd allocate who grew what."
Twice a week farmers would haul coolers of produce to Waimea. "I always tried to get on the farm as often as I could because you could see things on the farm as a chef that you couldn't see elsewhere," he says.
When a "hippie couple" from Puna brought Merriman their goat cheese to taste, he discovered that they didn't have a health certificate. "I knew what they were doing and it wasn't dangerous," he says. "So I said, 'We'll chance it.' We start selling their goat cheese and it was fantastic." Then a food critic mentioned the goat cheese in an article. It caught the eye of the head of the Hawaii Department of Health, who knew there wasn't any certified cheese in Puna.
"It turned out to be a really fun thing, because the state worked with those people not only to get them certified, but to get them a government loan so that they could get up to the level that they needed to be," says Merriman.
The regional-food concept spread, and soon the Hawaii Regional Cuisine chef's association was formed—12 chefs who would meet regularly for a symposium. Merriman became its president. He quickly became an expert on Hawaiian culture, real estate, business, and farming. And he learned first-hand how difficult the restaurant business is. His restaurant's inconvenient location made advertising difficult, and it teetered on bankruptcy for years. A fortuitous visit by the late, legendary New York Times writer and epicure R.W. "Johnny" Apple boosted its reputation. This year Merriman's is celebrating its 25th anniversary.
Merriman serves as chair of the Hawaii Islands Land Trust, a nonprofit that preserves open land. "People always ask me why I don't use my poli-sci degree," he says. "I use it every day! I could've gotten my degree in anything and still gone into the field I went into.
"The reason I got into owning my own businesses was just because I wanted to control the food that was served, not so much because I had a need to make money," he adds. "I never tried to make a lot of money; I made money by accident."
Today, he's thinking about taking his restaurants—specifically the Monkeypod concept—to the mainland. But Hawaii, where he and his wife have raised three children, is home.
"This is the best place on earth," he says. Are people jealous of his life? Sure, he says with a smile. "Everyone should be jealous."
—Cory Stieg