An Emotional Farewell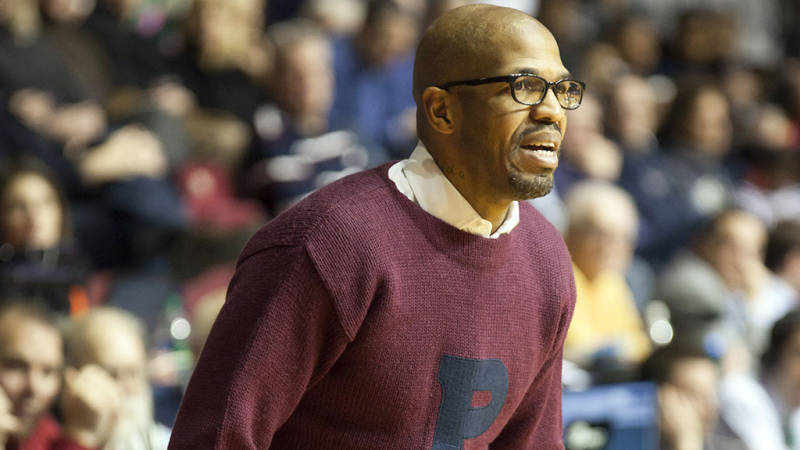 As it turned out, the customary handshake line with the opposing team was only the beginning. For nearly an hour after Penn lost its final game of the 2014-15 men's basketball season to rival Princeton on Tuesday night, Jerome Allen shook hands with what seemed like everybody in the gymnasium.
Alumni approached him and wished him the best. Little kids high-fived him. Players hugged him. Former teammates laughed with him.
A University of Pennsylvania legend was leaving the building, and so many people wanted to say goodbye.
It was a sad moment for Penn, but not entirely unexpected. Allen had not only failed to bring Penn back to Ivy League supremacy as he had planned, but the Quakers had hit rock bottom this season, sputtering to a last-place finish in the conference for the first time in program history. And after five-and-a-half seasons in charge – enough time to recruit and develop every player on the roster – the former star guard who did nothing but win as a player sported an unsightly 66-104 record as head coach.
The only surprising part of his ouster, perhaps, is that the news leaked while Penn still had two games left in the season, leading to a hasty Penn release that said Allen planned to resign and a sentimental feel to Tuesday's final game. Penn players paid tribute to their coach by wearing dark warm-up shirts with Allen's old number – 53 – on the back. And Allen came out wearing his old-school varsity red sweater with the big "P" in the middle, as fans gave him a warm final salute.
The game itself was unremarkable – yet another bad loss in a tenure filled with them. The remarkable part came later when, even before he shook hands with so many alums, the departing head coach sat in front of the media and gave an inspiring and heartfelt postgame press conference.
Jonathan Tannenwald transcribed the entire thing over at Philly.com, and I highlighted some of my favorite quotes at CSNPhilly.com. To sum up: Allen was appreciative. He was humble. He was proud. He was funny. He wasn't at all bitter. He thanked former athletic director Steve Bilsky for hiring him, as well as many other members of the Penn community. He talked a lot about family and how much Penn means to his children (his 5-year-old son, he said, wants to wear the same Penn shirt every day). And he predicted that the Quakers would find success again, and that he would too because of what he learned at his alma mater, saying: "I truly believe I'm just being pushed into the next season of my life. And wherever I'm coaching at, I know that Penn has helped prepare me for the next opportunity."
The whole thing was, well, sad. It was sad not only because Jerome Allen is a classy man that will be missed. It was sad because this wasn't the way it was supposed to end. Allen had changed. And he indeed might become a great coach someday, based on what he learned at his alma mater. That's great for him but a shame for Penn fans.
If we're being completely honest, Allen's press conferences haven't always been warm and fuzzy. There were times when he got annoyed at questions from student reporters. There were other times when he refused to praise a player for having a great game if it came in a losing effort. He once used the word "lucky" to describe his team coming back from 13 points down with three minutes left to force overtime. Early in his tenure, he demanded nothing less than perfection, instead of focusing on the positives and embracing the slow rebuilding haul.
Perhaps that was the brashness of a new coach, or the predictable desires of someone who was damn near perfect as a player. But over time, that attitude seemed to soften, and Allen seemed to learn some lessons the hard way. Perhaps he learned that recruiting the best athletes wasn't always the best route. Or that switching up his lineups and playing a very deep rotation, as he did for much of his tenure, was not ideal for team chemistry. Or that constantly telling his team to value the basketball doesn't always prevent guys from turning it over at exceedingly high rates. Or that he couldn't find the next Jerome Allen.
Coming into this season, things seemed to change. After last year's talented team imploded on and off the court, Allen found a few good freshmen with the right attitude and handed the keys of the program to two good juniors in Tony Hicks and Darien Nelson-Henry. He talked often about guys liking each other. He praised the young guys for taking on big roles in their first collegiate season and lifted their spirits even after losses. And with word coming in that next year's freshmen class was Allen's best in five recruiting tries, it looked like he finally found the recipe for building a program the right way.
But it was too late. The culture may have changed but the wins and losses did not. Perhaps predictably, this year's very young team couldn't handle the rigors of the Friday-Saturday schedule in a tough Ivy League and lost a program-record seven straight conference games when new athletic director Dr. Grace Calhoun made her decision to go in another direction.
And it was the right decision. Allen could still turn out to be a great coach, and it may have even happened at Penn if he was given a couple of more years. But there are other coaches out there who have already proven they can do it, some of who even have Penn ties. (Andy Toole, a star guard at Penn in 2002 and 2003 and my top choice to take over at Penn, just led Robert Morris to the NCAA tournament and is considered one of the best young coaches in the country.)
So, yes, moving on from Allen makes sense. But it's still an unfortunate situation because the Penn legend should have been allowed to make his mistakes as an assistant coach. Instead, he was handed the job after only being an assistant for a couple of months and was thrust into a situation where he head to learn too many things on the fly.
It never should have been that way. And it never should have ended this way.
– Dave Zeitlin C'03