When Twenty Meets Forty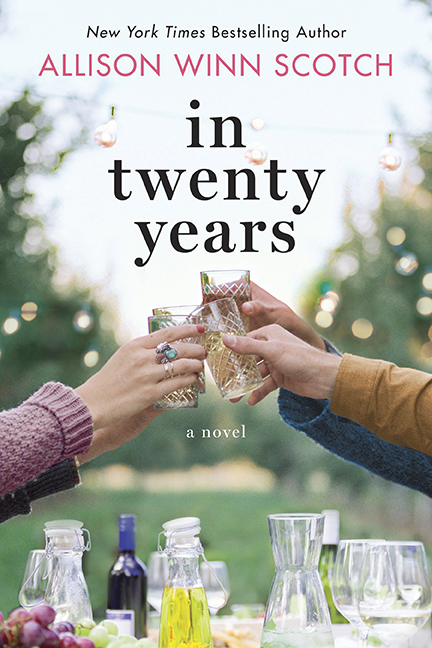 When it comes to her new novel, In Twenty Years , no one can resist asking Allison Winn Scotch C'95 the question that stalks so many fiction writers:
How much of this is based on your own life?
But even those who know better can be forgiven for wondering with this book, Scotch's sixth. The main characters all went to Penn. (As did Scotch.) They lived together in an off-campus row house. (Scotch did that too.) Now they're staring down 40. (Yes.)
Scotch pre-empts this inevitable question in the book's acknowledgements: "absolutely nothing from this book (other than the initial teal-and-blue house, which served as my starting inspiration) has anything to do with or is based on any of the wonderful folks I know from my years spent in Philadelphia," she writes.
On the phone in early September from her home in Los Angeles, Scotch reconfirms: nope, this isn't about anyone she knew at Penn, and it isn't about her, either. But it is an homage to her alma mater itself—the Quad, Wawa, late-night cheesesteaks, Smokes, and Van Pelt all make appearances.
"I obviously feel so tied to the school," she says. "I've always been a cheerleader for it." And whenever she's back on campus, "it never fails to wash this incredible sense of nostalgia over you. You really feel like no time has passed at all."
That's also how Scotch's characters feel in In Twenty Years. The novel follows five friends who return to campus 18 years after graduation at the posthumous request of their friend Bea. They've drifted apart for different reasons, and they all have secrets. Each one is at a crossroads, too: college sweethearts whose marriage is slipping; a pop musician who's aging out of the spotlight; a stay-at-home mom whose Instagram feed doesn't match her reality.
Scotch had been itching to write "a reunion book," she says, and her own dread of turning 40—and affection for Penn—helped set the time and place.
"Whenever I'm thinking about what I want to write about next, I look around and consider what I am going through, what peers and friends are going through, and what we're all talking about," she says.
Though she's usually an optimist, Scotch saw her approaching 40th birthday as the end of her youth. "It sort of made me feel like I was grieving for that time in my life, which I could never get back. That's where these characters are as well."
Then, in the middle of writing In Twenty Years, Scotch shattered her leg in a skiing accident. For several months she couldn't walk—or write, thanks to strong pain medication. She almost missed her 20th reunion at Penn—which, she says, "was actually the thing that gutted me most."
Her surgeon finally gave his blessing for a trip from LA to Philly one week before the reunion. Scotch showed up on crutches. She reminisced. She reconnected. Then she went home and finished writing her book.
Scotch never imagined a career in writing when she was growing up in Virginia and Seattle. Though she always liked to read, and a few high-school teachers said she had a talent for writing, she majored in history and marketing at Penn and only took one (required) writing class.
But in the second semester of her senior year, she became a columnist for The Daily Pennsylvanian.
"That was probably the most life-changing moment for me in terms of my writing career," Scotch says. "It's very validating to have someone say, 'We think your work is good enough to print.' And when you're so malleable, to have that validation is very important."
She went into public relations after graduation, wandered through a few marketing jobs, then launched a fashion website for petite women with Melissa London Hilfers C'95 in 2000. When that ended, Scotch started freelancing for magazines and writing fiction on the side.
A few years into spinning stories, she read about Sarah Dunn C'91's debut novel, The Big Love, in the Gazette ["Arts," Sep|Oct 2004]. She didn't know Dunn personally, but "she was, in many ways, my peer," says Scotch, who realized that if she didn't sit down and start writing now, she'd only keep reading about others who had. "It was just kind of a kick in the butt."
When Scotch finished writing that novel, she showed the manuscript to Caryn Karmatz Rudy C'92, a fellow Kappa Alpha Theta alumna who was a book editor.
"I remember reading it and saying to her, 'I don't think that this is the book, but you're a really good writer and you should keep going,'" says Rudy, who is now a literary agent. "It was very relatable and her dialogue felt very true to life. Her characters seemed like people that you would know and interact with. That's harder to do in writing than it seems like it might be."
Rudy also offered "some editorial suggestions for how to write a real book," Scotch says, and that advice led to her first published novel, The Department of Lost and Found, in 2007 ["Arts," May|June 2009].
Scotch doesn't make plot outlines and says she's careful not to recycle subjects or styles from one book to the next. But the past is a fertile territory that stretches across almost all her work. Old childhood friends appear. Ex-boyfriends send Facebook requests. Amnesia strikes. People wake up seven years ago. As a result, most of her characters can't stop wondering, What if?
"It's the road not taken or the road taken and how it could have been taken in a different way," Scotch says. "That journey from our youth to our adulthood just really fascinates me. There are so many ways that people can go."
She also tends to write about 30-something women who are grappling with marriage or children or illness or career, or maybe some of each. Her books have been top picks in People, Cosmopolitan, Redbook, Glamour.
Scotch doesn't care what you call her work—beach read, chick lit, women's fiction, or even tub read—though her own preferred term is book-club fiction. She just wants people to read her stories, period.
And many have. She reached the New York Times Bestseller list (No. 31, hardcover fiction) in 2008 with her second novel, Time of My Life.
For that book and the other three she wrote before 2013, Scotch worked with traditional publishing houses. But for her fifth, The Theory of Opposites, she decided to self-publish—"a thrilling experience," she says, and an opportunity to call all the shots: whom to hire, when to publish, even how to price the final product.
In Twenty Years came out through an Amazon imprint, Lake Union, which Scotch says has agreed to publish her next book, too. In her view, it represents a happy medium between self-publishing and the traditional houses.
"At the end of the day, writers really just want to write," she says. "Whatever platform that takes is less important than the fact that we get an opportunity to write."
—Molly Petrilla C'06