Wharton Names Harker as Dean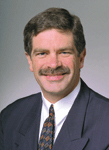 Last month (as the Gazette was going to press), the Wharton School announced that it had chosen one of its own to be the school's 12th dean: Dr. Patrick T. Harker CE'81 GCE'81 Gr'83, the UPS Transportation Professor for the Private Sector and professor of operations and information management. Harker, 41, had been serving as deputy dean since July 1—when former Dean Thomas P. Gerrity stepped down—and as interim dean since Aug. 9. He has been at Wharton since 1984, and holds a secondary appointment in the Department of Systems Engineering in the School of Engineering and Applied Science. Harker also earned his bachelor's degree (civil engineering), master's degrees (urban engineering and economics), and Ph.D. (civil engineering) from Penn.
Harker has been deeply involved in the high-tech programs at Wharton (see the accompanying story on page 20), and during his brief tenure as interim dean proved to be an adept fundraiser. According to President Judith Rodin, he is "recognized as one of the brightest young minds in America," and she hailed his "extraordinary record of accomplishment and leadership, as a teacher, researcher, consultant to government and industry and as a University citizen." Rodin described the search process that selected him as "one of the most exhaustive and thorough ever conducted at Penn." The search committee, chaired by Dr. Gary Hack, dean of the Graduate School of Fine Arts, reportedly reviewed more than 200 candidates.