Two Firsts in a Festival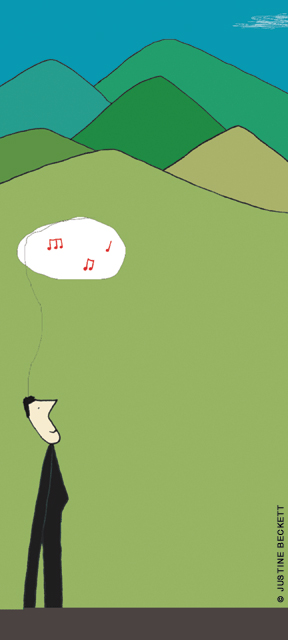 The Philadelphia Orchestra premieres two works by Jennifer Higdon.
By Karen Rile
---
Back in the 1980s, Jennifer Higdon G'92 Gr'94 had to skip meals in order to buy a copy of the latest biography of Leonard Bernstein. "I wanted that book, and I was willing to go hungry to get it," she says, recalling her lean grad-student days and her admiration for Bernstein, the first great American-born composer, whose innovative work with television helped make classical music accessible to the public.
Flash-forward a couple of decades and Higdon finds herself in the unprecedented position of having premiered two major orchestral works with the Philadelphia Orchestra in a single week: Concerto 4/3 and The Singing Rooms.
The occasion was the orchestra's 2008 Leonard Bernstein Festival, celebrating the late composer's 90th birthday this past January. By the festival's end, Higdon had watched 11 performances of her own work presented alongside Bernstein's. The last two concerts were actually more of a Jennifer Higdon festival, with her two new concertos sandwiching a much shorter performance of Bernstein's first symphony (Jeremiah).
The connection with Bernstein is apt, since accessibility has always been an essential concept in the life and work of Jennifer Higdon ["The Accidental Genius," Jul|Aug 2005]. An outsider to the stratified world of classical music, Higdon grew up in rural Tennessee, and went without formal music training until the age of 18. She is now one of the most successful living classical composers, with more than 200 live performances each year and more radio play than she can keep track of. Her music, while never condescending, feels approachable to listeners who tend to be intimidated by a sometimes impenetrable and arguably elitist contemporary music scene.
As populist as any composer working in the contemporary classical idiom, Higdon has received two Grammy nominations. Her current commissions are stacked sky-high, including a concerto for superstar violinist Hilary Hahn to be premiered next season by the Baltimore Symphony, and a piano concerto for Yuja Wang with the National Symphony under Leonard Slatkin.
This season Higdon serves as the Philadelphia Orchestra's 2007-08 composer-in-residence. Conductor Christoph Eschenbach, who will leave the orchestra at the end of the 2007-08 season, commissioned her Concerto for Orchestra in 2002 and her Percussion Concerto in 2005. A longtime supporter of her work, he once told her, "I'll premiere anything of yours."
Following the first two commissions, Eschenbach asked her to write a triple concerto for the popular classical crossover trio, Time For Three. Higdon has known the trio's members—Nicholas Kendall, Zachary dePue, and Ranaan Meyer—since they were undergraduates at the Curtis Institute of Music, where she teaches composition. She happily started tailoring to fit the trio's debonair style: Heifetz meets The Bluegrass Boys.
Concerto 4-3 is an engaging work rooted in the tradition of late-20th-century classical composition. The concerto borrows charmingly from the vernacular of homegrown American music—bluegrass, jazz, and rock—styles that Time For Three interprets through the filter of their formidable virtuosic classical technique. The three movements, in a typical fast-slow-fast sequence, are divided by two cadenzas (the second of which was cut for time considerations during the January premieres). While the cadenzas cultivate the performers' highly individualized stamp on each performance, the written composition presents a limpid, almost programmatic evocation of water flowing through the Smoky Mountains in East Tennessee, where the composer grew up. A stickler for clarity, Higdon took care to score her concerto with both traditional musical notation and words ("Zach's scrubby sound"). Then she went so far as to record a CD glossary of the trio's special techniques and effects for use by future conductors and soloists.
While she admits that she has a hard time imagining any other trio performing this concerto, she has clearly worked to enable that possibility. "The idea," says Higdon, "is that my work should be accessible for both audiences and performers."
The Singing Rooms is a mammoth, seven-movement concerto commissioned for the 100-voice Philadelphia Singers Chorale and violinist Jennifer Koh, with text by local poet Jeanne Minahan. Koh, like the Time For Three boys (as Higdon calls them), was a student member of the Curtis Orchestra during its 1999 premiere of blue cathedral, Higdon's first and best-known orchestral work. Otherwise, the performers and the compositions at Higdon's groundbreaking double premiere were refreshingly dissimilar. Koh is an edgy performer whose iridescent, soot-colored gown, manga-styled hair, and black fingernail polish provided a striking contrast to Time For Three's polished-apple attire. Likewise, her athletic, no-holds-barred performance of the violin part juxtaposed neatly with the trio's cool elegance. Concerto 4-3 is all about showcasing the three string soloists. In The Singing Rooms, the violinist takes on more of an obligato role supporting the chorus; the violin solo is distinct but never dominant.
"This work had a different genesis," explains Higdon. "We began with only violin and chorus; then added a few instruments, then winds." Eschenbach suggested scoring the work for full orchestra, creating what is thought to be the only concerto of its kind in the entire orchestral repertoire. The work itself introduces many paradoxes: Despite its size, the ensemble is capable of a wide dynamic range. "I was surprised," notes Higdon, "by the acoustic phenomenon in which a larger chorus is able to sing more quietly than a smaller one."
Higdon wrote The Singing Rooms' choral part with calculated simplicity to keep it within reach of an amateur chorus, since few cities support professional-level choral ensembles. On the other hand, the solo violin part requires serious chops, guaranteeing that every future performance in the American orchestral diaspora will have to employ a top-level violin soloist along with those volunteer choristers, whose families and friends will buy up tickets and help fill halls from Alabama to Wyoming. This is not a bad strategy to help encourage the public's interest in contemporary classical music. Of course, so is writing compositions that are both intelligent and listener-friendly.
---
Karen Rile C'80, who teaches undergraduate fiction workshops at Penn, is the author of Winter Music and many shorter works of fiction.