Turmoil and Transformation: Du Bois House Turns 40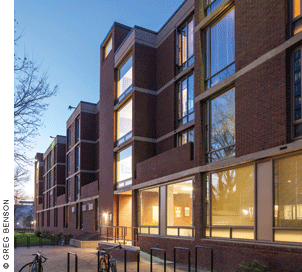 Before approaching University administrators to propose the W. E. B. Du Bois College House—which is celebrating its 40th anniversary this year—Cathy Barlow CW'71 L'76 had done her homework. In 1968, as a sophomore, Barlow applied for a research grant from the provost's office to create a project that she called the Black Studies Commission. Her hope was that this University-backed research would help to institutionalize the grassroots advocacy that was already working to increase the African-American presence on Penn's campus. She got the grant.
In the '60s and '70s, on the heels of the civil rights movement and the desegregation of educational institutions nationwide, Penn had already begun admitting unprecedented numbers of African-American students. But amid the celebration of this initial victory, Barlow noticed a disturbing trend. Many of her African-American peers were unprepared for the social and academic pressures that arose from belonging to a historically oppressed minority on a historically white campus. They faced harassment from police, ostracism from their white peers, and indifference from some professors.
"I was watching a lot of my friends and contemporaries fail," says Barlow. "Just admitting black students wasn't enough—it isn't meaningful enough. What's truly meaningful is those students getting their degrees.
"I kept asking: If a student doesn't get out with a degree, what have you done for them? And in addition, what have you done to them—psychologically, emotionally—to bring them here and watch them fail?"
Under the auspices of the Black Studies Commission, Barlow visited the campuses of neighboring colleges and universities to see what other schools were doing to address the discouraging retention and graduation rates among African-American students.
"What I saw seemed largely superficial," Barlow remembers. "Maybe there'd be a black cultural center or a student union, but often they amounted to little more than environments for black students to socialize and hang out together. Which was great, but these programs weren't doing anything to support their academic careers."
Hence the Du Bois House, which Barlow envisioned as a place where graduate mentors and undergraduate residents could connect in meaningful ways that would foster academic success.
It opened in the fall of 1972. As was the case with many advances of the civil rights era, it did not lack for adversaries—some of which might surprise today's undergraduates. In the beginning the detractors included the National Association for the Advancement of Colored People and the American Civil Liberties Union, both of which expressed concern that the effort to form the House might itself constitute a form of segregation.
They were mistaken, Barlow contends four decades later. "I never in my proposal to the University suggested a segregated institution," she says. "The whole idea that what I wanted was for this to be a 'blacks-only' dorm is just ludicrous." The University clarified that the plan for the House would include all Penn students with an interest in African-American culture.
Perhaps unsurprisingly, a racially integrated oasis did not magically ensue. For the better part of its early existence, the population of the Du Bois House was almost exclusively comprised of African-American students. Nor did detractors instantly lose vigor in their protests.
In its 40 years the Du Bois House has faced obstacles almost too numerous and painful to recount: racial slurs shouted at House events; dangerous objects dropped onto exiting residents from the windows of the neighboring High Rise North (today known as Rodin House); an attempt to remove the 1981 Ivy Stone shortly after it was cemented into the building; antagonistic editorials in The Daily Pennsylvanian; even telephoned bomb and death threats.
"It seems like every few years there will be that column in the DP, one that criticizes the House or implies that it is somehow segregationist," says Rev. William Gipson, the associate provost for equity and access (and former University chaplain) who also serves as the Du Bois House Faculty Master. Yet he adds that the outcomes of the uncomfortable discussions that follow are almost always positive. "Sometimes you need that discomfort to change minds."
Segregation is precisely what the Du Bois House is designed to counteract, say many of the House's supporters. By fostering a space where African-American culture is celebrated, the University can become a more welcoming home to scholars belonging to any marginalized group.
In the minds of some of its supporters, this four-floor building has managed to transcend its own brick-and-mortar status, catalyzing an incredible variety of African-American-oriented programming all over Penn's campus. "The Africana Studies program has finally been recognized by the University's trustees as a department," Gipson points out, referring to the decision announced while that program was celebrating its 40th anniversary last year ["Gazetteer," Jan|Feb 2012]. "We have the African-American Resource Center, and Makuu, Penn's black cultural center."
"Today, the role of supporting our black students is a critical part of the mission of several key offices and student organizations," says current Du Bois House Dean Trish Williams. "Nonetheless, [the House] continues to adhere to its original mission. Most of the programming that takes place in Du Bois accentuates black culture and scholarship. However, what has changed is that black students coming to Penn now are different from those admitted in the '70s and '80s. As they prepare to take their places in a global community, they want and expect diversity in their lives."
Today, 46 percent of Du Bois residents report a racial identity other than African-American; this includes white, Asian, Hispanic/Latino and multi-racial students, as well as those who identify as other or who opt not to identify at all. So in a way, the disagreements surrounding the Du Bois House, as well as its newfound diversity, represent a realization of its original mission.
"I'm glad to hear the Du Bois House has become a place where students of different races feel comfortable," says Barlow. "I'm hoping what that means is that the House—while still proud of its heritage, proud of the man who the building is named for, proud to promote programming that shines a spotlight on the contributions of African Americans—has also become a platform for the ongoing stories of the 'others.' The richness of the African-American experience is a firm foundation for that."
As Penn celebrates 40 years since the establishment of this groundbreaking residential program, its constituents and detractors may at least agree that Penn is a different place today—because of the Du Bois House—than it would have become without it.
"If the Du Bois House were to be formed today, it would not have the same mission as it did in the '70s," says Jaléssa Mungin C'14, a current House resident. "The campus is not the same. The needs of the community are vastly different. It's hard to pinpoint exactly what role the Du Bois House had [in that evolution], since the House has shaped the community, and vice versa." Today, she says, "Du Bois is a place that serves to nurture and respect difference, that helps you to navigate Penn."
What will the Du Bois House look like 40 years from now? Only time will tell.
"Penn students are brave, and smart, and aggressive," says Sue Smith, associate director for communications for the Office of College Houses and Academic Services. "If there's something we're not seeing, some way we need to adapt to their needs, or to the changing times, they'll let us know. They are always changing this institution for the better."
Beyond the Penn landscape, Barlow also has a strong sense that Du Bois residents are particularly well-equipped to contribute to an increasingly global society. "As we move away from being a white majority country," she says, "those with the capacity to appreciate difference at more than a superficial level, they're the people who will be able to craft solutions to move the country forward."
—Rachel Estrada Ryan C'00