Tuition and Aid for 2018–19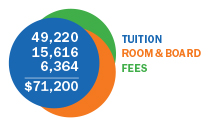 The annual cost of a Penn undergraduate education for the 2018–19 year will rise by 3.8 percent, to $71,200. The University's financial aid budget will increase by 5.25 percent, to $237 million.
For the coming academic year, tuition will be $49,220; room and board will account for $15,616; and fees will amount to $6,364. The average financial aid grant is forecast to be $47,275 (or $50,348, when including work-study jobs). Penn began substituting grants for loans in 2009. Students whose combined family income and assets are less than $65,500 do not pay tuition, room, or board, instead receiving a combination of grants and work-study funding to cover those costs.
"Today Penn is the largest US university with need-blind admission and grant-based financial aid for undergraduates," said Penn President Amy Gutmann in a statement. "One in eight Penn students from the Class of 2021 represent the first generation in their family to attend college, and students who are first-gen or high-financial-need are now more than a quarter of the class. We are committed to doing all we can to make Penn's Ivy League education more accessible and affordable to students with the greatest promise from all backgrounds."