Time to Blast Off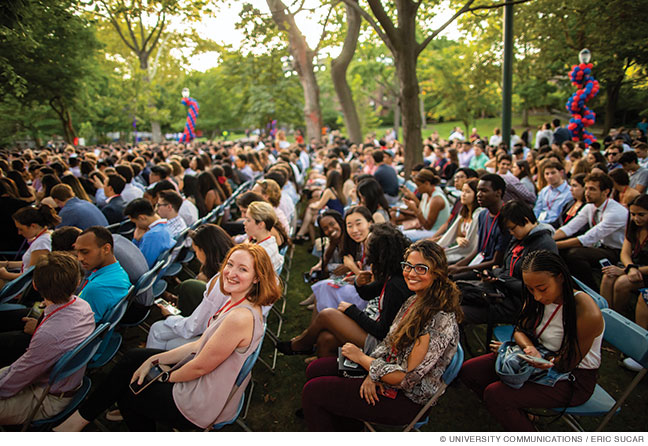 Members of the Class of 2023 are encouraged to fearlessly expand their orbit.
---
As masses of nervously overdressed freshmen and transfer students flooded College Green on August 26, the Penn Band's rendition of "The Final Countdown" filled the evening air. It was fitting, given these were the final moments before the Convocation ceremony began, marking the start of Penn's 280th year and the Class of 2023's four-year journey.
Hailing from all 50 states, Washington, DC, Puerto Rico, and 79 countries, this year's freshman class represents a kind of diversity "nearly impossible to capture in words," Penn President Amy Gutmann told the crowd, before encouraging all of them to shout where they're from. Soon College Green became a tapestry of Idahos and New Mexicos, Canadas and Austrailas, Philadelphias and Londons.
Gutmann, after sharing space-themed stories of alumni who helped put the first men on the moon 50 years ago, then shifted her focus to tell the members of the Class of 2023 where they can go as long as they promise to expand their orbit.
"The first step to expanding your orbit," Gutmann noted, "is reaching out to someone new," suggesting that each student introduce themselves to a classmate. Smiles and laughs were seen and heard, as the Penn president transitioned into a tale of her own orbital expansion.
Two years ago, Gutmann set out to write a book about bioethics and healthcare, collaborating with PIK Professor Jonathan Moreno. And even though the two had different backgrounds, the final product—Everybody Wants to Go to Heaven but Nobody Wants to Die—turned out better than she could have imagined ["Healthcare's Hard Choices (and How to Stop Avoiding Them)," Sep|Oct 2019]. During some late-night writing sessions, she even learned that Insomnia Cookies, a growing chain of bakeries started by Seth Berkowitz C'04 in his Penn dorm room, makes deliveries until 3 a.m.—"one very important piece of advice" she relayed to the freshmen.
"The outcome of our teamwork, seriously, is far more than a book," Gutmann said. "It is a case study for what we at Penn do each and every day, and that's what makes Penn so special."
Provost Wendell Pritchett Gr'97 echoed those sentiments, calling on the Class of 2023 to collaborate wholeheartedly and fearlessly. "Be fearless in your listening, too, and demand that of others," said Pritchett, reminding students to especially listen to those who have differing opinions. "Take classes in subjects you know nothing about. Join groups composed of people who are nothing like you."
Citing a 1960 speech given by famed author and activist James Baldwin at Michigan's Kalamazoo College, Pritchett encouraged the new students to "engage fully with and encase themselves in the world around them." He added: "You now have the ability—the obligation, really—to shape our future because you're going to lead us. … Penn will give you the opportunity to learn about things as they are, and you will do that. But I encourage you to be fearless in imagining how they could be."
On top of engaging with the outside world, however unfamiliar it might seem, Gutmann and Pritchett asked students to move away from their comfort zones in other ways and to listen with the same passion in which they speak. But as the Penn Band, Penn Glee Club, and the a cappella group Counterparts serenaded a newly darkened campus with "The Red and Blue," those goals seemed almost secondary to the sense of community beginning to form among the rows of freshmen and transfer students.
"As you embark on your Penn odyssey, you embark on a journey where all of us take to heart our commitment to helping each and every one of you work together, succeed [together], discover together, and celebrate together," Gutmann said. "So we will expand our orbits together.
"And if you'll forgive me … it's going to be a blast."
—Beatrice Forman C'22