The Outsider Who Wouldn't Take No for an Answer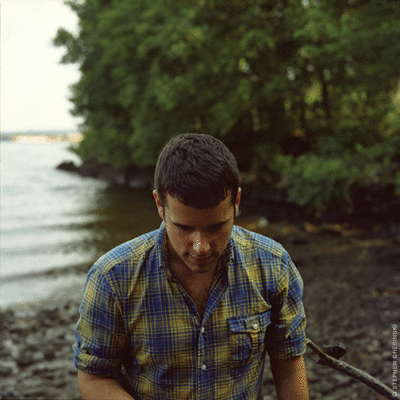 When composer Joseph Hallman LPS'13 was 13 years old, he had a notion to produce a debut recital of his own works. As the only child of a disabled single mother who had no connections in the classical music world, and with no mentor or composition teacher, Hallman was on his own. So he got out the White Pages and started typing letters to Philadelphia Orchestra members he admired, asking them to play his compositions.
His ambition paid off: a few actually responded and agreed to perform the concert, which took place the summer before 9th grade. That September, when he got back to school and told his bassoon teacher what he'd accomplished, she was outraged, and forced him to write to the musicians again, this time apologizing for his chutzpah.
"She was an old-school music teacher," he explains, smiling now at the memory. "Her emphasis was preparedness and ability."
But the concert had been a success, and Hallman's nascent career was launched.
"Being an outsider shapes the way you view the world," says Hallman. "You're more resourceful and self-reliant. I rarely take 'no' for an answer."
Twenty years later, Hallman's composing career is blossoming with accolades, commissions, and critical approbation. He's been listed by WQXR as one of the 100 top composers under 40. Philadelphia Orchestra members are (still) playing his works, as are such internationally recognized concert artists as cellist and MacArthur fellow Alisa Weilstein, tubist Carol Jantsch, and members of the New York Philharmonic and the Cleveland orchestras. Most recently, he received a 2014 Grammy nomination for two pieces recorded on Sprung Rhythm, the debut album by the Maryland-based Inscape Chamber Orchestra.
The two Hallman pieces on the Sprung Rhythm album are strikingly different, demonstrating the range of his musical imagination. Unlike the work of many contemporary composers, whose atonal, dissonant works alienate listeners who lack advanced degrees in musicology, Hallman's compositions are accessible—yet never retrograde or trite. "Three Poems of Jessica Hornik" is a setting of verses by the New York state poet, one of Hallman's longtime collaborators. Scored for soprano and chamber orchestra, the Hornik suite is lively and unapologetically gorgeous, featuring lush orchestration and (on the album) the lovely voice of soprano Abigail Lennox. Weirder, and more daringly inventive, is "Imagined Landscape," six miniatures based on the unsettling dreamscapes of H.P. Lovecraft. In "Imagined Landscapes," Hallman's unconventional scoring elicits surprising aural textures from the instrumentalists, whose players are miked separately to produce a "surround-sound" effect. Chamber-orchestra members are called upon to sing, intone, and chant in spoken text, which is presented on the score in percussionist-style notation.
Hallman wrote "Imagined Landscapes" during a period of insomnia when he was in the habit of reading stories by the early 20th-century horror writer H.P. Lovecraft to help fall asleep. The stories induced bizarre nightmares.
"When I woke, I couldn't remember the action in my dreams, but I was left with the creepy ambiance," he says. "I wanted to recreate these dreams as aural tableaux." He's currently working with Inscape to produce a new album featuring his tone poem about an imaginary witch, "The Extraordinary Gryssandra Wycke" for clarinet, oboe, harp, percussion, and strings.
An outsider in an industry famous for its insularity and elitism, Hallman entered the classical-music world without any of the connections or cultural capital that propel most young prodigies into the limelight. His mother offered plenty of emotional support, but had no means to provide the private lessons, high-quality instruments, and access to summer music festivals that most serious young classical musicians consider crucial for success. Yet through a combination of naive optimism, grit, natural talent—and luck—Hallman has powered his way past barriers that often prove impenetrable to aspiring young artists, even those from far more privileged backgrounds.
At six, Hallman's mother enrolled him in Girard College, a North Philadelphia boarding school for low-income orphans and "functional orphans," where he stayed through high school. A minority at the institution, whose student body is now 98 percent African American, Hallman managed to further marginalize himself by eschewing sports to become the resident band geek. He tried trumpet, and then flute, which the other kids teased him as being "too gay." Undeterred, he finagled a set of keys to the band room and taught himself to play every instrument he could get his hands on, developing a range of skills and sensitivities that would serve him well in the future. As an adult composer, Hallman's orchestration is often praised for its fluid mastery and inventiveness.
By sixth grade, Hallman had settled on bassoon as his primary instrument and won a scholarship to study with a former Philadelphia Orchestra member—the same teacher who had upbraided him for contacting her colleagues without her permission. By the time he reached high school, playing a cheap school instrument, he was one of the most proficient bassoon players in Philadelphia's elite pre-college music scene. As a scholarship student at Settlement Music School, Hallman met Evan Ross Solomon, a well-to-do clarinet student from the Main Line. The boys became friendly rivals—"competing brothers," as they called themselves—from opposite sides of the tracks, playing together through high school in ensembles at Settlement and in the Philadelphia Youth Orchestra. Today Solomon is the executive director and clarinetist for Inscape Chamber Orchestra, whose album Sprung Rhythm earned Hallman the Grammy nomination in the "Surround Sound" category. (They lost to none other than Paul McCartney, but the nomination itself was considerable affirmation for the young composer and the group's debut recording.)
After graduating from high school, Hallman was accepted to the composition program at the Cleveland Institute of Music—without ever having had the chance to study music composition formally. There, by serendipity, he heard the conservatory orchestra perform a Shostakovich cello concerto with Alisa Weilerstein, a rising prodigy and bona fide member of the so-called music royalty (her parents are violinist Donald Weilerstein and pianist Vivian Hornik, sister of poet Jessica Hornik, whom he later came to think of as a surrogate aunt).
Wowed by Weilerstein's performance, Hallman approached her to tell her that he was going to write a concerto for her. Weilerstein reacted with amusement to the audacity of the unknown freshman composition student. But within the week he was faxing her pages of the score—and she was sending him back cassette recordings. The two have been close friends and musical collaborators ever since. Weilerstein debuted Hallman's cello concerto in 2008 with the St. Petersburg Philharmonic in Russia.
Like most classical composers—Philip Glass drove a cab and worked as a plumber's assistant; Charles Ives was an insurance agent—Hallman works long hours to support his craft. His series of survival jobs has included teaching music appreciation to toddlers, running the "adult" classifieds for City Paper,and working as an assistant in a melanoma laboratory. For the past six years, Hallman has been serving as an administrative coordinator for Penn's College of Liberal and Professional Studies. And when he isn't up to his elbows in LPS office work or chamber-music scores, he's taking classes at Penn. He has steered clear of Penn's storied music-composition program, focusing instead on the liberal-arts subjects he missed out on during his years studying in a music conservatory. He recently completed a master's degree in urban studies and social justice and is thinking of taking up Chinese. (That way he'll be able to communicate with composer Bright Sheng later this year when he travels to Hong Kong for a composition symposium to which he's been appointed a fellow.) In the evenings, after work and before he puts on his composer's wig, Hallman begins his third shift—as an adjunct professor teaching theory and composition to undergrads in Drexel University's music-industry program.
"I don't sleep much," Hallman was saying on a recent chilly morning, nibbling salad in a greasy spoon near his office. At 34, Hallman is boyish and shyly unassuming. He frowns for a second, inspecting a forkful of lettuce: "How do I do it? I get up early, stay up late. I go home on my lunch break to write music—anywhere I can steal a minute, I do."
Moxie, optimism, and hard work have gotten him this far, despite heartbreaking obstacles. Hallman's mother, who used to put aside $100 every month from her small disability check to help support her son through college, died while he was still an undergraduate in Cleveland, leaving him alone in the world with no living relatives. Two years ago, his partner died after an extended illness, and after a legal battle with his partner's family, Hallman lost his equity in the house the two had shared. Undeterred, Hallman looks to Bach and Mozart, who weathered poverty and personal grief throughout their prolific careers, "for how to live." In the works right now: a new song cycle for soprano and string quartet based on works by Vermont poet Sydney Lea, a concerto for wind quintet, a dramatic song cycle on gender presentation. There's an opera in his notebook. The next Inscape album, American Aggregate, will be out soon. One suspects we'll be hearing a lot more from Hallman in the future.

—Karen Rile C'80