The New Provost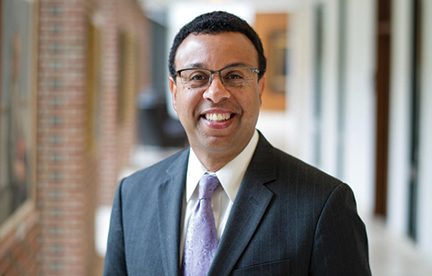 About a dozen years ago, when Wendell Pritchett Gr'97 was serving on the provost's planning and budget committee, he came to a surprising realization: He genuinely liked academic administration. Since then, he's held a number of influential administrative posts, including interim dean of Penn Law (2014-2015), chancellor of Rutgers University-Camden (2009-2014), president of the Coalition of Urban and Metropolitan Universities, and deputy chief of staff and director of policy for former Philadelphia Mayor Michael Nutter W'79.
As of July 1, his latest administrative title is Provost, University of Pennsylvania (Penn's 30th), which was announced by President Amy Gutmann on April 26 following a four-and-a-half-month international search. Pritchett, the Presidential Professor of Law and Education at Penn Law, replaces Vincent Price, who stepped down after eight years to become president of Duke University ["The Outgoing Provost Looks Back," May|June]. And his enthusiasm has not diminished.
"I was excited about this job because Penn is such a wonderful place," Pritchett told the Gazette in May. "One, it's been a supportive institution for me as a student, as a scholar, as a person who has wandered off to other places and got welcomed back. Two, it's stronger now than it's ever been. It has amazing leadership, and I was really excited to work with President Gutmann. And three, the agenda that she has set, supported by the University, is exactly what I think we should be doing."
In her announcement, Gutmann was equally enthusiastic. Hailing him as a "standout and a star in every role he has inhabited," she called Pritchett a "celebrated teacher and scholar of urban policy, education, civil rights, and race relations, an accomplished leader and administrator, and a passionate advocate for academic excellence and civic engagement."
The fact that Penn is a large and complex institution doesn't seem to faze Pritchett, who has served as vice chair and chair of the Redevelopment Authority of Philadelphia and chaired or served on the boards of numerous nonprofits.
"I can't yet comment from direct experience," he said in May. "But I've worked in other complex situations. In general, it's how do you understand a problem, how do you structure a response to it, how do you bring in people to work together to develop a solution, how do you implement it, how do you check that it's actually working, and how do you adjust? That's true for a small institution, a medium-size institution, and a large one.
"Having been interim dean, I had already interacted with most of the people on the senior leadership team, and I know personally how terrific they are," he added. While it's inevitably an "on-the-job learning exercise," he was making sure to meet with a broad range of Penn people in order to "take advantage of Vince's brilliance and leadership, so that when he's gone we can have a seamless transition, and I can expand my role."
Becoming the first African American to serve as Penn's provost is a milestone Pritchett readily acknowledges but doesn't over-emphasize.
"As somebody whose last book [ Robert Clifton Weaver and the American City, University of Chicago Press, 2008] was about the first African American to be a cabinet secretary, it would be disingenuous for me to say, 'Oh, I don't think it matters at all,'" he says. "It matters as a marker for the institution's values, and it certainly matters to me. And I think that it has some impact on others at Penn. But in the end, it's about doing the job well, whatever color you are, and that's certainly what I'm focused on."
The 53-year-old Pritchett knew that he wanted to be a professor since he first taught a class as an undergraduate at Brown University, where he received his bachelor's degree in political science in 1986. He earned his law degree from Yale in 1991, and became a member of the Pennsylvania Bar that year; after completing his doctorate in 1997 he joined the faculty of Baruch College-City University of New York, moving to Penn Law in 2002.
It was at Penn that Pritchett earned his PhD in American history under the guidance of Walter Licht, the Annenberg Professor of History, and much of his scholarship has been in the fields of urban history and law and the development of urban policy after World War II. His first book was Brownsville, Brooklyn: Blacks, Jews and the Changing Face of the Ghetto (University of Chicago Press, 2002), and his 2008 article "Which Urban Crisis? Regionalism, Race and Urban Policy, 1960-1974," won the Urban History Association's Best Article award. Having grown up in Philadelphia, the son of two teachers in the Philadelphia public-school system, he's had ample opportunity to observe and examine issues of race and urban policy and education, as well as Penn's role in them.
"I've spent a lot of time as an academic thinking about the role of institutions in urban change and race relations," he says. "And I have personal experience with Penn from as early as I can remember [including learning to skate at the Class of 1923 rink]. Penn has played an extremely important role in Philadelphia and West Philadelphia. As has every institution, Penn has made mistakes. But our institution has worked hard to build tighter, more meaningful, robust relationships with the West Philadelphia community, with the city, and beyond."
Pritchett knows he'll be needing a variety of lenses as he views the world from College Hall.
"I think our international presence is crucial," he says. "It is longstanding, and it has increased significantly over the last decade. I was interim dean [of the Law School] when the Penn Wharton China Center opened, so I was there and was very excited about that. Our engagement is fundamental for our success."
As any administrator knows, engagement can sometimes come with turbulence. During his time as chancellor of Rutgers-Camden, Pritchett was credited with preserving that branch of the university following a controversial 2012 attempt to merge it with Rowan University.
"Working at Rutgers was an amazing experience," he says. "Like public institutions in many other states, we had deep involvement—appropriate involvement in some ways—from governmental actors and other stakeholders who were making significant contributions to our budget but not necessarily understanding every aspect of how a university can or should operate." He says it was a training ground in managing competing agendas.
And criticism, he knows, comes with the territory. "You can't take stuff personally," he says. "It's about setting goals to work with people to get stuff done. Because smart people can disagree. Sometimes you'll say, 'You were right.' And other times you say, 'No, I still think I want to go this direction.'"
He has a similarly open view of the need for robust dialogues on campus.
"At a university like Penn, we bring together 25,000 brilliant students and 20,000 brilliant faculty and staff," he notes. "It would be ludicrous to think that we're not going to be arguing all the time. That's what a university is about. You know, we can argue in general and respectful ways, and we can hold each other accountable for how we talk to each other. But as a university, it's our obligation to foster open expression, because that's the only way we're going to solve the problems." —SH