The Men Behind the Madness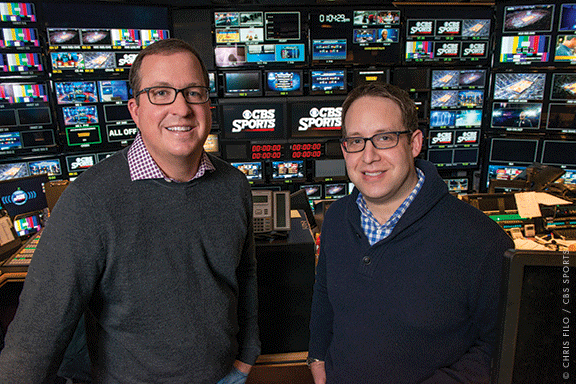 Class of '95 and '96 | Later this month, college basketball fans across the country will flip on CBS to watch one of the crown jewels of sports television: the NCAA tournament. When they do, they'll see the wall-to-wall games, buzzer-beaters, and Cinderella runs that define what's affectionately known as "March Madness."
What they won't see are the two Penn graduates working feverishly inside the CBS Sports studio—quoting lines from the movie Trading Places or rapping old-school hip-hop lyrics to each other through their headsets all the while.
For Stephen Karasik C'95 (above right) and Tyler Hale C'96, the two high-level CBS Sports executives who oversee the production of many of the network's games and shows, that's just one way to cope with the grueling but exhilarating March Madness shifts that often begin at 7 a.m. and end at 2 the following morning.
"It's serious, but there's always time for a wisecrack or a joke," Hale says. "That's what makes going into a studio for 15 hours on a Sunday so enjoyable." Adds Karasik: "We both have very demanding, high-pressure jobs. But we keep each other loose and have fun."
Maintaining that balance has been a big key to success for Hale and Karasik. While their career arcs have differed, both reached similar heights in June of 2013 when Hale was named CBS Sports' vice president of studio production and Karasik the vice president of remote production.
In simplest terms, that means Hale heads up all of the studio shows on CBS and its 24-hour cable channel, the CBS Sports Network, while Karasik is in charge of coordinating all of the games on the two networks by working with the on-air talent, producers, and sponsorship to make sure everything looks and sounds right.
Since there is a lot of segue between the shows and the games (think pregame, halftime, and postgame shows), Hale and Karasik are in constant communication. "Steve and I probably speak 25 times a day," says Hale. "His office is right next to mine." Yet, he adds, "we have few disagreements, if any."
Their productive working relationship is aided by the fact that they are the same age, have similar taste in music and movies, and went to the same college. That last overlap was "very coincidental," says Hale, since despite the fact that they both majored in communications and ran in similar circles, they didn't know each other at Penn. Hale, who played varsity lacrosse, landed an internship in the sports department of KYW, Philly's local CBS affiliate, to fill his nights. ("That's when I realized that this is actually a job and people get paid to watch sports.") Karasik covered college sports for The Daily Pennsylvanian, following Penn's then-dominant men's basketball team to the NCAA tournament in 1993, '94, and '95, as well as Philly pro sports on the radio for WXPN. "That really provided the best of everything," he says, "where I got the experience to learn what I wanted to do."
After graduating, both landed entry-level jobs at ESPN. But Karasik bolted after just two months for CBS Sports, with whom he had previously had a successful round of interviews. He's been there ever since, starting as a broadcast associate and eventually producing some of the network's marquee events, including Super Bowls and the Masters.
"As crazy as it sounds," Karasik said, "it will be my 20th Penn reunion in May and my 20th anniversary of working at CBS in November."
Hale stayed with ESPN for longer, learning about the business on the famed campus in Bristol, Connecticut, and working closely with such legendary broadcast figures as Chris Berman and the late Stuart Scott, who died in January. But despite admiring the on-air talent, Hale never wanted to be like them.
"I know a lot of people that get into our business that have goals and dreams of being the next Dan Patrick or Jim Nantz," he says. "That was never really my goal. But I did like producing the shows, working behind the scenes and being able to have an impact on telecasts without having to be on camera."
After four years as an ESPN production assistant, Hale left the cable giant to move with his wife to New York. After toying with the idea of graduate school, he instead landed a job at College Sports Television (CSTV), a start-up cable channel where he was one of the first producers hired. After CSTV was acquired by CBS in 2005, the network was re-branded as the CBS College Sports Network, and Hale was promoted from a show producer to the coordinating producer of all studio production, which was essentially an early version of what he does today. A few years later, the cable network was absorbed into the structure of CBS Sports and became the CBS Sports Network.
It's been quite a journey, he acknowledges. At a brand-new, relatively unknown entity like CSTV, "you really have to fight a lot of battles to get recognition, to make people aware of who you are," he says. "But at the same time, it was also an opportunity to get a tremendous amount of experience doing a lot of different things that you couldn't do at a place like ESPN. And it offered the opportunity to keep climbing the ladder."
Despite their perches near the top of that ladder, Hale and Karasik still get the same kind of chills an average sports fan might on any given day. Hale's career highlight came two years ago when he produced shows all week leading up to Super Bowl XLVII in New Orleans, his biggest project to date. Karasik's came last year when he produced what would have been an ordinary St. John's game at Madison Square Garden—except that he was working alongside legendary play-by-play broadcaster Marv Albert, one of Karasik's idols growing up as a New York Knicks fan on Long Island.
Of course, the biggest thrills are still reserved for March Madness, when the days are long, the movie quotes are flying through the headsets, and Hale and Karasik strive to bring the best coverage to every college basketball fan. Both say the hardest part of producing the NCAA tournament—which CBS airs in conjunction with their partner, Turner Sports—is that they never know what will yield the biggest storylines when the games begin at noon each day. Then again, that's also what makes their jobs so rewarding.
"We work crazy days and crazy hours," Hale says. "When you're home watching sports on TV, that's when we're working. But the adrenaline rush, the camaraderie, and the excitement you get from working on projects is what makes it all worthwhile."
—Dave Zeitlin C'03