The Luckiest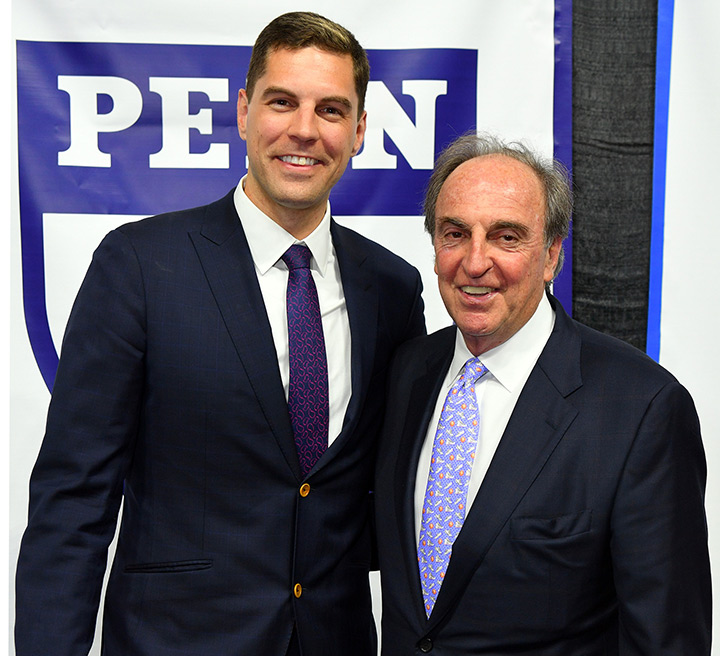 Glancing around the Palestra on Monday evening, Mark Zoller C'07 estimated there were maybe 100 people there to support him. "Well, they say it's for me," the former Penn basketball forward quickly added with a laugh. "But I know it's for Dunph."
Indeed, Penn fans had more than one reason to be in their home gym, as longtime Quakers head coach Fran Dunphy joined Zoller in this year's Big 5 Hall of Fame class. For both, it made the induction ceremony even more special.
"Dunph means so much to me—a father type of figure. To go in with a legend like that is amazing," said Zoller, who used his acceptance speech to thank Dunphy for all of the life lessons he imparted. Later, during his own speech, Dunphy said he had never seen anybody compete harder than Zoller, who starred for the Quakers from 2004 to 2007, winning Ivy League championships in his last three seasons. Dunphy also noted that having to tell Zoller and classmates Steve Danley C'07 and Ibrahim Jaaber C'07 that he was leaving Penn for Temple before their senior seasons was "maybe one of the hardest things I've ever had to do in my life."
In the end, though, Dunphy's departure didn't cause any ill will. The 2006–07 season was a special one for Zoller, who beat Dunphy and the Owls by cooly hitting three straight free throws with 1.4 seconds left—his most memorable Big 5 moment—before returning to the NCAA Tournament for a third straight year. And Dunphy, after 17 seasons as Penn's head coach, enjoyed a successful 13-year run at Temple before stepping down in March—all while staying close with many Quakers, including a recent breakfast with Zoller. "I was hoping he would pick up the check, but he did not," Dunphy told the Palestra crowed, with his trademark dry comedic timing.
It made sense why Dunphy would gain entry into the Hall of Fame just a month after stepping down. You could make the case, after all, that no one has had a wider Philly reach than Dunphy, who played at La Salle and got a master's degree from Villanova, in addition to his coaching stops at Penn and Temple. (Only Saint Joseph's was left out of his Big 5 tour.)
Zoller's inclusion in the Hall of Fame, only 12 years after graduating, probably surprised more people because he was never the most explosive or talked-about college basketball player in the city. Or, as his teammate Danley put it, "You never knew how he scored. He was small. He was slow. Couldn't jump. But he was just always in the right spot, always had an angle to get another bucket." Zoller—a four-year starter who ranks 10th on Penn's all-time scoring list with 1,429 career points, sixth in career steals with 141, seventh in field goals made with 555, and ninth in rebounds with 750—admitted to some of his flaws, laughing that he "never played any defense." Danley agreed with that assessment, as well. "I looked at the press release and the big thing that shocked me was Mark is 6th all-time in steals. I knew he scored but I actually didn't know he ever played any defense."
Gentle ribbing aside, Danley was thrilled to be in the building for Zoller's big day, just as he was when Jaaber was inducted two years ago (and wowed the audience with his poetry). The trio formed an impressive core, and the Quakers fell hard from their championship perch once they all graduated, enduring an 11-year title drought that was finally snapped last year. "It's funny because we all came in together and my first memory of Ibby and Mark was playing Tony Hawk in their dorms. And watching them turn from gangly freshmen who struggled in a lot of ways that first year to two of the top players we've seen in a long time was special."
Dunphy, of course, played a big role in their development, just as he did for many other players. Some, including Matt Langel W'00, Michael Jordan C'00, Geoff Owens C'01, Dave Klatsky W'03, Jeff Schiffner C'04 WG'12, and Brian Grandieri C'08, returned to the Palestra on Monday to offer their congratulations. Penn's women basketball coach Mike McLaughlin also gave Dunphy a nice shoutout after stepping to the podium for his Big 5 Coach of the Year speech, saying that when he was just starting out Dunphy returned every one of his texts and calls—which is something he's always tried to emulate in his own coaching career. (Along with McLaughlin, Penn's other honors included Eleah Parker winning women's Big 5 Player of the Year, AJ Brodeur getting named to the men's first team, and the entire men's team accepting a trophy for its Big 5 championship.)
As he looked out into the crowd, Dunphy thanked as many people as he could, choking up at times, and remarking that he probably knew everyone sitting in the Palestra stands. "I'm looking for someone as lucky as me, and I don't see them out there," he said. "I know there's a lot of lucky people—but nobody's luckier than me." —Dave Zeitlin C'03