The King's Gift
Going to Brunei to attend the biggest birthday party in the world.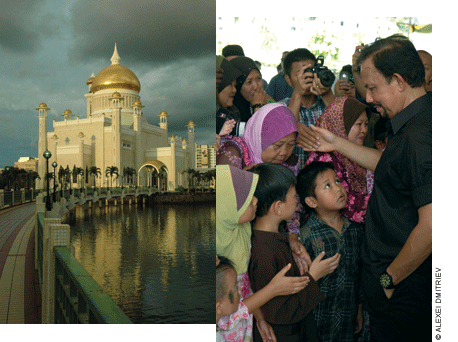 By Alexei Dmitriev | From the upper reaches of the Empire Hotel, the view is suitably majestic. Impeccably coiffed gardens sprawl around an irregularly shaped pool that draws the eye out toward the placid surface of the South China Sea. The horizon beyond is saw-toothed, however, with offshore oil rigs; gas torches flare day and night.
In many places, such an industrial view would seem unfit for a balcony at the most luxurious hotel in the country. But in Brunei Darussalam—"the Abode of Peace"—the source of this country's wealth is no stain on the landscape. Without oil, there would scarcely be a nation here at all—not to mention this seven-star hotel (one of only two in the world) that cost more than $1 billion to build.
Had a couple of Englishmen out on a bike ride not smelled gas seeping out of the soil here in 1926, the existence of Brunei as a sovereign state would be unlikely. The discovery transformed this Delaware-sized speck on the map into a place of relative prominence. I say relative, because this sultanate is surrounded and indeed split into two separate parts by Malaysia on the northern coast of Borneo—distant from Middle Eastern hot spots, and as far from US media attention as Albania. In stark contrast with Albania, however, Brunei is ranked as the world's fifth richest nation in terms of GDP per capita. Its 400,000 citizens live well.
Especially one of them.
When Brunei gained independence from the UK in 1984, its ruler, Sultan Hassanal Bolkiah (this is a seriously shortened version of His Majesty's handle, which runs to 16 names and honorifics), was the richest man on Earth, a distinction he held until Bill Gates showed up in the 1990s. His Majesty, who is infallible under Bruneian law, holds the portfolios of prime minister, minister of defense, and minister of finance. He is the commander-in-chief of the Royal Armed Forces, and the spiritual leader of the country.
He was also the man whose birthday celebration I was preparing to attend.
Naturally, I felt somewhat challenged by the choice of a gift. What can you give a man who already has air-conditioned stables for his 300 Arabian horses? His Majesty occupies the world's largest inhabited palace, with 1,788 rooms and 257 bathrooms. He has a garage that holds more than 5,000 cars, many of which are custom-made Rolls-Royces. (The sultan is Rolls-Royce's largest individual client.) Yet I could hardly turn up empty-handed.
Finally, I stopped agonizing and asked my five-year-old daughter Isabella to draw a portrait of the sultan, his court, and his palace, while borrowing heavily from imagery of "Aladdin." I got her drawing framed and set off on a 24-hour trip to Brunei.
"Surfaces within reach are gold-plated with 18-carat gold," a guide recited as we drove through Bandar Seri Begawan, the capital city. "Higher, on the cupolas, it is 23 carats."
We proceeded past the most impressive and palatial mosques I have ever seen on our way to the Royal Regalia museum. The museum is part treasure storage, part shrine (visitors must take off their shoes), where the coronation chariot is displayed along with bejeweled crowns and other gifts to the royal family from foreign heads of states. Inside, a bronze eagle perched on a clenched fist (presented to HM by the president of Ukraine) had attracted the attention of a large extended Bruneian family wearing white clothing marking them as hajis. Before embarking on a flight to Mecca, they must have stopped by the museum to make sure that HM could indeed afford to provide each of his subjects with an all-expenses-paid pilgrimage to Saudi Arabia.
This is just one of many reasons Bruneians adore their monarch. Under his benevolent but absolute guardianship they enjoy free education, free medical care, subsidized housing with interest-free mortgages, cheap gas, and no taxes. I seriously felt like amending my view of progress as a journey from authoritarian rule to democracy. I heard locals jokingly refer to these boons of royal socialism as "Shellfare," because Brunei Shell Petroleum Company is entrusted with oil extraction under a 50/50 arrangement with the Government of Brunei—aka, His Majesty.
I asked a few people if anyone knows where the state coffers end and the sultan's wallet begins, but soft and polite Bruneians just smiled back. They do not mind life without elections and opposition parties.
"Every time a president is elected in the US, over 40 percent of the population might not have voted for him," said Zainul, a postal manager who invited me over to his house when I was almost lost in Kampung Ayer, the largest stilt village in the world. "In our country we have less than 10 percent of those who are unhappy with the existing political order. But we do not waste millions of dollars and billions of words on elections."
Zainul's neighborhood is hard to describe. It houses some 30,000 above the Brunei River. There are shops on stilts, mosques on stilts, schools, police stations, everything you can imagine.
"My family has been living on the water for 400 years. When I go travel, I can't fall asleep at night without hearing the splashing underneath," he confessed while treating me to sweets and tea in his living room, where massive leather furniture was deployed around a flat-screen TV fitted out with a karaoke attachment, and artificial flowers rose in multitudes. The only wall space not filled with oriental carpets was reserved for a photo of His Majesty graciously acknowledging the trappings of prosperity.
On the way back, my Formula One boat driver took me by the Royal Palace, whose throne room is capped by an enormous gilt cupola visible from anywhere in the capital. The palace, where HM lives with the Queen (he used to have two more wives, but divorced them) and most of his 12 children, is off-limits to visitors except on Hari Raya Idulfitri, a festive day at the end of Ramadan. On that occasion, 30,000 people come for dinner.
"The line moves very fast and there is no shoving," I was told by a French expatriate who attends every year. "Bruneians are very organized."
The Sultan's whereabouts are well-known to his citizens. He drives his own car (or flies his helicopter—after all, he is a graduate of the UK's Sandhurst military academy) with just a couple of police motorcycles as an escort. One day I waved to him and he waved back. I also did some sultan-watching during the Friday prayers at Jame'asr Hassanil Bolkiah mosque, which was built in 1993 to mark the 25th anniversary of His Majesty's ascendance to the throne, when everyone present at the opening got a gold-embroidered prayer mat as a take-home gift.
For His Majesty's 66th birthday, I found Bandar Seri Begawan bedecked with flags and lights as if it were Christmas in July. The normally quite empty streets of the capital (a stark contrast to other South-east Asian cities) were very crowded. Every high-rise was festooned with a multi-floor portrait of the Sultan and a slogan: "The ruler's vision + the people's vision = the nation's vision."
In the morning His Majesty surveyed the military parade. Several female regiments looked very sharp. In Brunei, women hold ministers' jobs, drive cars, and fly planes just like HM. In the stands I rubbed shoulders with officers dressed in traditional uniforms too flamboyant for effective warfare. The parade ended when helicopters displayed colored trails overhead and the royal family left in reverse order of importance. I was transferred to the palace, where the Sultan delivered a royal decree and presented awards to the worthy Bruneians—but I could not find the right moment to get close to HM.
After his birthday the Sultan visits the provinces to give his subjects a chance to congratulate him personally. In Temburong province, under a scorching sun, he'd been shaking hands and accepting gifts for a couple of hours when my turn came. HM was completely soaked. Even his black shirt could not hide it. A tiny old lady standing next to me had brought him a basket of fruits from her garden and almost fainted when he lightly touched her hair.
"Your Majesty, many more years to you and prosperity to your country," I said, noticing that my portrait had passed through a circuit of the Sultan's assistants and landed in a huge bag next to the fruit basket. I told HM that it had been painted by my daughter. HM held my hand in his a bit longer, produced a tired smile, and thanked me for the wishes and gift.
"What should I tell my daughter?" I asked, realizing as I spoke the words that I must have violated etiquette by posing a question to a monarch.
HM took it in stride. "I will be happy if she comes and sees Brunei with her own eyes," he said.
The debate still rages in our family: was that a royal invitation, or what?
---
Alexei Dmitriev G'88 is a documentary filmmaker who lives in Potomac, Maryland.