The First of Many Firsts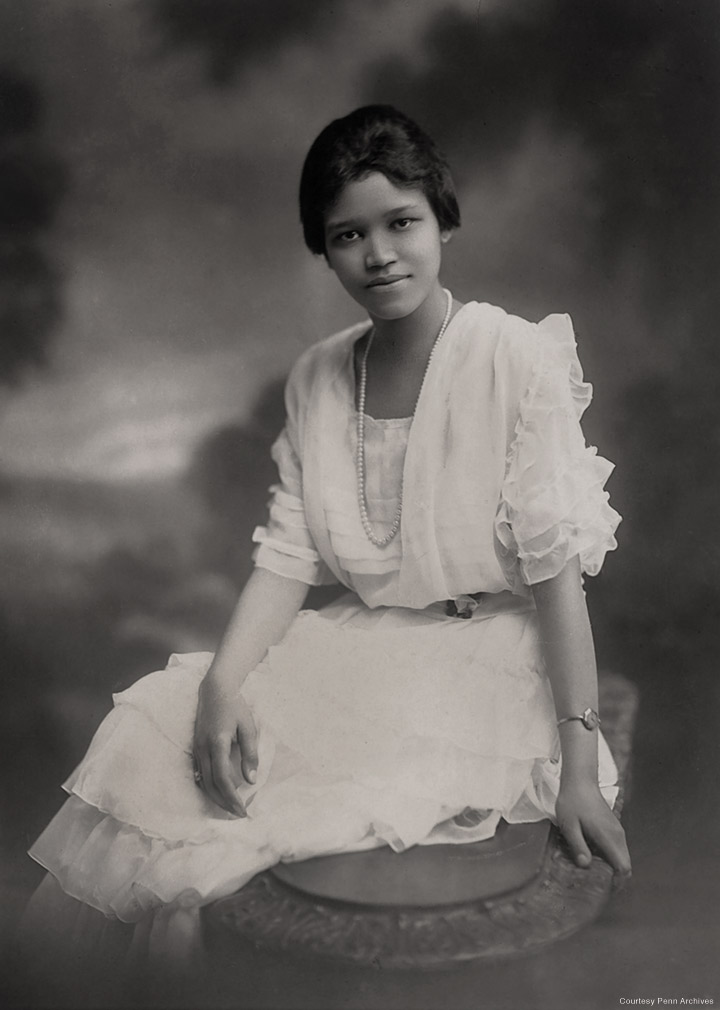 ---
Although she descended from two distinguished Black families, Sadie Tanner Mossell Alexander Ed1918 G1919 Gr1921 L'27 Hon'74 still encountered racism, sexism, hatred, and bigotry to get her Penn education. In a 1977 interview with oral historian Walter M. Phillips, she recalled her first year as an undergraduate in the School of Education: "Not one woman spoke to me in class or when I passed [them] on the walks to College Hall or the library. Can you imagine looking for classrooms and asking persons [along] the way, only to find the same unresponsive person you asked for directions seated in the classroom, which you entered late because you could not find your way?"
"Such circumstances made a student either a dropout or a survivor so strong that she could not be overcome," she said.
By the end of her freshman year, Alexander finally made a friend in Mary Stewart, "the first thaw in the ice that covered my freshman year," she said. The two were interested in the subject of economics, but none of the courses were open to women. Boldly, they decided to sit in on a Wharton class. When the professor spotted them, he immediately announced that he did not teach women and ordered the two to leave. But this encounter only fueled Alexander's determination to study the subject.
One hundred years ago this June, Alexander became the first Black woman in the US to get her PhD in economics. She was also among the nation's first three Black women to get a doctorate in any subject.
Her dissertation was titled "The Standard of Living Among One Hundred Negro Migrant Families in Philadelphia, 1921."
But this "first" was not her last. Alexander went on to become the first Black woman to graduate from Penn Law, in 1927. (Her father, Aaron Albert Mossell L1888, had been the first African American to graduate from that institution, while her uncle, Nathan Mossell M1882, holds that distinction for the School of Medicine ["A Principled Man," Nov|Dec 2014].) She was the first Black woman admitted to the Pennsylvania Bar, the first woman to serve as secretary of the National Bar Association, and the first Black woman to be appointed assistant city solicitor for the City of Philadelphia, among other accomplishments.
In 1923, she married Raymond Pace Alexander W1920 ["Old Penn," Sep|Oct 2020]. Together, they managed a private law firm, until he became a judge. She then held an independent practice for over 15 years.
In November 1989, after a life of breaking down barriers, Alexander died of complications due to pneumonia and Alzheimer's disease, at 91.
In recalling the obstacles she faced, Alexander once noted, "I never looked for anybody to hold the door open for me. I knew well that the only way I could get that door open was to knock it down, because I knocked all of them down. " —NP